When you order online, do you know where your products are coming from and what kind of quality you will receive?
Online shoppers don't realize that they are often not buying from authentic retailers, but from a third party selling other people's products. Customers receive products that are different than what was described on the website they ordered from.
You can buy from National Stores with confidence.  Our product descriptions are thorough and accurate, communicating the exact material and components you will receive in your order.  National Stores offers competitive pricing, superior quality, and a wide variety of products with free shipping.
Watch our video to learn more about online marketplace scams and why you can feel confident with your purchases from National Stores.
NATIONAL BRANDS VS OTHER ONLINE BRANDS
NATIONAL BRANDS
Detailed and accurate product descriptions
Use our own photography
Quick and free shipping
Expert customer service reps 7 days a week
ONLINE BRANDS
False quality claims
Inaccurate photos stolen from other vendors
Slow shipping
No product knowledge
Online shoppers don't realize that they are often not buying from authentic retailers, but from a third party selling other people's products.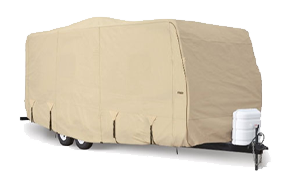 TRAVEL TRAILER
A Travel Trailer has rigid sides and is designed to be towed by larger vehicles with a frame hitch or bumper. Travel Trailers are also known in Britain as "caravans." Travel Trailers come in a wide variety of sizes that offer affordable home-style amenities.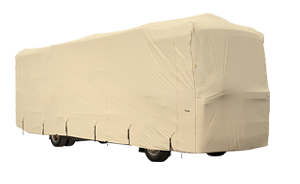 CLASS A RV COVER
Class A RVs are constructed on a commercial bus chassis, commercial truck chassis, or a specially designed motor vehicle chassis. Class A motorhomes are similar to a bus in design with a flat, vertical front end and large windows.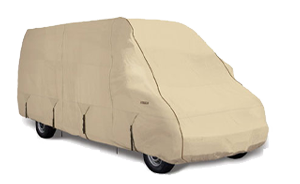 CLASS B RV COVER
Class B RVs are built using a standard van with the addition of a raised roof. Frequently, the rear of the vehicle has been replaced by a low-profile body known as a "coach-built." Class B motorhomes are built on many different styles of chassis depending on the manufacturer and design.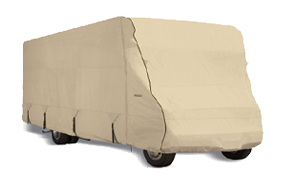 CLASS C RV COVER
Class C RVs are built on a truck chassis with an attached cab, which is usually van-based. These motorhomes are often based on the popular Ford E450 cab's chassis and engine, but Chevy and Dodge are also popular styles. Class C RVs can be identified by a distinctive cab-over profile that contains a bed or spacious area called an "entertainment" section.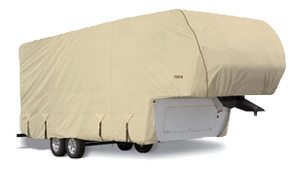 5TH WHEEL RV COVER
Fifth Wheel Trailers are designed to be towed by a truck equipped with a specialty hitch called a "fifth wheel coupling." The trailer body extends partially over the truck bed making for a compact, snug fitting RV. Many larger 5th Wheel Trailers 40 feet or longer are typically pulled by small semi-trucks.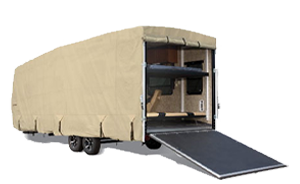 TOY HAULER RV COVER
Toy Haulers are Travel Trailers, Class A motorhomes or 5th Wheel Trailers that are designed to be partial living areas and partial garages for storing recreational vehicles like ATVs and motorcycles.