Class A RV Covers That Last
National RV Covers is the #1 online retailer of Class A RV Covers. We offer a vast selection of Class A RV covers to fit all sizes and styles of motor homes with a wide variety of price points to suit all budgets and applications. We only carry the highest quality brands to ensure that you always get the best possible value regardless of which style cover you choose.
Our knowledgeable USA based fit experts are always ready to answer any questions to help you select the perfect Class A RV cover for your Class A motorhome.
Call us anytime at 800-616-0599.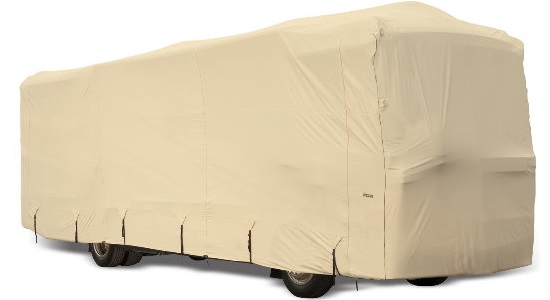 We Are Class A RV Cover Experts
National RV Covers is pleased to offer a wide variety of Class A covers to meet your needs. Simply select the size of your RV and choose the performance level of cover that's right for your motorhome.

Direct Source for Class A RV Covers
We know what it takes to keep our customers satisfied with over 25 years of class A RV cover experience. We offer quality products at a great price with outstanding customer service. Now to save money and time you can purchase high quality covers directly from National RV Covers. Our call center is open 7 days a week to serve you. Please call us at 1-800-616-0599
Class A RV Cover Selection
No one beats the selection of Class A RV covers at National RV Covers. We have our own National RV Cover Brand, in addition to several lines of covers to choose from including Seasons, Expedition and Goldline. These options allow you to decide on the performance level you need depending on factors like climate or how much usage your motorhome cover will get.
Quality Covers
Every Class A RV cover is high quality and manufactured to meet our demanding specifications. All materials used are tested to withstand weather extremes to protect your RV from rain, snow, ice, UV, dirt and grime. Keeping your motorhome covered during the off season will help prolong the life of your RV and keep it looking good for many years to come.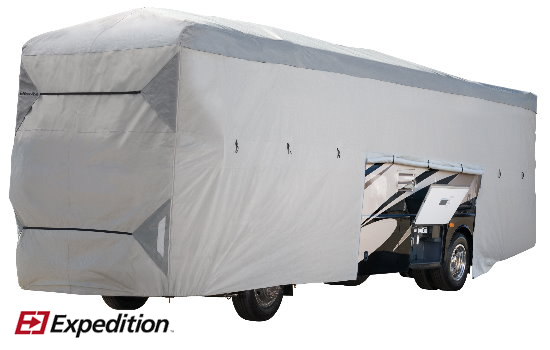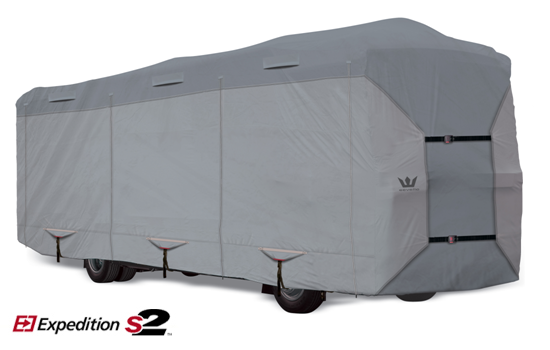 National RV Covers Class A: Everything You Need To Know 
National RV Covers is the #1 online retailer of Class A RV covers to fit all sizes and styles of motor homes. From Class A motor homes ranging in size from 16 to 48 feet, National RV Covers always offers a variety of high-quality covers in a variety of price points. Choose from five distinctive brands with features like Durapel Rain finish for waterproof protection, and full length zippered panels for easy access.
You Can't Beat Our Class A Cover Brands!
National RV Covers offers five Class A cover brands for RVs: Goldline, S2, Expedition, Seasons, and NPC. All our Class A covers are made using water resistant fabrics with a UV coating to offer the best protection against sun, rain, and snow.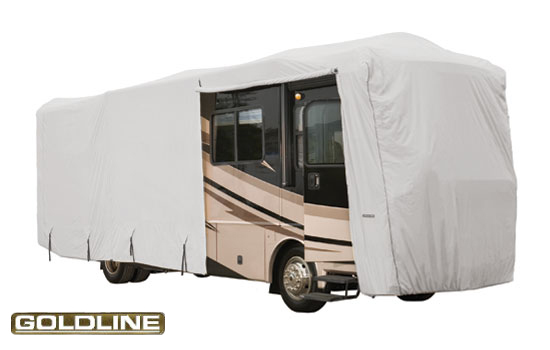 The only all-fabric class A RV covers on the market, made with a heavy-duty Marinex marine grade fabric with Tru-Weave breathable fabric that won't tear or break down in inclement weather. The Goldline Class RV A cover comes in 2-foot increment sizing for a strong, semi-custom fit. Every detail is designed into these covers, including Endurance Roof Straps™ to reduce stress on the roof seams.
S2 Expedition class A RV covers specialize in a snug, custom-like fit with adjustable full-length panels in the front and rear. Important details like extended fabric roof protects the top corners from tearing. The S2 features a Marinex marine grade waterproof fabric roof and heavy-duty sidewall construction. Two-foot increment sizing vs. three-foot gives the S2 cover that custom look and feel.
Featuring a Marinex marine grade waterproof fabric roof and heavy reinforced elasticized corners for a high-quality class A RV cover that will protect your RV in any weather. Zippered panels around the entire cover allow for easy access to any part of your RV. Sewn-in dual vortex vents prevent billowing and promote air circulation.
Seasons brand RV covers are designed for short-term indoor or outdoor storage in between adventures. The easy-on, easy-off design makes this cover a convenient choice. Treated with Durapel Rain Finish and UV Sun inhibitor, Seasons is made to withstand weather to keep your RV protected.
More About Class A RVs
Class A RVs are the biggest in their class of self-contained, motorized RVs. Class A RVs are often the most luxurious and expensive motor homes offers, perfect for extended stays at one location. Class A RVs typically sleep one to eight people and have master bathrooms and residential-style appliances. Class A RVs have lots of storage compartments for personal belongings, suited for longer-term travel.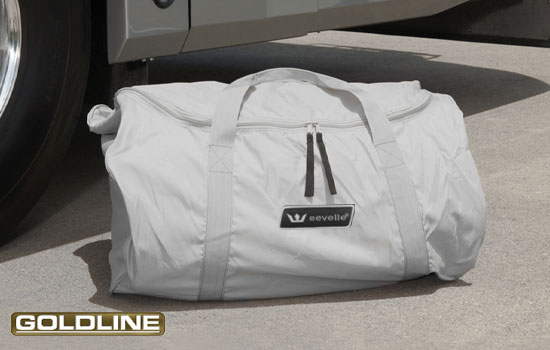 Popular Class A Manufacturers Include:
American Coach
Coachmen RV
Entegra Coach
Fleetwood RV
Forest River RV
Holiday Rambler
Jayco
Monaco Coach
Newmar Corporation
Nexus RV
OUT OF STOCK
We're Sorry, but the item you
selected is currently Out of Stock.
Please make an alternate selection.
If you need further assistance
please call 800-616-0599.