Truck Camper Covers
National RV Covers is your best source for Truck Camper Covers. We offer a vast selection of covers to fit every size and style of Truck Camper with a wide variety of price points to suit all budgets and applications. We only carry the highest quality brands to ensure that you always get the best possible value regardless of which style cover you choose.
Our knowledgeable USA based fit experts are always ready to answer any questions to help you select the perfect cover for your Truck Camper.
Call us 7 days a week at: 800-616-0599.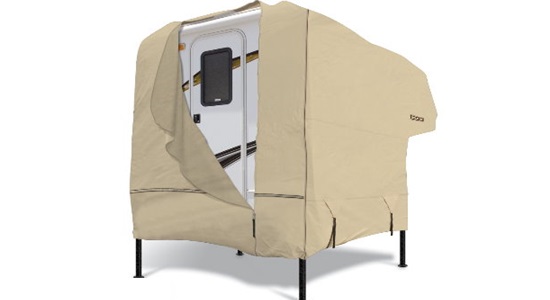 We Are Truck Camper Cover Experts
National RV Covers is pleased to offer several lines of Truck Camper covers to meet your needs. Simply select the size of your camper and choose the performance level of cover that best suits your needs.
Direct Source for Truck Camper Covers
We know what it takes to keep our customers satisfied with over 25 years of RV cover experience. We offer quality products at a great price with outstanding customer service. Now to save money and time you can purchase high quality covers directly from National RV Covers. Our call center is open 7 days a week to serve you. Please call us at 1-800-616-0599.
Shop the Best Truck Camper Covers For Sale Online
No one beats our selection of truck camper covers here at National RV Covers. We have our own National RV Covers Brand, in addition to several lines of covers to choose from including Seasons, Expedition, and Goldline. These options allow you to decide on the performance level you need depending on factors like climate or how much usage your motorhome cover will get.
Quality Camper Covers
Every one of our truck camper cover is high quality and manufactured to meet our demanding specifications. All materials used are tested to withstand weather extremes to protect your RV from rain, snow, ice, UV, dirt and grime. Keeping your motorhome covered during the off season will help prolong the life of your RV and keep it looking good for many years to come.
How to Measure for Truck Camper Covers
When selecting the correct Truck Camper cover there are two measurements to consider. Measurement 1 shown in the image on the right is the length of the base of the camper. This is the part of the camper that sits in the bed of the truck. Typically the measurement length used by manufacturers is 8 - 12 feet.
The second measurement is the overall length of the truck camper. To find the perfect cover for your camper start by selecting a size based on Measurement 1, and then confirm that the overall length of the cover will fit Measurement 2. Make sure to measure the ENTIRE length of the camper including ladder, etc.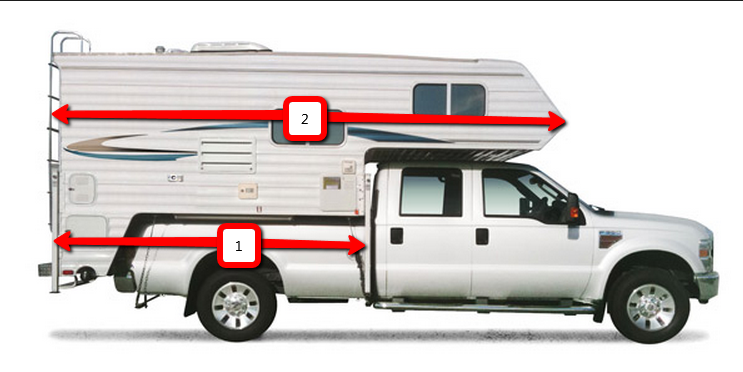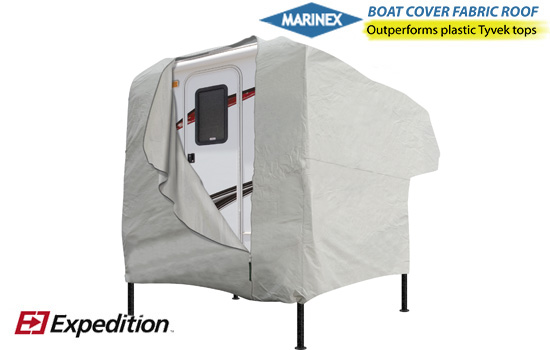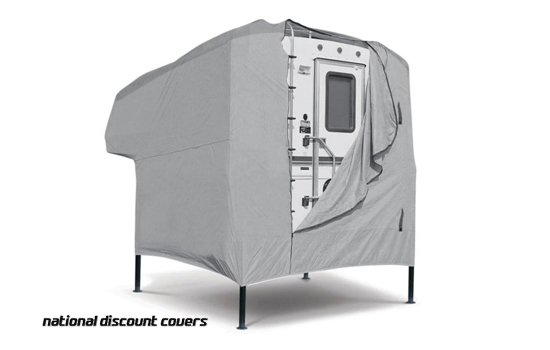 Truck Camper Covers: Everything You Need To Know
National RV Covers is the best online retailer of Truck Camper RV covers to fit all sizes and styles of motor homes. From Truck Camper motor homes ranging in size from 8 to 12 feet, National RV Covers always offers a variety of high-quality covers in a variety of price points. Choose from three distinctive brands with features like Durapel Rain finish for waterproof protection, and full length zippered panels for easy access.

You Can't Beat Our Truck Camper Cover Brands!
National RV Covers offers three truck camper cover brands: Goldline, Expedition, Seasons and NPC. All our truck camper covers are made using water resistant fabrics with a UV coating to offer the best protection against sun, rain, and snow.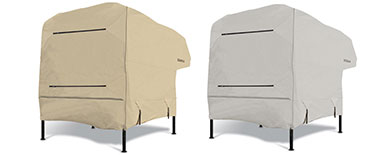 The only all-fabric RV covers on the market, made with a heavy-duty Marinex marine grade fabric with Tru-Weave breathable fabric that won't tear or break down in inclement weather. The Goldline camper cover comes in 2-foot increment sizing for a strong, semi-custom fit. Every detail is designed into these covers, including Endurance Roof Straps™ to reduce stress on the roof seams.
Featuring a Marinex marine grade waterproof fabric roof and heavy reinforced elasticized corners, this high-quality cover will protect your Travel Trailer in any weather. Zippered panels around the entire camper cover allow for easy access to any part of your RV. Sewn-in dual vortex vents prevent billowing and promote air circulation.
National Discount Covers
This brand is the best value around for a camper cover. National Discount Covers offers many of the quality features of the other brands at a lower price point. Front and rear elastic hems ensure a snug, custom-like fit. Sewn-in vents help prevent wind billowing and promote air circulation. National Discount Covers' strong interlocking seams gives customers the comfort knowing their RV camper cover will last many years.
More About Truck Campers
A Truck Camper is any RV that may be carried in the bed of a pickup truck. The Truck Camper is also known as a slide-in or cab-over. Truck campers are the most versatile form of RV because they are capable of going anywhere a pickup truck can go. Modern Truck Campers feature all the amenities found in larger RVs, including refrigerators, stoves, furnaces, ovens, microwaves, bathrooms, and showers. Many Truck Campers have slides, which are moveable sections of the exterior wall that contain a dinette.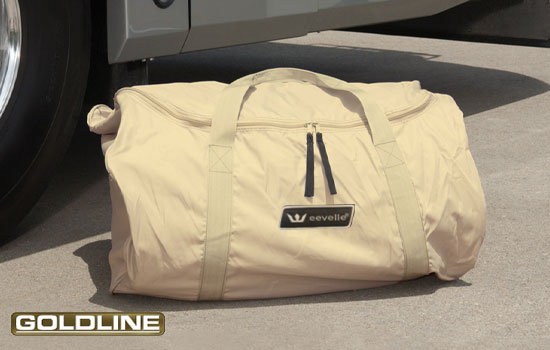 Other RV cover styles you may be interested in:
Popular Truck Camper Manufacturers Include:
1. Lance
2. Cirrus
3. Northern Lite
4. Arctic Fox
5. North Star
6. Bigfoot
7. Alaskan
8. Capri
OUT OF STOCK
We're Sorry, but the item you
selected is currently Out of Stock.
Please make an alternate selection.
If you need further assistance
please call 800-616-0599.