RV COVERS BUILT TO LAST
Welcome to National RV Covers, your best source for covers for class A, B and C RVs, campers, travel trailers and more.
We specialize in getting you the best and most rugged camper covers for your needs. We do this by offering a wide variety of covers made from the most durable fabric materials including Durapel and Tru-Weave. National RV Covers carries industry leading camper, travel trailer and RV cover brands such as Goldline, S2 Expedition, Expedition and Seasons. No matter the budget, we have a well built cover that will exceed your expectations and ensure your RV, camper or trailer is protected from the worst mother nature can throw at it.
Our RV covers are built to demanding quality specifications including top-tier durability and long life. You can always rest assured that our RV and camper covers will protect your investment from the harshest elements nature can dish out. It is imperative when choosing a cover for winter that you select one that is durable enough to withstand the weather in your region. Some areas get more snow and rain while others experience high temperatures and intense sun.
Every one of our RV covers is designed and manufactured TOUGH to perform season after season for years to come, protecting your RV, camper or travel trailer from harsh UV rays, rain, snow and ice. Innovative features, quality fabric and optimal fit are found in every one of our cover products.
Please call us if you need help selecting your RV cover. Our USA based team of cover experts is always happy to help! You can contact National Covers at: 800-616-0599.
RV COVER EXPERTS
RV, camper, and travel trailer covers are our business with over 25 years of cover sales and manufacturing experience. Our success is built upon selling durable and high-quality RV cover products that are supported by our friendly and knowledgeable staff. Please call us with any questions if you need help selecting an RV cover. Our USA based call center staff are here to help you find the perfect cover to protect your RV.
RV Covers Include: Travel Trailer Covers | Class A RV Covers | Class B RV Covers | Class C RV Covers | Fifth Wheel Trailer Covers


RV & CAMPER COVER BRANDS INCLUDE:
RV COVERS & CAMPER COVER STYLES INCLUDE: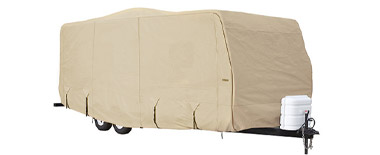 Travel trailers are classified as a type of RV without an engine. Therefore, travel trailers must be towed behind a vehicle. National RV Covers is your best source for well built durable travel trailer covers that are designed for a variety of lengths. We only carry the highest quality brands to ensure that you get the best value.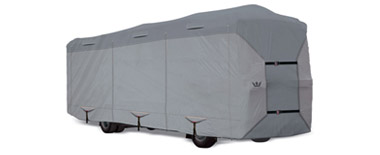 Class A RVs are the biggest in their class of self-contained, motorized RVs. Class A RVs are often the most luxurious and expensive motor homes offers, perfect for extended stays at one location. National RV Covers is the #1 online retailer of durable class A RV covers to fit all sizes and styles of motor homes.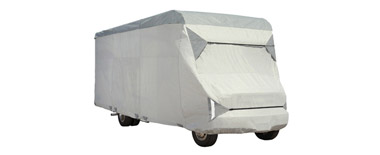 Class C  RVs are in between a Class A and Class B in size. They are usually built on a truck chassis and have a distinctive cab-over profile that make them easy to recognize on the road. National RV Covers is the best online retailer of rugged Class C  RV covers to fit all sizes and styles of motor homes.
RV COVER AND CAMPER RESOURCES