The Fifth Wheel RV is a popular choice for it ample living space for the price as compared to a motorhome. Fifth wheels are easy to tow hitched to the bed of the truck where weight is evenly distributed and you won't notice it getting blown all over the road. And owners love the higher ceilings, making it feel more spacious.  
Be sure to protect your fifth wheel with a good quality cover when it is being stored so it won't be ruined in the rain and snow. Our favorite covers here at National RV Covers are the Goldline for its design features and style and S2 Expedition for its custom-like fit.
Measuring the fifth wheel camper is simple as long as your follow these few instructions.
FIFTH WHEEL COVER MEASUREMENTS 
 To install fifth wheel trailer covers there are only three measurements you need: height, length and width. When measuring for a trailer cover you want to measure from the front of the trailer box, not the tongue, to the rear including anything that is attached to the rear.
Height
Measure from the top of the RV or trailer's roof edge down to the middle of the wheel. The perfect cover will fall mid-wheel, so it's important to measure just to here, not to the ground.
Length
Measure from the rear bumper to the front bumper. This is where your buddy holding the other end of the tape measure will come in handy. Holding the tape measure taunt will ensure your numbers are accurate.
Width
Measure from one side to the other at the windshield and rear bumper. Don't include any side mirrors.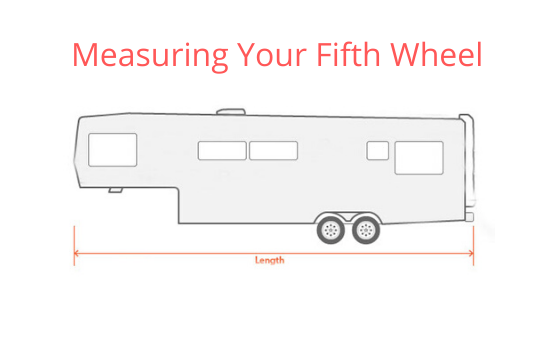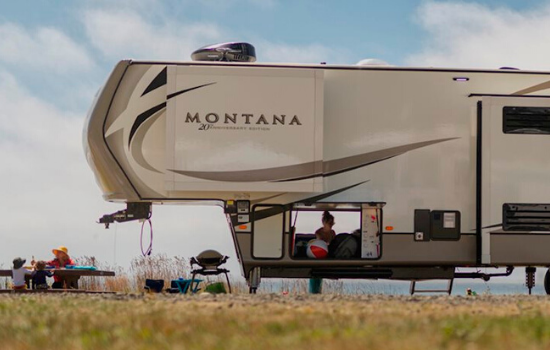 EXTRAS IN FIFTH WHEEL MEASUREMENTS
The travel trailer cover is designed to accommodate typical equipment like AC units, mirrors, and awnings. The cover will also cover a spare or a ladder at the farthest edge at the rear of the trailer.

The travel trailer cover will not cover the hitch.
If your fifth wheel RV is between sizes, always size up, not down. You never want to buy a 5th wheel cover that is too small because that could strain the material and put pressure on your vehicle.