There are numerous RV cover brands on the market for all budget ranges. Lots of industry terms are thrown around and this can make things very confusing for RV owners. Many brands claim to provide maximum protection, but what are you really getting? Let's look at the facts.
The Fabric
RV covers are manufactured using a wide variety of fabrics. These range in quality from basic tarps to custom-tailored weaves and are generally made from polypropylene, polyester, solution-dyed acrylic or polyethylene. Higher-quality covers use a custom fabric that incorporates one or more of these materials to maximize its use for RV covers.
Although treated polyester provides the best protection, it tends to be very light and not as durable as some of the less breathable fabrics. However, if woven correctly, polyester can combine the best of both worlds. Eevelle created their own custom polyester-based fabric called Tru-Weave that is used for Goldline RV covers. Tru-Weave is a heavy-duty 7 oz. true loom-woven polyester fabric constructed of 600x300 denier filament polyester yarns and 99 thread count. So, what does that mean for you?
Tru-Weave is STRONG. The heavy-duty weave makes the polyester durable without sacrificing polyester's lightweight and breathable benefits. This is done through high end tailoring with multi weave finished edging. Unlike polypropylene or polyethylene, the fabric is still breathable, light and provides a tight fit. Tru-Weave will outlast any cover on the market.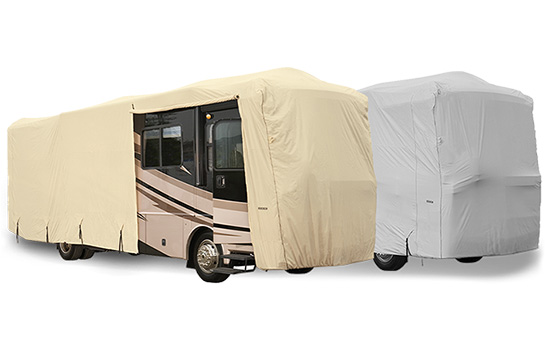 Rain, Sun and Mold Protection
We've established that Tru-Weave is strong, but what about protection from the elements? Tru-Weave utilizes Sof-Tec marine coating that provides 100% water resistance without sacrificing breathability. Water is the biggest threat to your RV. The proprietary Sof-Tec marine coating used on the Tru-Weave fabric ensures that the Goldline cover is practically immune to rain and wet weather.
It is also treated with UV sun inhibitor for maximum sun protection. If your RV isn't stored indoors, sun can cause serious damage to the paint and the seals. Water is a serious problem and always the center of conversation, but sun damage should not be ignored if you plan to keep your RV in good working shape for many years.
Mold and mildew are serious issues with many covers. When a cover sacrifices breathability for protection, it creates an environment for stagnant water to collect. This is the perfect place for mold to form. Mold is not an issue with a Goldline cover due to a micro-porous film that keeps the cover breathable and free of moisture buildup. To provide further protection, Goldline covers also utilize an anti-microbial finish that prevent the growth of mold and mildew.
Fit and Installation
Goldline covers come in a wide variety of sizes for multiple types of RV and trailer. This semi-custom sizing allows the covers to fit snug and secure. Covers that are too large will allow water and sediment a place to build up or allow wind to blow the cover up. The Tru-Weave build also stretches slightly to allow the best possible fit.
They also feature zippered side panels with anti-scratch sleeves and quick-release buckles that allow easy access to entry points and accommodate RV slide outs. This flexibility allows convenient access to your RV without removing the entire cover. Everest Glove™ extended zipper pulls make access to trailer doors easy on cold days.
To provide additional protection from wind, integrated straps are included. This helps keep the cover secure even in high winds and terrible weather. Sizing straps ensure a snug custom-like cover fit that further protects from wind and any other element that wants to sneak in.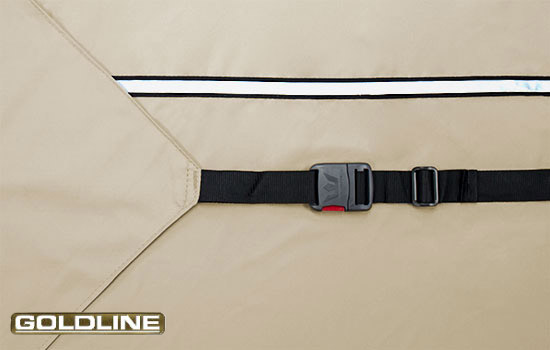 Warranty
Quality covers almost always come with a warranty. These tend to range from 1-3 years. Eevelle is so confident in the durability and quality of their Goldline covers that they come with a 5-year warranty. This is one of the most comprehensive warranties on the market and will ensure your RV is protected for years to come.
Goldline covers are designed to outperform every other cover on the market in all critical categories of RV cover protection. Tru-Weave fabric always ensures expert tailoring, quality craftsmanship and durability you can trust to protect your RV.