RV WHEEL COVERS & TRAILER TIRE COVERS
Think of your RV as your vacation home. Your home away from home. The RV is a portal on wheels to lands unknown and endless adventures. Buying an RV is a significant investment, and maintaining the integrity of your RV is a continual process.
One of the most important investments on your RV are the wheels, which means it's very important to protect them by investing in wheel covers. The average cost of a Class A RV tire is $300, and with four wheels moving your RV down the road, new wheels can costs upwards of $1200 total.

WHEEL COVERS TO EXTEND THE LIFE OF YOUR RV TIRE COVERS
With a low cost investment in RV wheel covers, you can minimize the amount of heat that penetrates the tires, extending the life of your RV tires by years.
There are three environmental tire killers: UV rays, ozone, and high temperatures. Exposing tires to heat and sun without protecting them can cut your RV tire lifespan in half. Sunlight damages tires by breaking down rubber molecules, making the rubber brittle and causing cracks to form. The Ozone & UV directly attacks the surface of the tire making it crack when flexed.
A tire age doubles with every 18°F increase in temperature. An experiment was performed to measure the temperature of a tire in full sun when inside a white or tan tire cover versus the temperature of an uncovered tire. The covered tire registered 99 degrees Fahrenheit. The tire cover was removed and half an hour later, the temperature of the tire was a whopping 136 degrees.
Protecting your tires from the heat is of utmost importance, but tire covers also help protect against the harsh weather and cold temperatures. Tire covers will help reduce premature cracking on your RV tire sidewalls.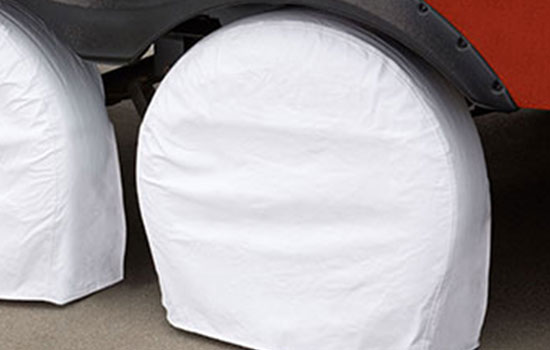 HOW TO CHOOSE A TIRE COVER
With so many choices in tire covers available, how do you know which one to buy? Here are a few important things to keep in mind:
Buy your tire cover in the colors white or tan: avoid buying grey or black tire covers because they will cook the tires
Check that your cover is mildew and UV resistant
For simple installation, get a cover with an elasticized installation
Make sure it has a warranty
WHAT ABOUT A SPARE TIRE COVER?
Do not forget your spare tire covers! The spare tire is just as exposed to the elements as the other tires. You don't want to find yourself out on the road enjoying your latest adventure when you experience a tire blowout only to find your spare tire is cracked from the sun, rendering it unusable. Buy a spare tire cover that is easy to slip on and made with heavy-duty material.
HOW TO MEASURE FOR RV TIRE COVERS
Measuring for tire covers is quick and easy. Look for the tire code on the sidewall of the RV tire and use that number to match to the tire covers. If you can't find the tire code, simply measure the tire from tread to tread across the rim.Eevelle, the leading manufacturer of RV covers, sells high quality wheel covers at a great price. A set of four covers starts at $41.99. That is a small price to pay to extend the life of your expensive RV tires.
THE RETURN ON INVESTMENT IS REAL
A $44 investment in tire covers you purchase today could save you $1,200 to replace your tires in the future. That is a small price to pay to extend the life of your expensive RV tires. Eevelle, the leading manufacturer of RV covers, sells high-quality wheel covers at a great price.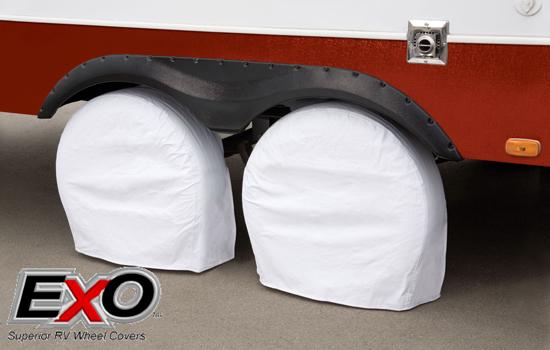 The Rugged EXO wheel cover series provide all-weather protection for your RV wheels and tires. These durable and economical RV wheel covers are designed to protect your investment from the harshest elements for years to come. Set of 4.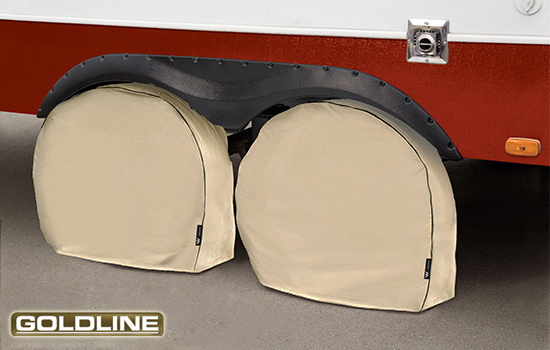 Goldine wheel covers are made with Marinex marine-grade fabric that provides all-weather protection, year-round. Each set of Goldline RV wheel covers is expertly tailored for a perfect fit. Choose from multiple sizes. Set of 4.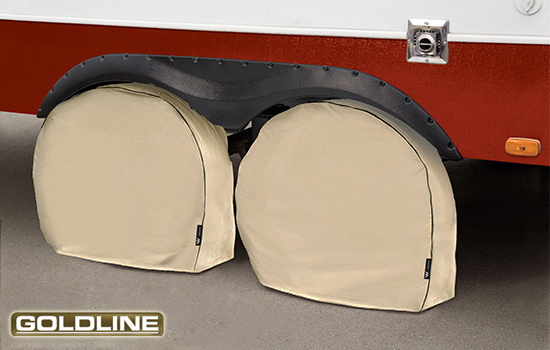 Manufactured from marine-grade Marinex fabric, these Goldine RV wheel covers are everything you need to protect your camper trailer wheels and tires from harsh weather conditions. Expertly tailored seams. Choose from multiple sizes. Set of 2.