Our Traveler Brand RV covers are quite simply the best value cover on the market. These covers are designed to offer protection for your motor home, trailer or camper at an economical price point. This RV cover has many of the features you would expect to see on higher priced models and is a great choice for an entry level cover.
TRAVELER RV COVER FEATURES
Designed for short term outdoor storage to protect your stored RV
Single layer high strength rugged fabric for high quality protection
Rain Finish for high water resistance
Treated with Durapel UV Sun Inhibitor for maximum sunlight protection
Micro-porous film allows superior breathability to prevent rot and mildew
Reinforced corners for added durability
Military rope kit for easy tie down
Front and rear elastic hems ensure a snug custom fit
Easy one step slip-on design
Free storage bag included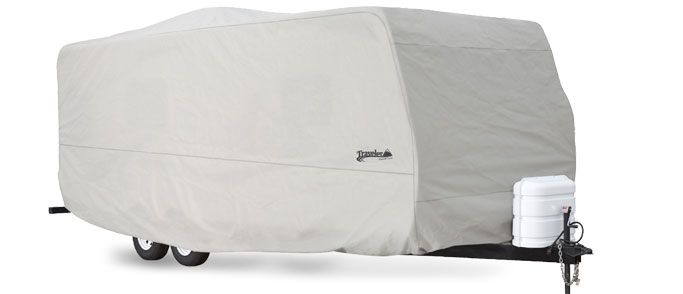 TRAVELER RV COVERS + DURABILITY
Traveler RV Covers are designed to be rugged, durable and economical, yet provide the same quality of protection that you would expect from a much more expensive cover. Protect your investment season after season with the best 100% polypropylene cover on the market: a new Traveler RV cover.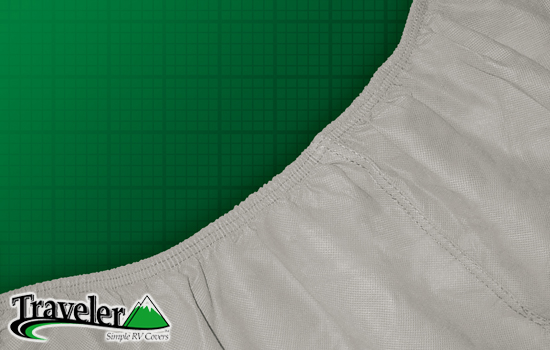 Authentic Traveler "Strong Built Covers"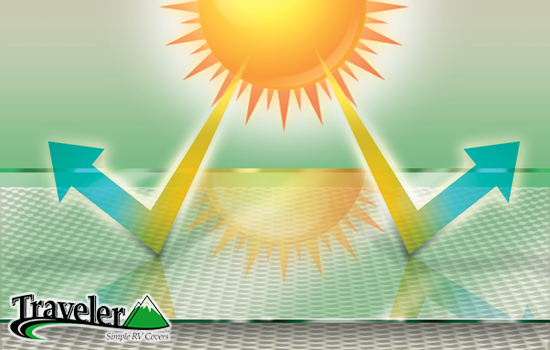 Traveler RV cover fabrics are engineered to protect your RV for years to come.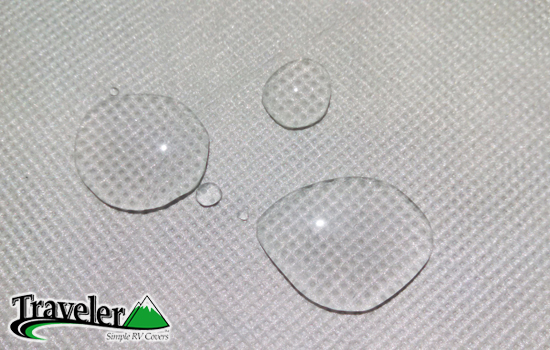 Traveler RV covers feature Durapel rain finish for high water resistance.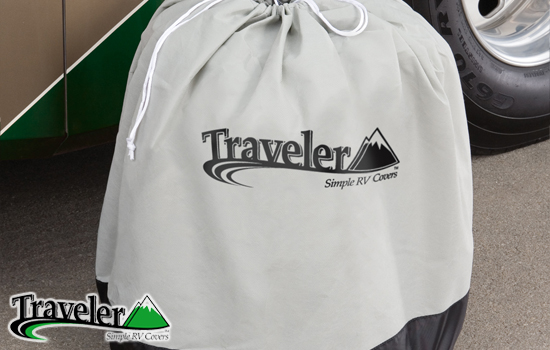 Convenient stuff sack is provided for easy carrying and storage featuring the iconic Traveler RV covers logo.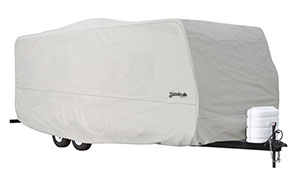 TRAVEL TRAILER
A Travel Trailer has rigid sides and is designed to be towed by larger vehicles with a frame hitch or bumper. Travel Trailers are also known in Britain as "caravans." Travel Trailers come in a wide variety of sizes that offer affordable home-style amenities.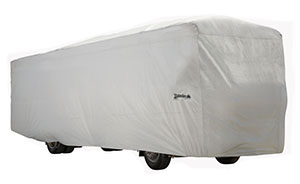 CLASS A RV COVER
Class A RVs are constructed on a commercial bus chassis, commercial truck chassis, or a specially designed motor vehicle chassis. Class A motorhomes are similar to a bus in design with a flat, vertical front end and large windows.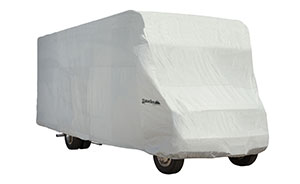 CLASS C RV COVER
These motorhomes are often based on the Ford E450 cab's chassis and engine, but Chevy and Dodge are also popular. Class C RVs can be identified by a distinctive cab-over profile that has a bed or area called an "entertainment" section.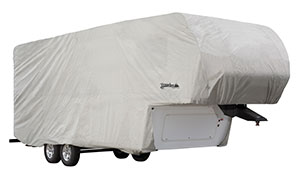 5TH WHEEL RV COVER
Fifth Wheel Trailers are designed to be towed by a truck equipped with a specialty hitch called a "fifth wheel coupling." These types of travel trailer bodies extend partially over the truck bed making for a compact, snug-fitting RV. Many larger 5th Wheel Trailers 40 feet or longer are typically pulled by small semi-trucks.
TRAVELER RV COVER IN HOUSE EMPLOYEE REVIEW
We tried the Traveler RV cover on several different RVs and confirmed that the material feels just as nice and strong as the manufacturer claims. The fit is very snug and it's easy to get the cover tight using the strap system at the front. It's also convenient to have zippers around the cover that allow easy access in and out of the RV without ever having to take off the cover. We used to carry other covers that are not as strong but a Traveler really is a great cover for the price!
-Happy Shopping from The NDC Team