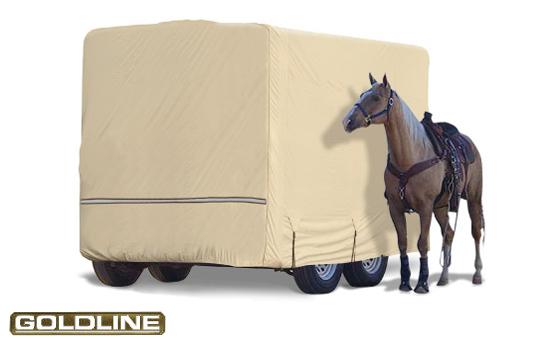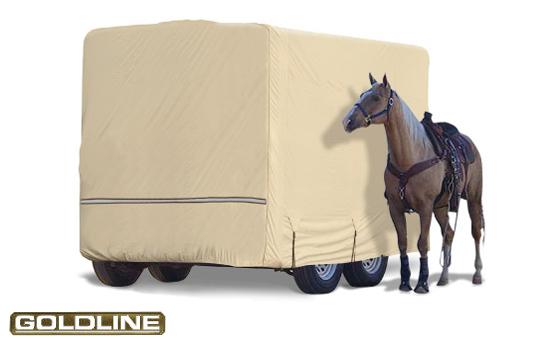 Sleek classic design with accent piping (shown in Windsor Tan)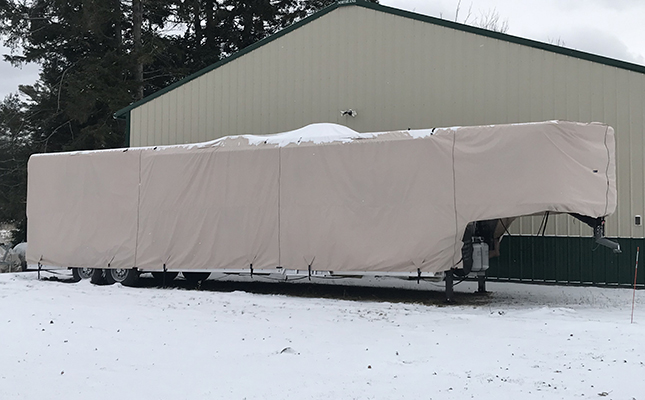 Customer Photo.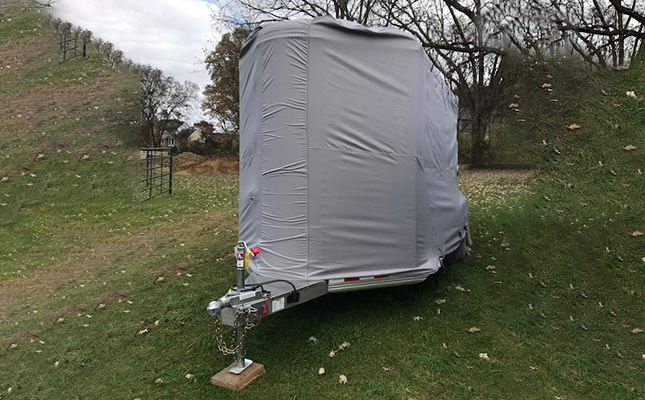 Customer Photo.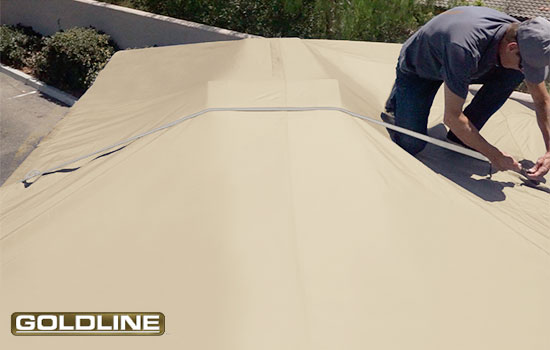 Endurance Roof Straps™ reach across the width of the roof and support the weight of the side panels, reducing stress on roof seams and fabric.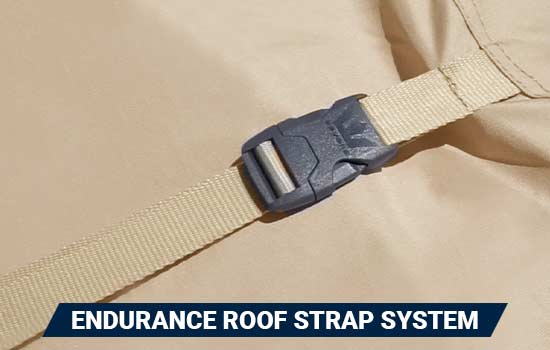 Endurance Roof Straps™ are sewn into the seam where the sidewall meets the roof, and come with adjustable straps and quick release buckles for quick, easy install.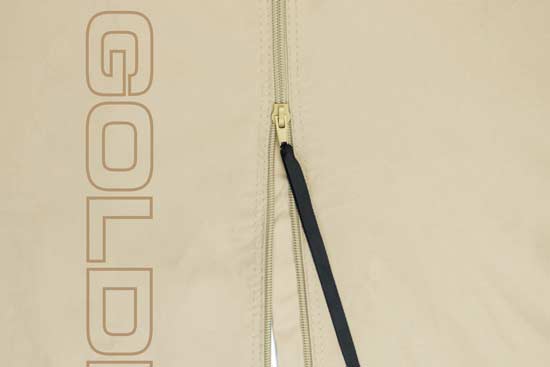 Extended pulls make zipper use simple - even in cold weather.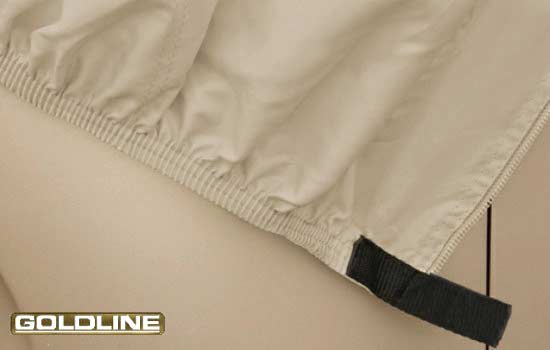 Elasticized hems on the corners provide a snug fit for easy installation.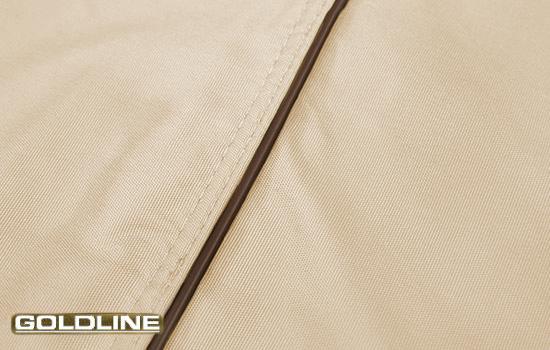 Elegant piping detail as a touch of style and extra durability.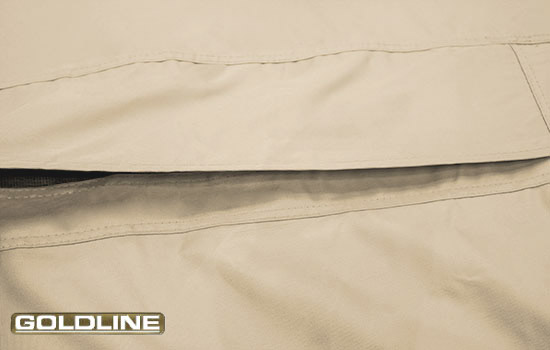 Vortex Vents promote air circulation, minimizing moisture buildup.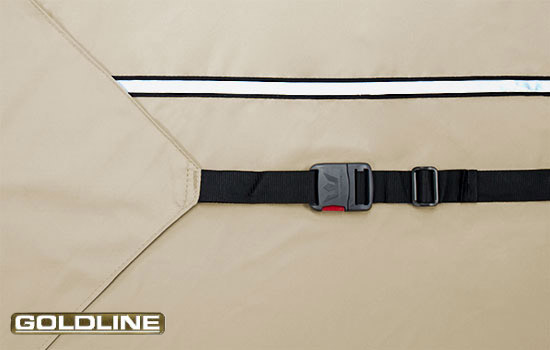 Heavy duty rear tension flags and 2 inch XT strap create custom - like fit.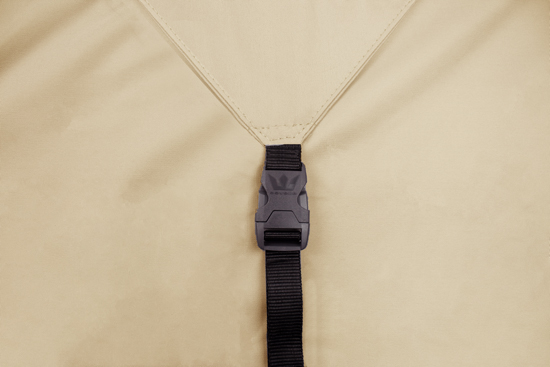 Heavy duty quick detach buckles make installation and removal easier.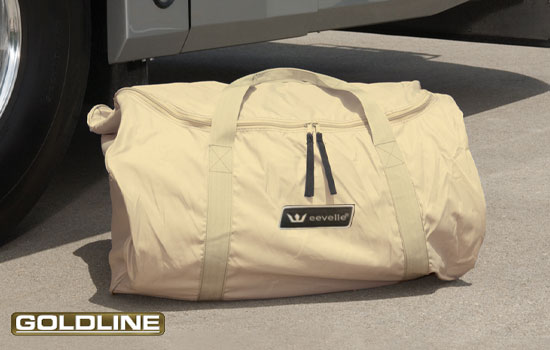 Executive duffle bag is provided for easy carrying and storage.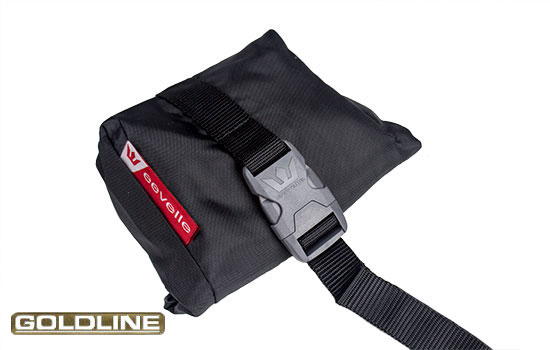 Handy throw pouch simplifies the installation process. Clip onto strap and throw underneath RV.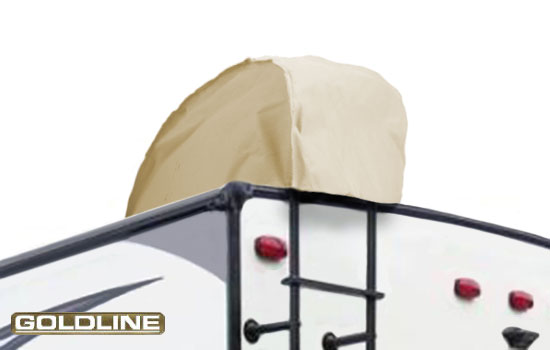 Ladder cap included to help protect your cover.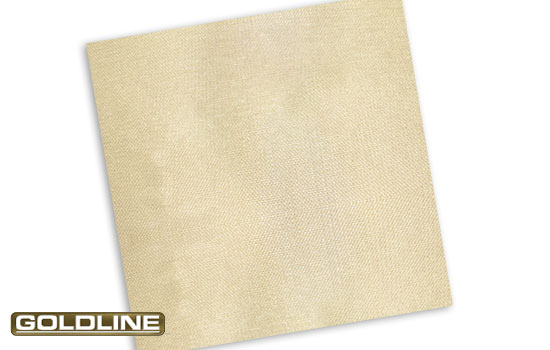 24" x 24" Reinforcement / patch kit can provide extra protection in heavy wear areas.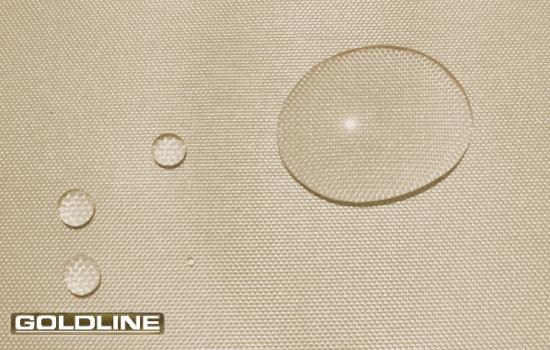 Exclusive "Marinex" marine grade waterproof fabric.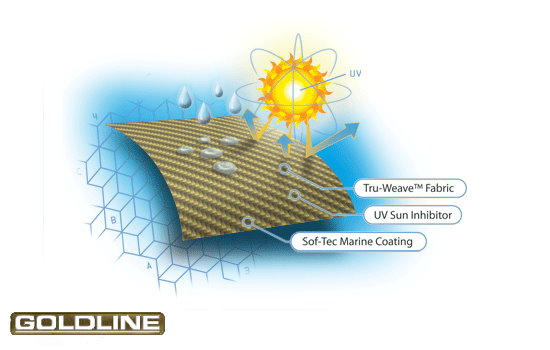 Goldline fabrics are designed to perform beautifully for years to come.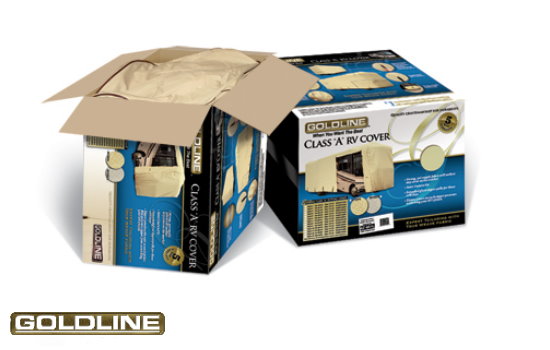 Free fast shipping direct to your door.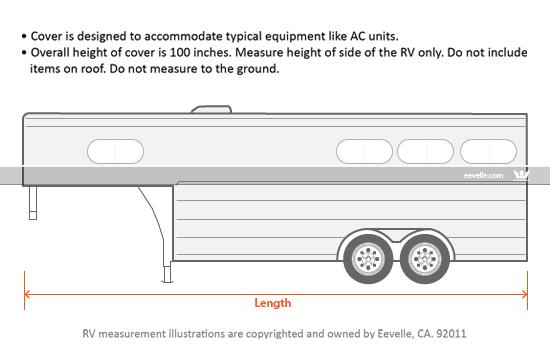 Be sure to measure your RV carefully. Do not rely on measurements published by the manufacturer or dealer.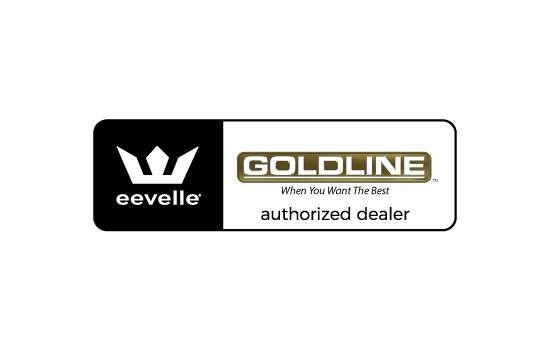 Authorized Dealer of Goldline products.
Product Videos




Customer Photos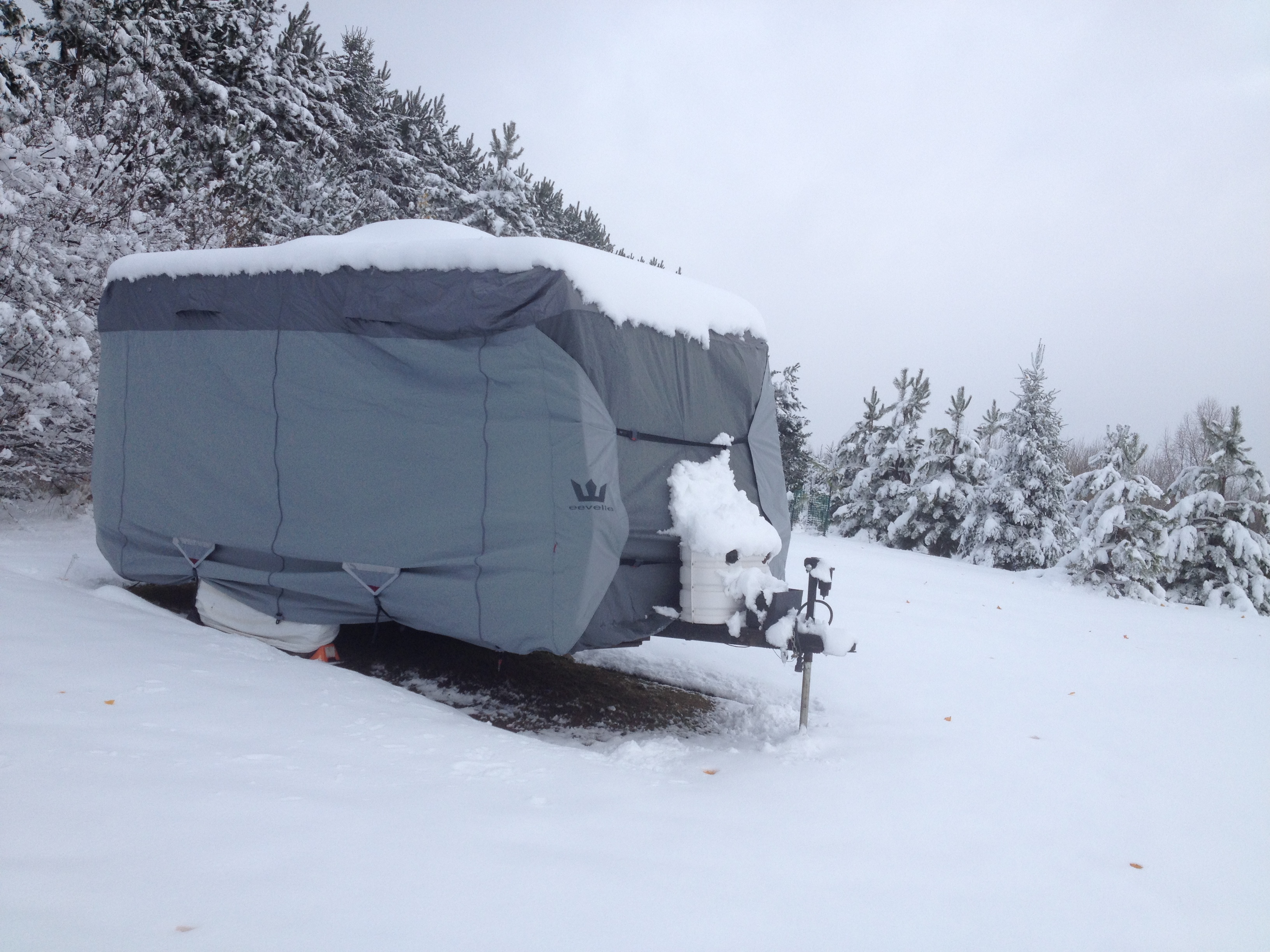 Product Photos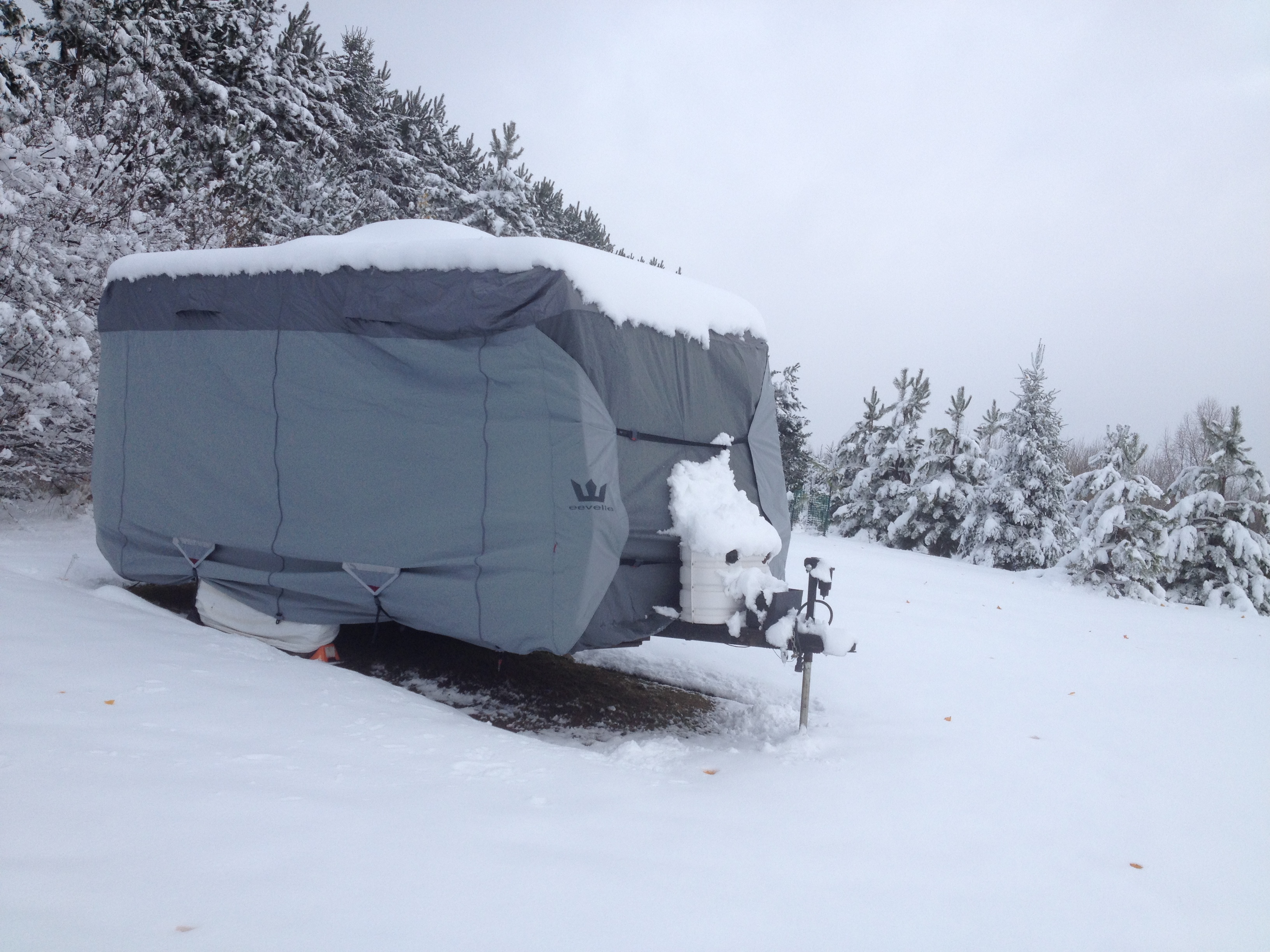 LISTEN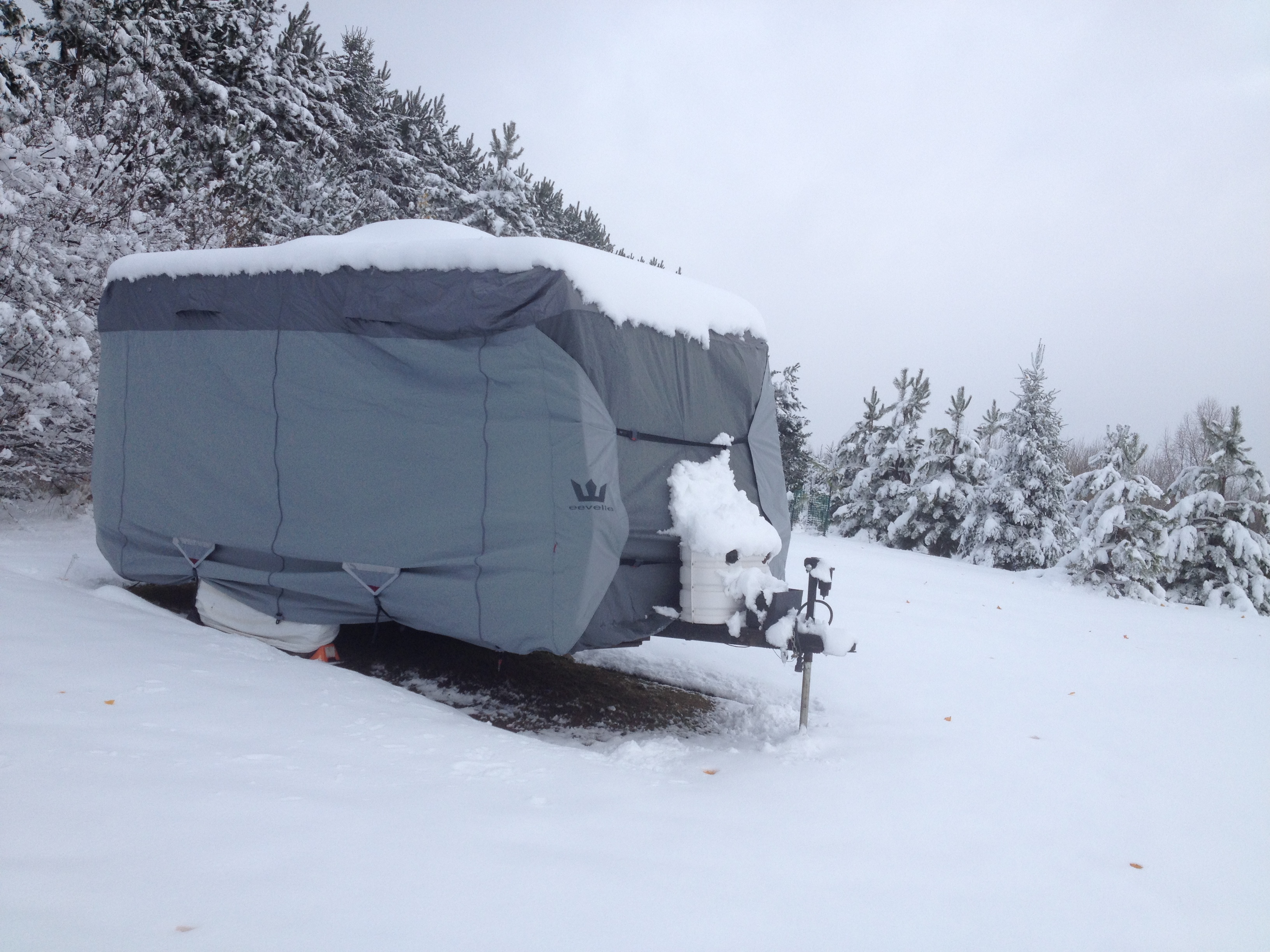 LISTEN
---

HORSE TRAILER & GOOSENECK COVERS
Goldline horse trailer covers are designed for the most discriminating customers because they outperform every other cover in all critical categories of trailer protection. Precision design and expert tailoring with the finest materials make this a high end cover that is as durable as it is beautiful.
GOLDLINE FABRIC SPECS:
Our Marinex marine grade fabric is a heavy duty, true loom-woven Polyester, constructed of 600 denier filament polyester yarn. It is coated with Durapel UV inhibitor and Anti-Microbial finish to make it UV and mildew resistant. The result is an incredibly strong yet breathable product that will provide protection for your RV for many years to come.
Goldline Heavy Duty Horse Trailer Covers and Gooseneck Covers Feature:
Tru-Weave fabric ensures quality craftsmanship and durability
Sof-Tec Marine coating provides 100% water resistance
Treated with UV Sun Inhibitor for maximum sunlight protection
Micro-porous film allows superior breathability to prevent rot and mildew
Zippered panels with anti-scratch sleeves for easy access to all entry points
Everest Glove(TM) extended zipper pulls for easy use on cold days
Heavy duty reinforced corners
Quick-release buckles for fast and easy access to all entry points
Integrated straps for added security against high winds
Sizing straps ensure a snug custom fit
Anti-hit reflective panels for added safety at night
Free executive storage bag included
5 Year Warranty
Available Colors: Cadet Gray or Windsor Tan
Product Details:
Measurement Details: 150" L x 90" W x 100" H
(*Overall length measurement should include bumper, ladder and spare tire)
Weight of Cover: 30 lbs
Warranty: 5 Years
Goldline covers accomodate typical RV features and accessories including A/C units, awnings, mirrors and ladders.
Every Goldline Cover Includes:
5 Year Warranty
Executive Style Duffle Bag
Sizing Straps for a Semi-Custom Fit
Ladder Cap, Toss Bag and Reinforcement Patch
GOLDLINE IN HOUSE EMPLOYEE REVIEW
We tried the Goldline by Eevelle cover on several different trailers and found the material feels nice and strong like the manufacturer claims. The fit is perfect and it's easy to get the cover tight using the strap system on the front. It's also nice that there are zippers around it that allow you to access the trailer without having to take the cover off. We used to carry other covers that are not as strong, but the Goldline is an amazing value and outlasts the rest!
-Happy Shopping from The NDC Team
NATIONAL RV COVERS | HORSE TRAILERS: EVERYTHING YOU NEED TO KNOW
National RV Covers is the best online retailer of horse trailer covers to fit all sizes and styles of horse trailer and gooseneck trailer. With horse trailer covers ranging in size from 10 to 46 feet in length, National RV Covers always offers high-quality covers that will last the test of time. Goldline Horse Trailer Covers are designed for the most discriminating customers because they outperform every other cover in all critical categories of trailer protection. Precision design and expert tailoring with the finest materials make this a high-end cover that is as durable as it is beautiful.
GOLDLINE: THE BEST HORSE TRAILER COVERS ON THE MARKET
National RV Covers offers only the best Goldline Horse Trailer Covers that are made by Eevelle premium brand, using water-resistant fabrics with a UV coating to offer the best protection against sun, rain, and snow. Enjoy its fade-resistant beauty for years to come while protecting your investment.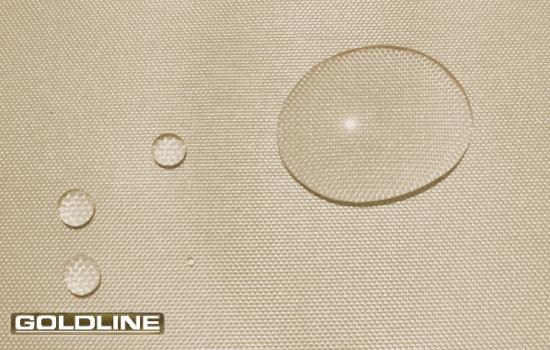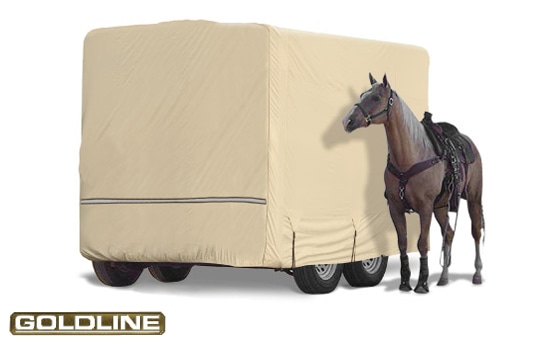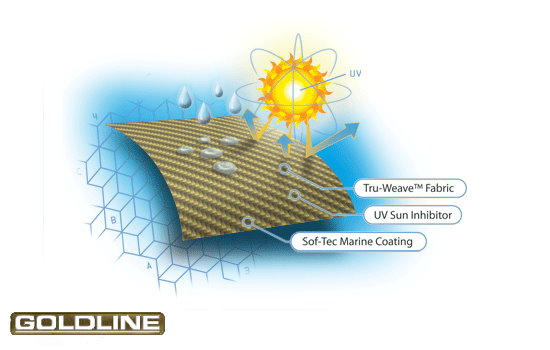 Goldline Horse Trailer covers are the only all-fabric covers on the market. Goldline is made with a heavy-duty waterproof Marinex marine grade fabric. Tru-Weave technology and Durapel UV sun inhibitors provide maximum protection and assurance that your Horse Trailer cover will not tear or break down in inclement weather. The Goldline Horse Trailer cover comes in 2-foot increment sizing for a strong, semi-custom fit. Goldline Horse Trailer covers come in two different colors, tan and gray, and you can choose the shape of your trailer bumper and front area for a custom-like fit.
MORE ABOUT HORSE TRAILERS
Horse Trailers come in many different shapes and sizes, depending on how many horses you need to transport. Bumper pull or tag along trailers attach to a truck via a hitch and can haul up to four horses depending on the trailer size. Gooseneck trailers are heavier than tag-alongs and may need a large truck with a truck bed to hitch onto. Stock trailers are open boxes that generally have no partitions or stalls between horses. Straight load trailers haul horses with their heads forward and tails to the rear of the trailer. Slant Horse Trailers offer more storage space and living quarters and you can fit more horses onto a small trailer depending on how the stalls are designed.
Popular Horse Trailer Manufacturers Include:
1. EquiSpirit Trailer Co.
2. 4-Star
3. Sundowner Trailer Corporation
4. Trails West
5. Elite Trailers
6. CM Trailers
7. Merhow
8. Exiss Trailers
9. Featherlite Trailers
10. Logan Coach
Don't see your trailer style here? Contact our helpful customer service department, 7 days a week, at: 800-616-0599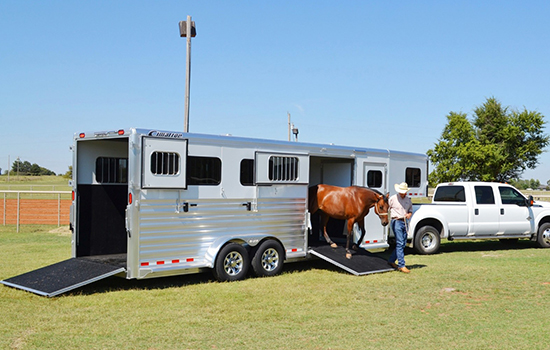 OTHER COVER STYLES YOU MAY BE INTERESTED IN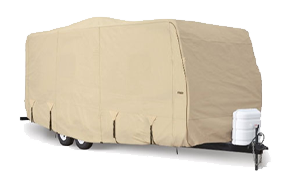 TRAVEL TRAILER
A Travel Trailer has rigid sides and is designed to be towed by larger vehicles with a frame hitch or bumper. Travel Trailers are also known in Britain as "caravans." Travel Trailers come in a wide variety of sizes that offer affordable home-style amenities.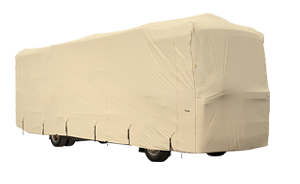 CLASS A RV COVER
Class A RVs are constructed on a commercial bus chassis, commercial truck chassis, or a specially designed motor vehicle chassis. Class A motorhomes are similar to a bus in design with a flat, vertical front end and large windows.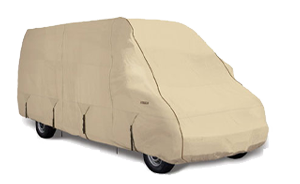 CLASS B RV COVER
Class B RVs are built using a standard van with the addition of a raised roof. Frequently, the rear of the vehicle has been replaced by a low-profile body known as a "coach-built." Class B motorhomes are built on many different styles of chassis depending on the manufacturer and design.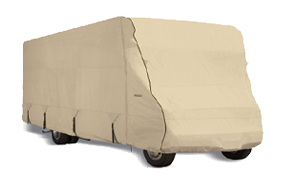 CLASS C RV COVER
Class C RVs are built on a truck chassis with an attached cab, which is usually van-based. These motorhomes are often based on the popular Ford E450 cab's chassis and engine, but Chevy and Dodge are also popular styles. Class C RVs can be identified by a distinctive cab-over profile that contains a bed or spacious area called an "entertainment" section.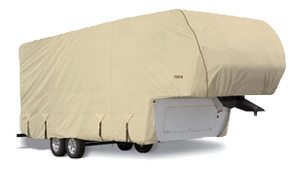 5TH WHEEL RV COVER
Fifth Wheel Trailers are designed to be towed by a truck equipped with a specialty hitch called a "fifth wheel coupling." The trailer body extends partially over the truck bed making for a compact, snug fitting RV. Many larger 5th Wheel Trailers 40 feet or longer are typically pulled by small semi-trucks.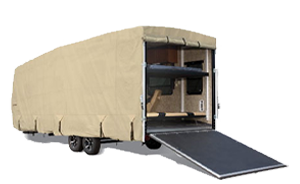 TOY HAULER RV COVER
Toy Haulers are Travel Trailers, Class A motorhomes or 5th Wheel Trailers that are designed to be partial living areas and partial garages for storing recreational vehicles like ATVs and motorcycles.
OUT OF STOCK
We're Sorry, but the item you
selected is currently Out of Stock.
Please make an alternate selection.
If you need further assistance
please call 800-616-0599.
The item you have selected is currently Made To Order. Order will be changed into Made To Order.
CUSTOM PRODUCT
PLEASE NOTE: The item you selected is considered a custom product. As such, it is not eligible for a refund once the order has been placed.
If you understand and agree to this condition, and would like to continue with your purchase, click the "Agree" button below.
For assistance, please call 800.616.0599