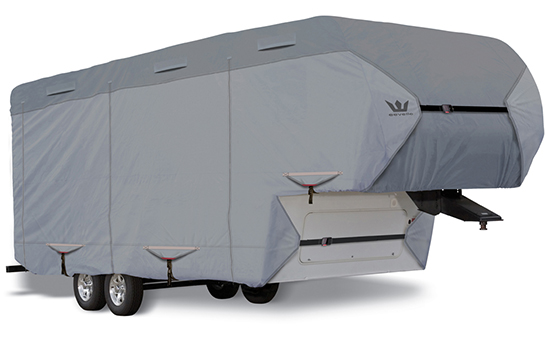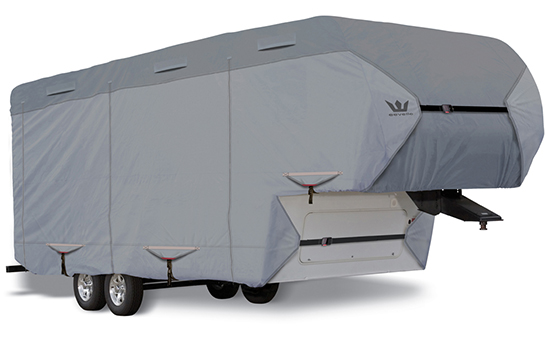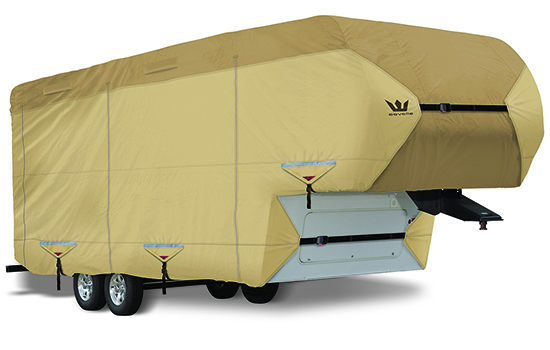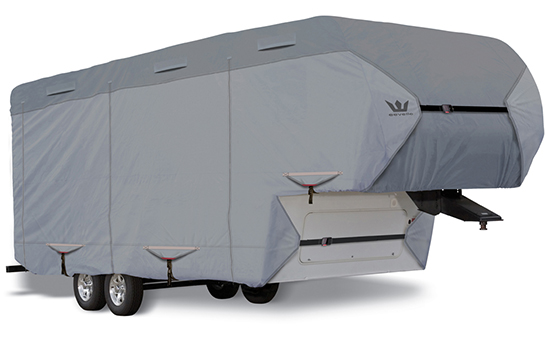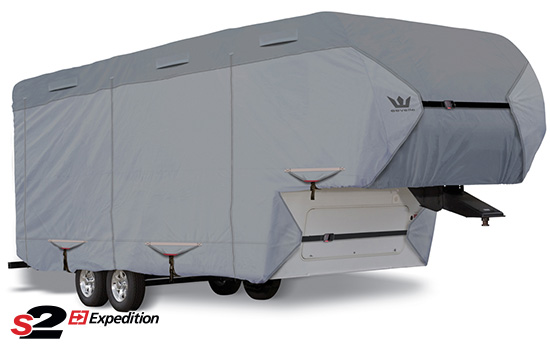 Bold high tech design with two tone color scheme in gray.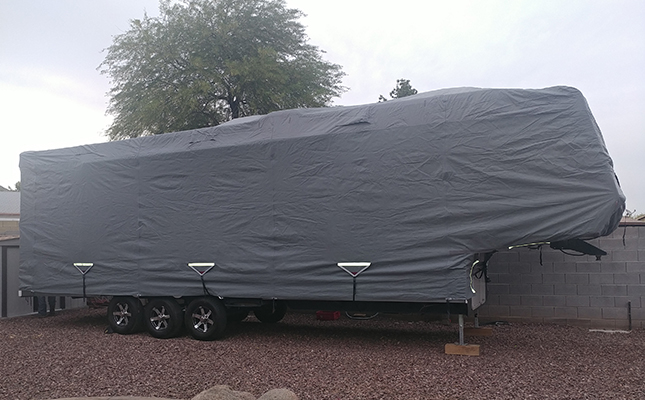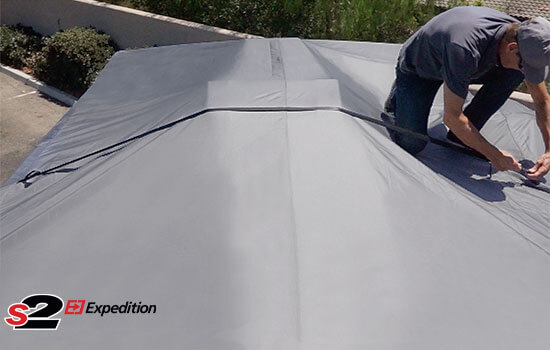 Endurance Roof Straps™ reach across the width of the roof and support the weight of the side panels, reducing stress on roof seams and fabric.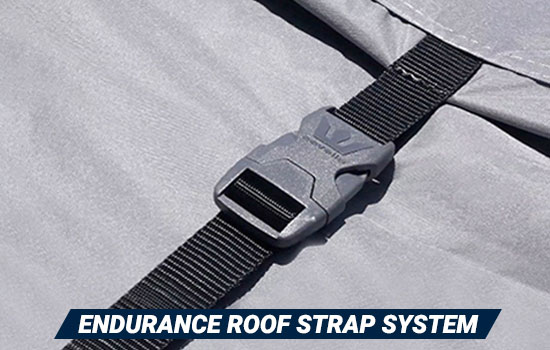 Endurance Roof Straps™ are sewn into the seam where the sidewall meets the roof, and come with adjustable straps and quick release buckles for quick, easy install.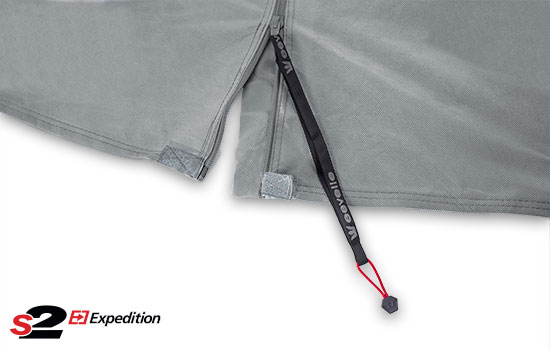 Heavy duty zippers with extended pulls on front, rear, and both sides.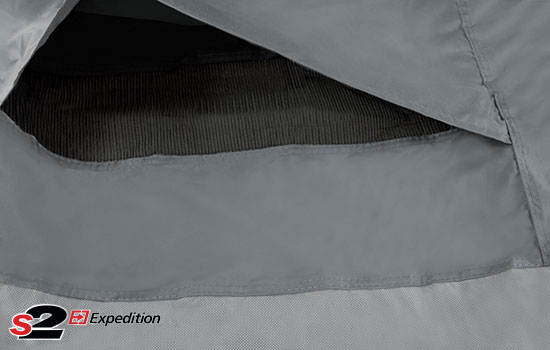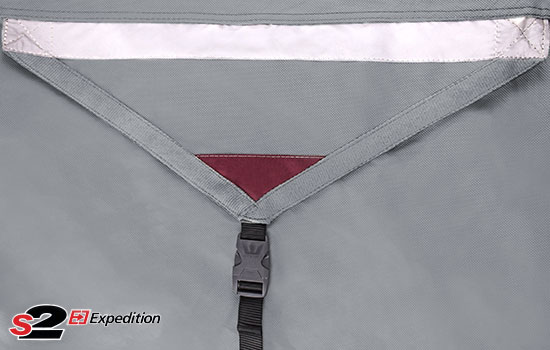 Reinforced tension flags with reflective strip provide night time safety.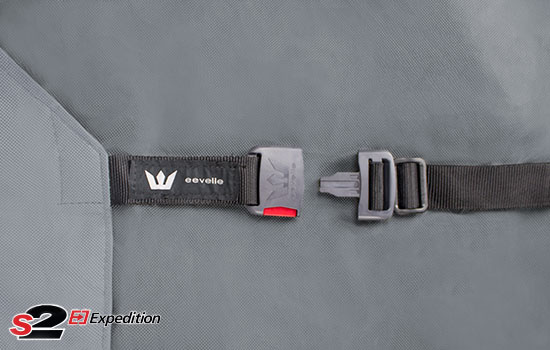 Extra wide heavy duty straps with side release buckles on front and rear.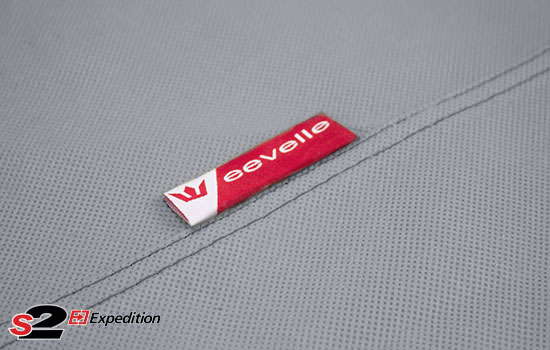 Authentic Expedition "Strong Built Covers" Manufactured by Eevelle.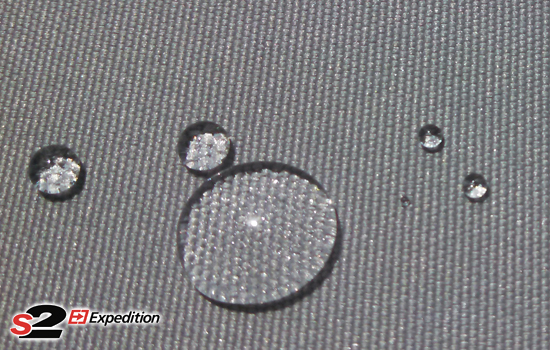 Marinex marine grade waterproof fabric roof with Durapel UV protection.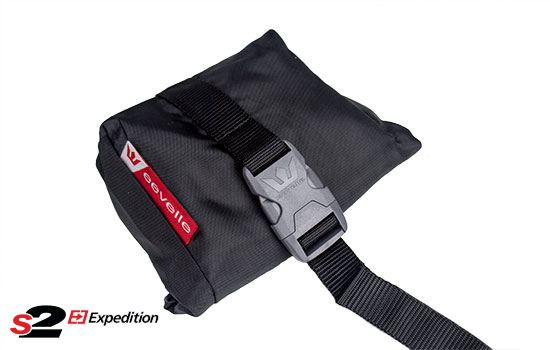 Handy throw pouch. Clip onto strap and throw underneath RV.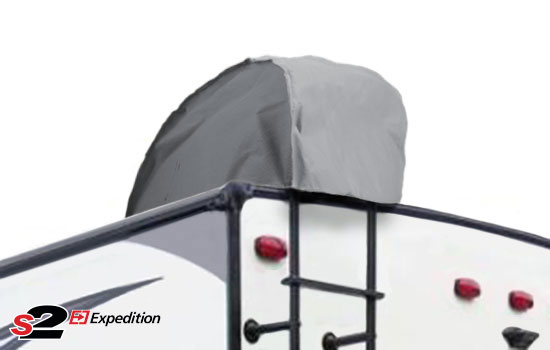 Ladder cap included to help protect your cover.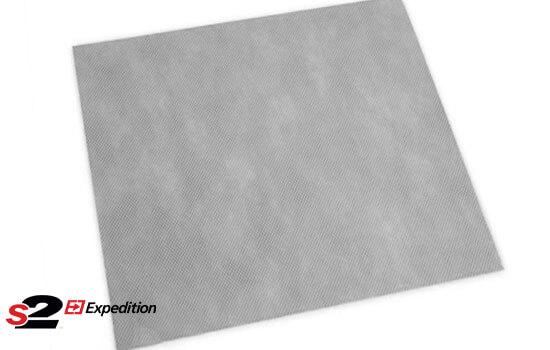 Reinforcement / patch kit provides extra protection in heavy wear areas.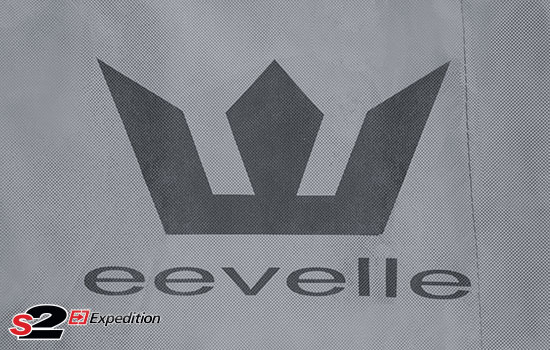 Marinex Blocks 99% of Harmful UV Rays
Convenient storage bag is provided for easy carrying and storage.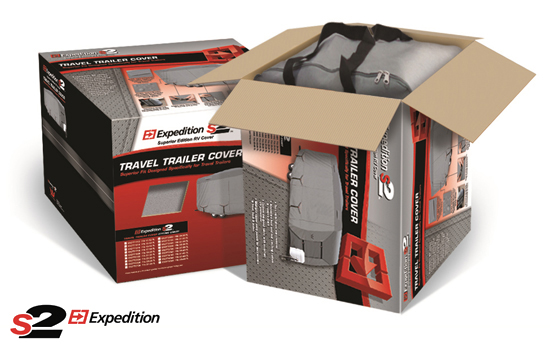 Free fast shipping direct to your door.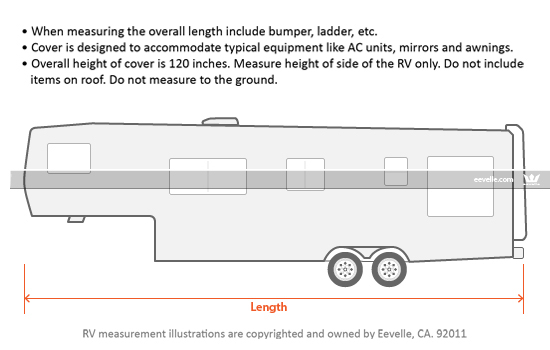 Be sure to measure your RV carefully. Do not rely on measurements published by the manufacturer or dealer.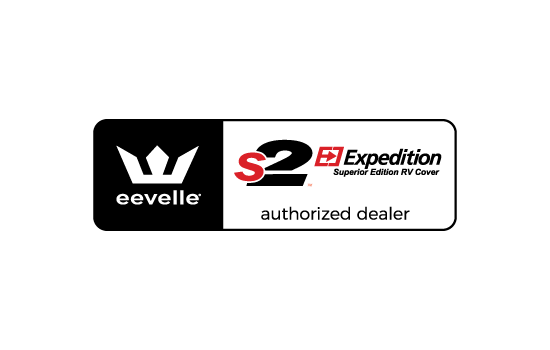 Authorized dealer of S2 Expedition Covers.
Product Videos




Customer Photos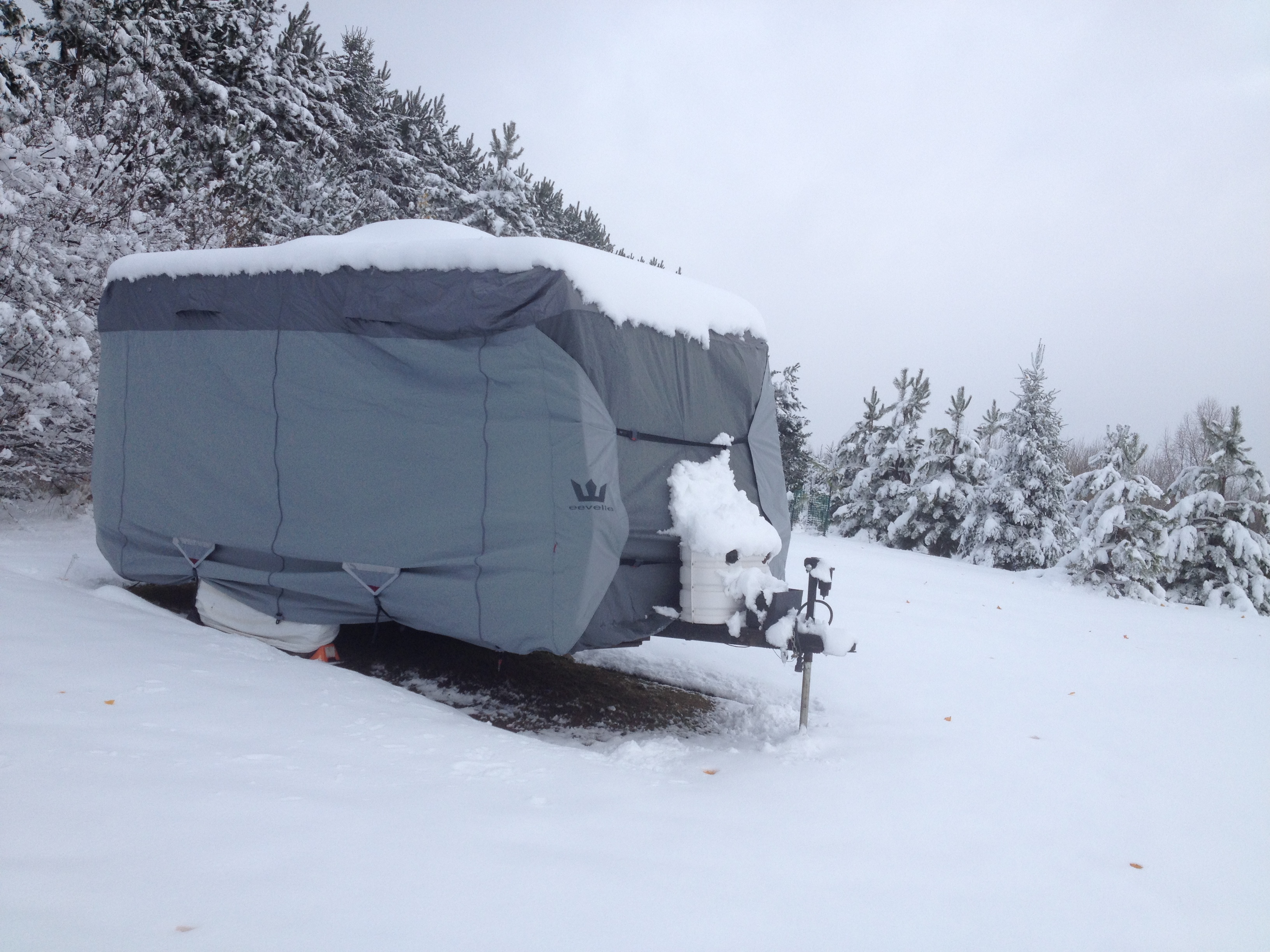 Product Photos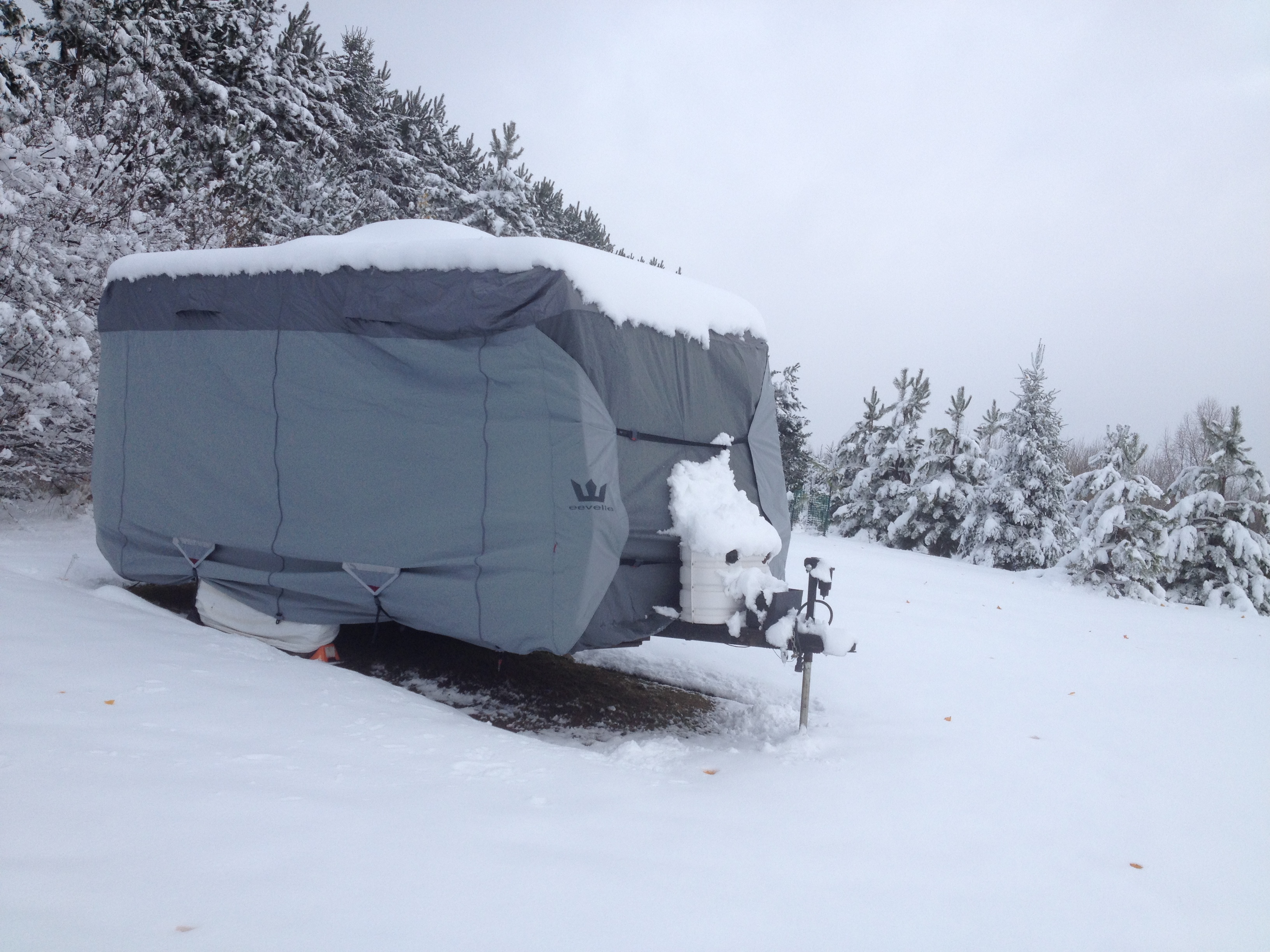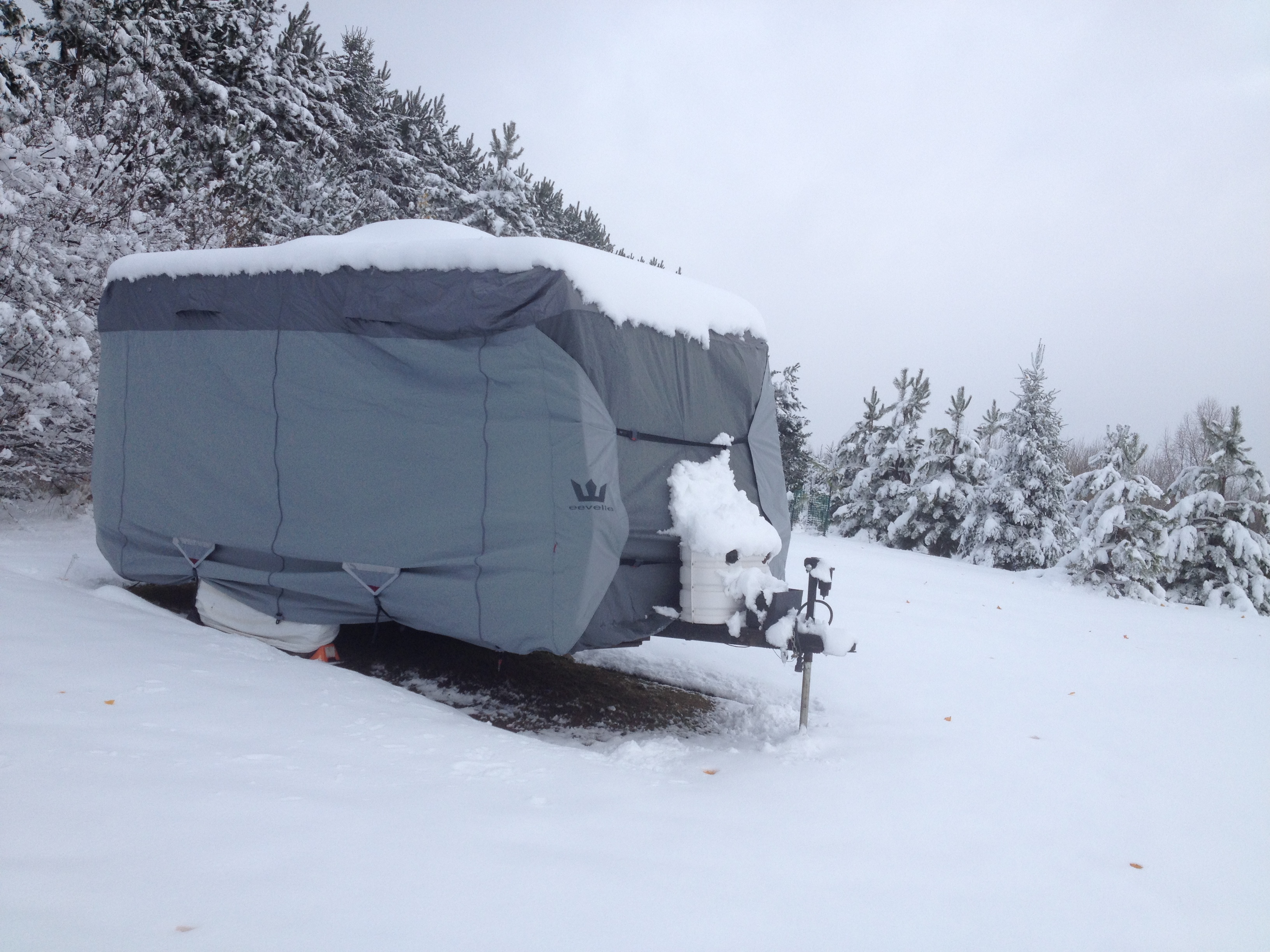 ---

S2 EXPEDITION BRAND RV COVERS BY EEVELLE
The S2 Expedition is the next generation of RV covers that combines technical enhancements with sleek, cutting edge design. This superior cover is loaded with many desirable features, including a woven marine grade fabric roof, large EZ fit flags on front and rear, quick release web strap system for easy installation, and heavy duty full height access zippers all the way around the cover.
S2 covers come with Endurance Roof Straps™. This innovative new feature prolongs the life of the roof by supporting the weight of the sidewalls. To learn more about Endurance Roof Straps click here.
S2 EXPEDITION SPECS
The rooftop of the S2 Expedition is crafted from true loom-woven polyester. It is coated with a Durapel rain finish as well as a UV inhibitor and anti-microbial finish to make it UV and mildew resistant. The sides of the cover are made from heavy gauge polypropylene that help to minimize weight while maintaining a highly durable covering.The rooftop is incredibly strong yet flexible and breathable, providing protection for your RV for many years to come.
S2 Expedition RV Covers feature:
Marine grade woven fabric rooftop for maximum water resistance
Full height front and rear tension flags for an easy fitting sleek look
Full height zippers around the entire cover to allow access to any part of the vehicle (*Not available on Pop Up covers)
Treated with UV Sun Inhibitor for maximum sunlight protection
Micro-porous film allows superior breathability to prevent rot and mildew
Heavy duty reinforced corners with sewn in shock cord hem
Quick-release buckles for fast and easy installation and removal
Multipoint strap system for snug fit and added security against high winds
2 FT increment sizing helps ensure a snug custom fit
Anti-hit reflective panels on tension flags provide added safety at night
UPF rating: Excellent - blocks 99% of UVA and UVB rays
Product Details:
Measurement Details: 390" L x 102" W x 120" H
(*Overall length measurement should include bumper, ladder and spare tire)
Weight of Cover: 46 lbs
Warranty: 3 Years
S2 Expedition covers accommodate typical RV features and accessories, including A/C units, awnings, mirrors and ladders
Every S2 Expedition RV Cover includes:
3 Year Warranty
S2 Expedition executive duffle bag
Sizing straps to provide a snug, semi-custom fit and minimize wind flap

S2 EXPEDITION IN HOUSE EMPLOYEE REVIEW
Okay! Here's our in-house review of the popular S2 Expedition cover that we tried on a Winnebago Class A. We noticed right away that the S2 pays attention to details from the quick-release buckle straps to the full height zippers, making access and installation all that much easier. We also found that the side wall fabric felt much stronger than the regular Expedition. We asked the manufacturer about this and they confirmed that they did increase the thickness of the material on the side walls. This model also has zippers all the way around the cover to access any area of the vehicle. The waterproof roof also has a lot more coverage coming down on the sides compared to the regular Expedition. All in all this is a true upgrade from the original and this cover will work better for you in the long run. Good price - great cover!
-Happy Shopping from The NDC Team
OUT OF STOCK
We're Sorry, but the item you
selected is currently Out of Stock.
Please make an alternate selection.
If you need further assistance
please call 800-616-0599.
The item you have selected is currently Made To Order. Order will be changed into Made To Order.
CUSTOM PRODUCT
PLEASE NOTE: The item you selected is considered a custom product. As such, it is not eligible for a refund once the order has been placed.
If you understand and agree to this condition, and would like to continue with your purchase, click the "Agree" button below.
For assistance, please call 800.616.0599