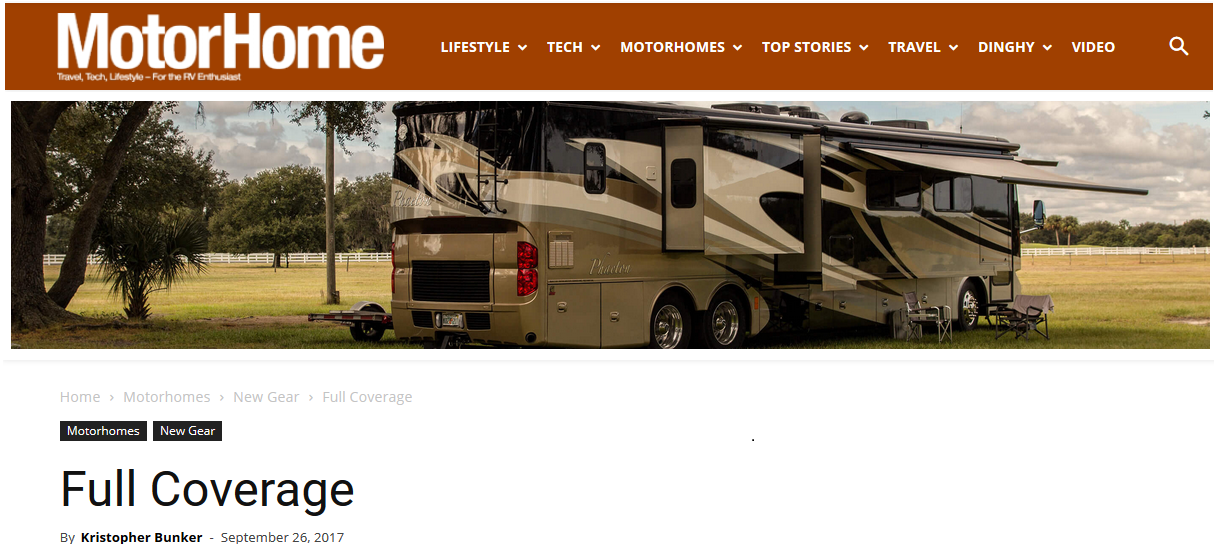 Protecting your motorhome is easy with a quality cover from one of these manufacturers
When buying a new motorhome, the fact that you'll likely have to store it for long periods of time is far from your mind. In the heat of the purchasing process, you are no doubt blinded by visions of leaving your stick home behind and traveling the open road quite often. But, try as we might, over the years most of us are faced with having to store our favorite motorhomes at some point and return to our residential homes.
When the time does come, the ideal setup is a nearby climate-controlled storage facility with 24/7 surveillance and security. But here in the real world, that may not be a viable option, so we are forced to select the nearest open-air parking-lot style facility, carport or, if allowed, our very own pad or driveway. All of which is fine, but results in our prized investment being exposed to the elements. Things like UV rays, rain, snow and bird droppings all add up to an accelerated deterioration of the motorhome's roof, side walls, seams and tires, and even the interior furnishings that are exposed to the reach of the sun.
   "Only the highest quality stitching goes into our covers
.
"
In order to help slow down the motorhome's aging process and help retain resale value, you'll need to purchase a quality cover. And while it may seem like a considerable chunk of change up front, even the most expensive cover will likely set you back only the same amount that a few months' rent in a storage facility would.
Covers are available with a variety of construction techniques, using polypropylene, polyester, Tyvek synthetic material and Sunbrella woven acrylic fabric, and are often designed in varying protection levels depending on the severity of the climate. Be sure to select a cover that has been manufactured for the climate in which you live.
Eevelle
Eevelle has been manufacturing high-quality RV covers since 1994. All Eevelle covers offer heavy-duty reinforced corners to resist snagging and tearing, along with multiple zippered panels at entry points to allow easy access during storage.
Eevelle's most popular RV cover brands are Goldline and S2 Expedition.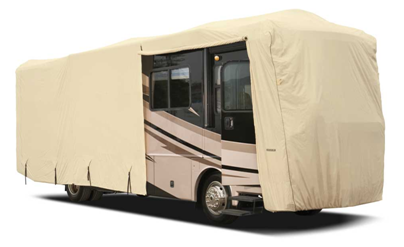 The S2 Expedition is available for Class A and Class C motorhomes and is constructed using three breathable layers of X-Strength fabric and a Durapel finish for water-resistance. It is treated with a UV-ray inhibitor, and its micro-porous film allows for increased breathability to prevent mold and mildew. Unique full height front and rear tension wings simplify installation and help create a customized fit. Expedition covers include a three-year warranty. MSRP: $333.99-$445.99.
Eevelle's flagship Goldline covers are available for all motorhome classes and are crafted from woven marine-grade fabric and embedded with a UV inhibitor to stand up to harsh climates. Integrated dual-flow vortex vents reduce lofting in high winds, while sizing straps ensure a snug, custom fit. Goldline covers come with a five-year warranty. MSRP: $359.99-$719.99.
Eevelle | 800-757-3090 | www.eevelle.com
When measuring your motorhome for a cover, do not rely solely on manufacturer specifications. To determine which size of cover you need, measure the complete length of the motorhome from the front bumper straight back to the rear of the motorhome. Be sure to include any spare tires or ladders in this measurement. For complete height, measure from the base of the motorhome to the top of the roof, but this time exclude all A/C units, vents, satellites, etc.
Covering your motorhome will become easier with a little practice. Before you begin, be sure to protect the covers from any sharp edges on the motorhome and its components; wrap any offenders (such as antennas, gutter spouts or solar panels) with a towel or foam scraps.
It's best to have a helper while covering your motorhome, especially while you're on the roof. First, make note of the front, which is usually identified with a label or sewn-in tag. Next, unroll the cover behind the motorhome, which will make handling the cover easier. Once that's done, fold the sides of the cover inside out before climbing the ladder. Once on the roof, hold the cover by its front, and pull the entire cover forward to the front of the motorhome. Next, starting at the front and moving down both sides, drape the cover off the roof and all the way to the rear. Use caution while descending the ladder. Pull the sides of the cover down to the bottom of the motorhome, secure the cover in place and you're all set.