We are the #1 source for camper covers of all sizes and types. We carry a wide selection of high-quality camper covers for both pop up campers and truck campers. Wherever your adventures take you, National RV Covers has the perfect camper cover for you.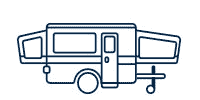 Pop up campers are a type of RV that can be collapsed down into a smaller portable package. Pop up campers are lightweight and can be towed by smaller vehicles. We carry an excellent selection of pop up camper covers to fit your needs.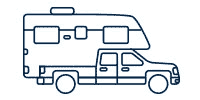 A Truck Camper is any RV that can be carried in the bed of a pickup truck. Truck campers are the most versatile form of RV because they can go anywhere a pickup truck can go. Even better, we have the perfect truck camper cover for you!
HOW TO CHOOSE A CAMPER COVER
The most important factors in choosing a camper cover are durability and fit. Your camper cover should protect against the elements you are most likely to encounter. However, a proper fit is just as important. An ill-fitting camper cover will provide little protection. Whether you are storing your pop up or truck camper cover for the winter or the long term, ensure it is protected with a reliable, well-fitting camper cover made of high-quality materials. This will greatly increase the lifespan of your camper and ensure great adventures for years to come.
Please call us if you need help selecting your camper cover. Our US-based team of camper cover experts is always happy to help! You can contact us at: 800-616-0599. Happy camping!