The National Park system in the United States is a treasure. Anyone who has spent time traveling to multiple National Parks has their list of favorites and, of course, we have our own. The US National Park System manages area in all 50 states, so there is always someplace to explore nearby. Go out and find your personal favorites!
RVing is the perfect way to explore most National Parks. They provide the freedom of exploration as well as a home base for your adventures. You should check ahead to see where the RV campgrounds are and what facilities they offer. The further off the beaten path you go, the less likely they are to have things like power, food and showers.
5. Rocky Mountain National Park
Location: Northern Colorado, about 70 miles from Denver
Rocky Mountain National Park is one of the most popular destinations in the country with almost 5 million visitors yearly. There's a reason for that: it's incredible. At over 260,000 acres surrounded by another 250,000 acres of National Forest, Rocky Mountain National Park is as big as it is beautiful. The majesty of alpine mountains and the surrounding expansive forest is on display like few other places in the world.
If you've ever wanted to see the Continental Divide, this is the place to do it. It runs north-south right through the park. The waters on the west side of the park flow down towards the Pacific while the eastern side flows towards the Great Plains. This division is the Rocky Mountains itself and the park is one of the highest in the country with elevations ranging from nearly 8,000 feet to over 14,000 feet. There are more than 60 mountain peaks at over 12,000 feet. If you're looking for mountains, this is the place to be.
Rocky Mountain National Park is very convenient for RVing. It is located just 70 miles from Denver and is very well maintained. There are numerous RV facilities and campgrounds available in many areas of the park. However, plan your trip ahead of time and make reservations. It's also important to check weather conditions because the Rocky Mountains experience some extreme weather during fall and winter. Spring doesn't truly happen here until June.
Wildlife you must see: Elk, moose, bighorn sheep, mule deer, pikas.
Places you must visit: Hozlwarth Historic Site, Old Fall River Road, Trail Ridge Road (highway to the sky – the highest elevation paved road in the US).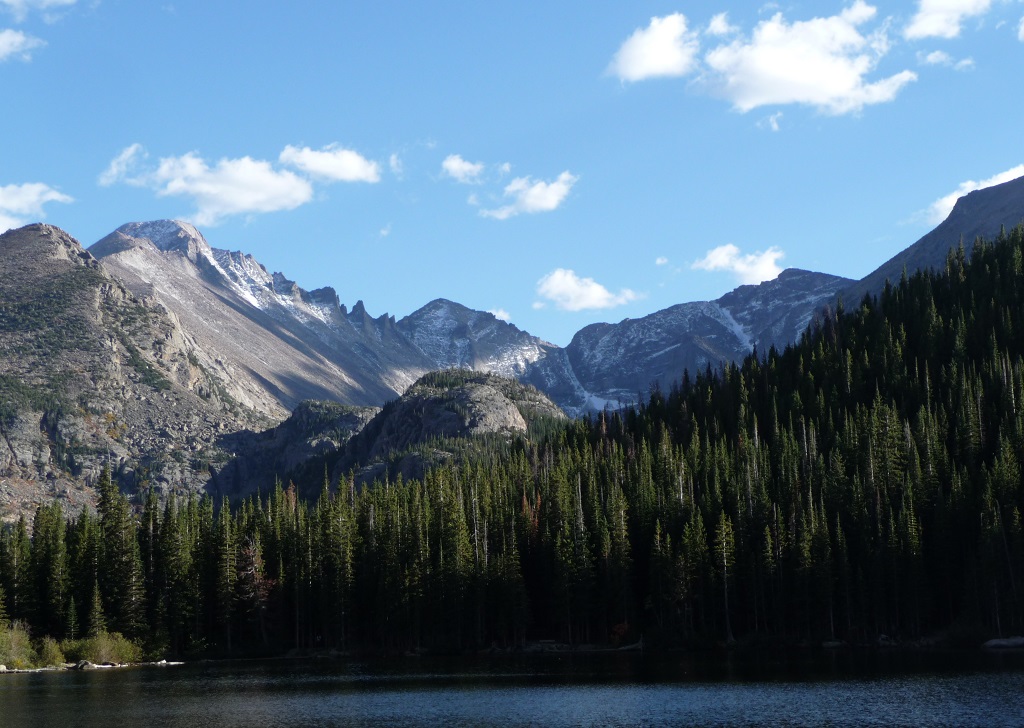 4. Zion National Park
Location: Southwestern Utah, 260 miles from Las Vegas, NV, 225 miles from Provo, UT
Zion National Park is a true desert marvel that features awe inspiring peaks and canyons spread out over 229 square miles. It is adjacent to another major National Park: Bryce Canyon. Their proximity makes visiting both parks very easy and boosts Zion even higher on the list of destinations.
One of the biggest features of Zion National Park is Zion Canyon. It is over 15 miles long and there are spots where it is 2,600 feet deep. This is the place where three major geographic provinces come together: the Colorado Plateau, the Mojave Desert and the Great Basin. The unique geography of the park has created numerous different life zones that allow for an unusual amount of plant and animal diversity; especially for the desert. This is one of the rare places where desert, woodlands and coniferous forest converge.
Zion is very RV-friendly. They have great facilities and the town of Springdale is located nearby where pay showers, stores, laundromats and a medical clinic are available. There are three major campgrounds inside the park and five more outside of the park. Plan ahead and see what facilities are currently open. Also be sure to check weather conditions. In the summer, Zion gets very hot. In the winter, it may snow, but it is generally warm during the day and below freezing at night. However, it is not uncommon to see snowfall during the coldest months.
Wildlife you must see: Mule deer, coyote (you probably won't see them, but you might just hear them at night), gray fox, mountain lion, bobcat, beaver, ringtail cat, porcupine.
Places you must visit: The Narrows (river hike), Zion Canyon, Emerald Pool Trails, Kolob Canyons, Angels Landing.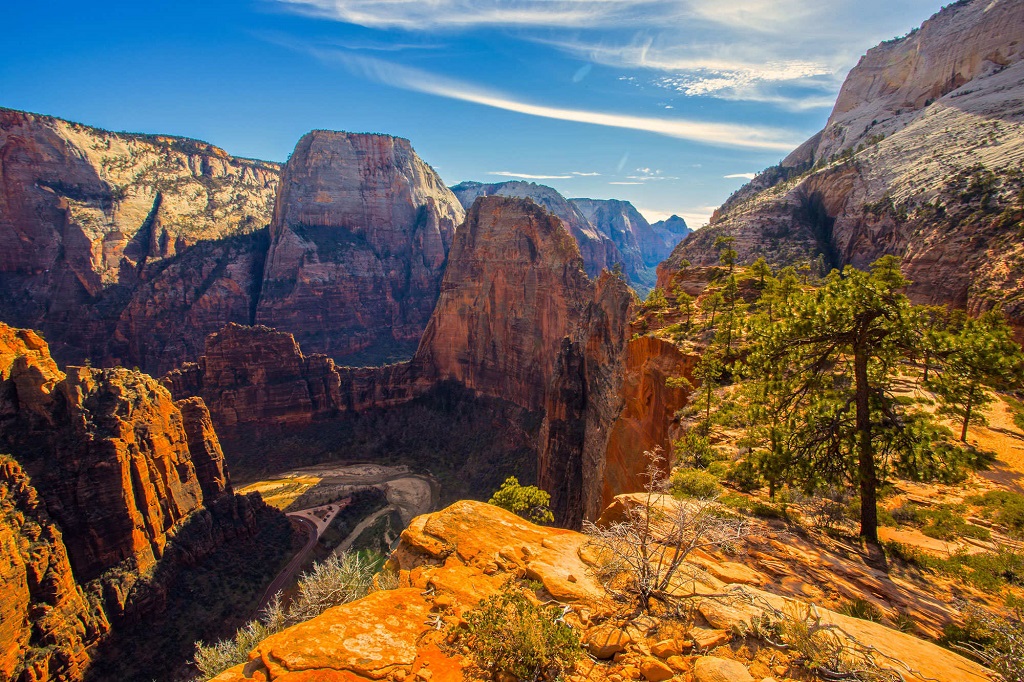 3. Yosemite
Location: Central Eastern California (Sierra Nevada Mountains), 60 miles from Fresno, CA
Yosemite is one of the most popular destinations in the US and helped create the National Park System. Once you see it, it's not surprising why. If you're looking for massive granite cliffs, waterfalls, glaciers, groves of giant Sequoia trees, crystal clear mountain streams and biodiversity that rivals anywhere on the planet, then this is your place. The park is almost 750,000 acres of natural beauty that is almost 95% wilderness. It's also one of the most popular parks in the country with over 4 million visitors per years.
The biggest thing (literally) you'll notice in Yosemite is the gigantic granite cliffs and valleys. These were formed when the continent shifted more than 10 million year ago and raised the elevation of the land. This caused snow and ice to accumulate until they formed giant glaciers that cut their way through the river valleys. This sculpted out the most popular part of the park which is home to unrivaled scenic views. The raw, untamed landscape of Yosemite is millions of years in the marking and needs to be seen to be believed.
RVing is an excellent way to visit Yosemite. There are 10 campgrounds that can accommodate RVs, but reservations must be made. Electricity, water and sewer hookups are not available in Yosemite, so plan for that. There are defined times that generators can be used. Due to the sheer size and number of things to do in the park, RVing is an ideal means of experiencing it all. Kings Canyon and Sequoia National Parks are also within driving distance, so Yosemite is an ideal starting point for exploring even more of the Sierra Nevadas.
Wildlife you must see: Black bears, bighorn sheep, red fox, pacific fisher, mountain lion, mule deer.
Places you must visit: Halfdome, El Capitan, Wawona, Mariposa Grove (sequoias!), Tuolumne Meadows, Hetch Hetchy Valley, Yosemite Falls, Sentinel Falls, Mirror Lake.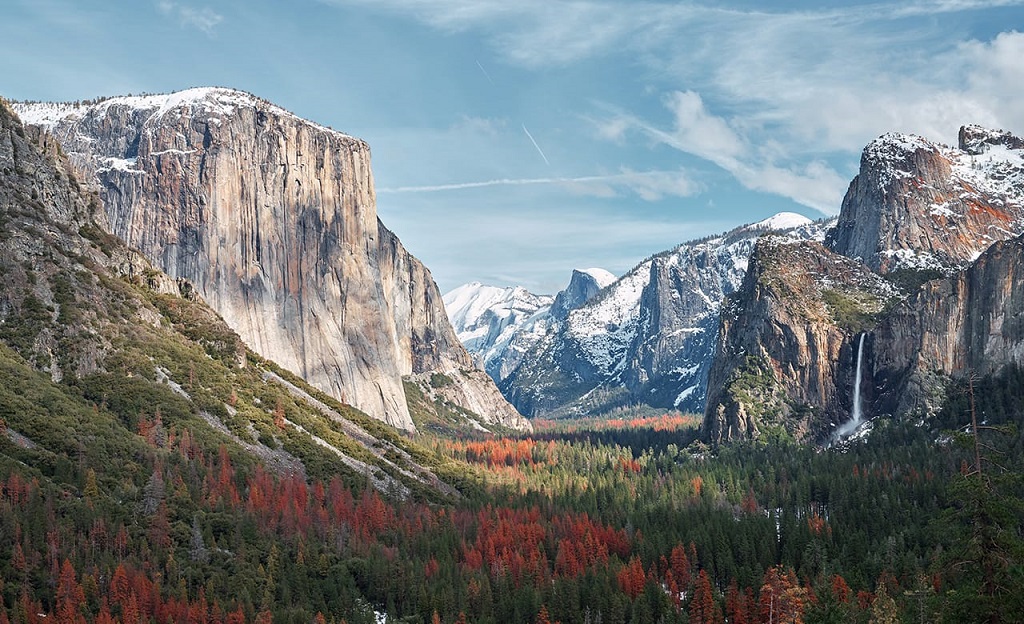 2. Grand Canyon National Park
Location: Northern Arizona, 75 miles from Flagstaff, AZ
Grand Canyon National Park is the second most popular National Park in the US with over 6 million visitors yearly. It is a World Heritage Site and one of the greatest natural wonders on Earth. It is also massive in scale and covers more than 1.2 million acres spread across two counties. There is simply nothing like it anywhere.
The primary feature is the Grand Canyon. It was slowly cut out of the rock over millions of years by the Colorado River. Most visitors experience the canyon from either the North or South Rims with more than 90% of visitors viewing from the South Rim. The remainder of the park is extremely rugged. Hiking and white-water rafting in the Colorado River is something that truly needs to be experienced. The size of the Grand Canyon cannot be overstated. Once you see it, you'll understand why this is such a popular destination.
RVing is very easy at Grand Canyon National Park. A full RV campground complete with hook-ups is available in Grand Canyon Village on the South Rim. It is open all year. You'd be hard-pressed to find a better place to park your RV and explore nature in its most grand.
Wildlife you must see: Bison, bighorn sheep, bats, elk, mule deer, mountain lion, javelina, California condor, peregrine falcon, gila monster.
Places you must visit: Grand Canyon (of course), North Rim, South Rim, Colorado River rafting, Trail of Time, mule ride down the canyon.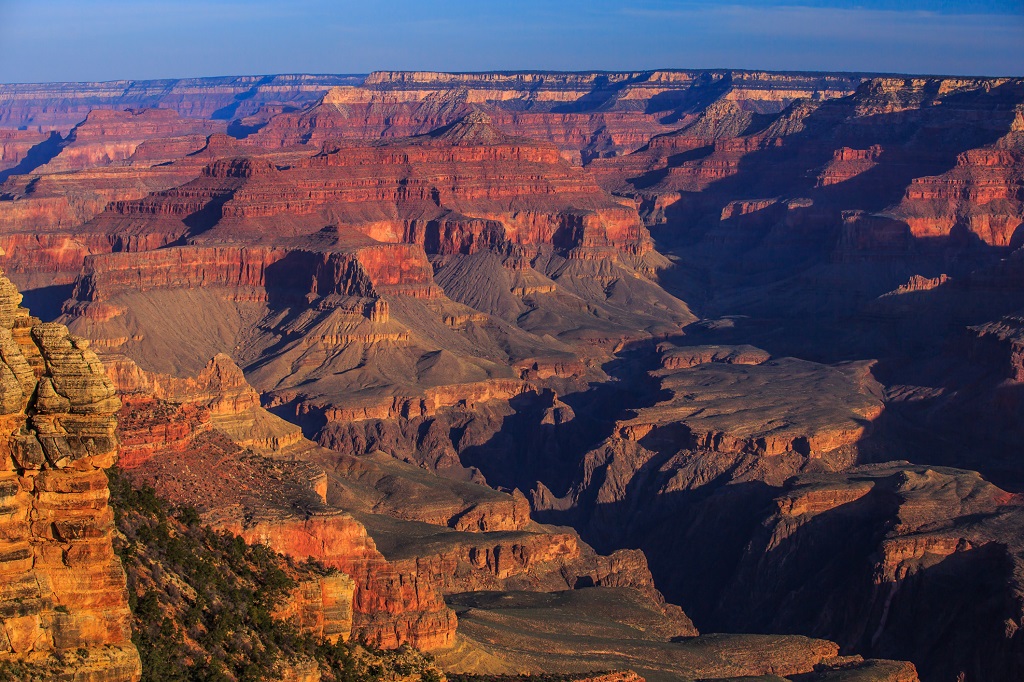 1. Yellowstone National Park
Location: Mostly Wyoming, but also Montana and Idaho
It's hard to choose anything other than the famous Yellowstone for the number 1 spot. Yellowstone National Park is the first national park in the US and possibly the world. The park is a UNESCO World Heritage Site. It is also one of the biggest National Parks in the world at more than 3,400 square miles. Half of the world's hydrothermal features are in Yellowstone powered by ongoing volcanism below it. In fact, most of the park was formed by volcanic activity.
It's difficult to cover all the things you can do and see in Yellowstone without writing a book. It's simply a wonderland for those who love nature and being outside. The biggest draws tend to be the thermal basins that include hot springs, geysers and mudpots. However, animal watching comes in at a close second with opportunities to see grizzly bears, bison, moose and more with little effort. It's so easy to see big wildlife here that it often causes traffic jams as visitors stop to see bears casually walking around.
Yellowstone National Park is an RVers dream come true. There are numerous options spread out across the expansive park; allowing you to hop between campsites to see as much of it as possible. Full hook-ups are not super common inside the park, but there is at least one RV park that does provide full hook-ups including electricity, water and sewer. There are also numerous RV parks just outside Yellowstone as well.
Wildlife you must see: Bison, bighorn sheep, elk, black bear, grizzly bear, gray wolf, bobcat, badger, lynx, marten, red fox, otter, wolverine, moose, mountain goat, pronghorn, beaver, bats.
Places you must visit: Grand Canyon of the Yellowstone, Old Faithful, Grand Prismatic Spring, Hayden Valley (bison and bears), Mammoth Hot Springs, Norris Geyser Basin.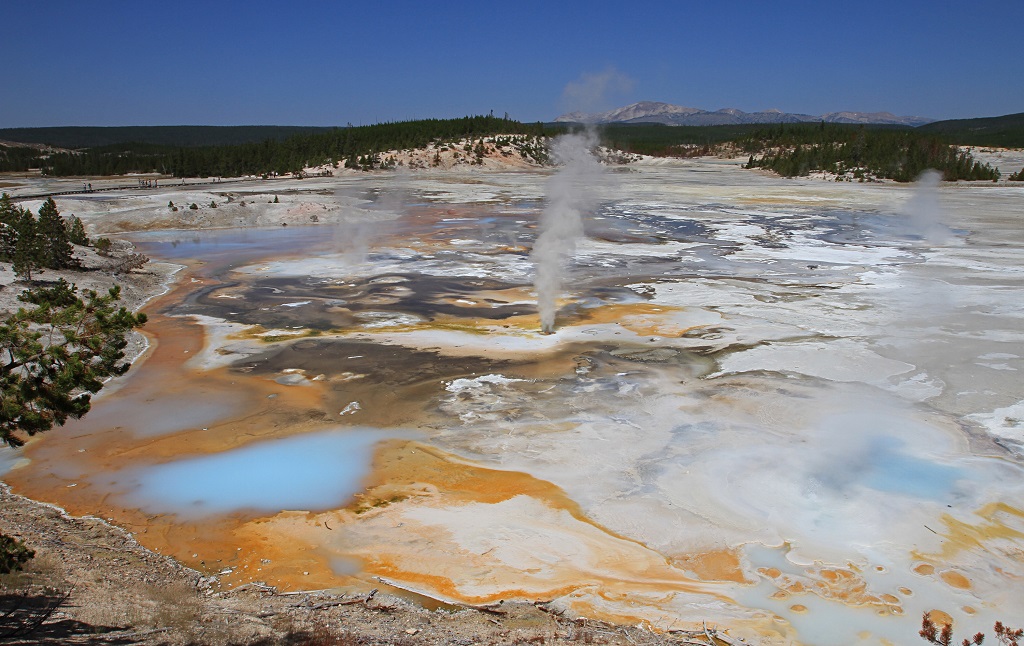 Honorable Mention: Sequoia National Park
Location: Central Eastern California, 80 miles from Fresno, CA
There is nothing quite like Sequoia National Park. It's like going back to a lost age and if you happen to be there during fog, you'd think just maybe there are dinosaurs still living there. Sequoia is named after the big draw here: giant sequoia trees. The four biggest sequoias in the world are in Sequoia National Park with the biggest two (General Sherman and General Grant) attracting large numbers of visitors. General Sherman is the largest known single-stem tree on Earth and is estimated to be more than 2,300 years old.
Sequoia is bordered by Kings Canyon National Park to the north and Death Valley National Park over the Sierra Nevada Mountains to the east. It is also within driving distance of Yosemite National Park. All these parks are located in the Sierra Nevada Mountains and just like Yosemite, Sequoia National Park is art carved out of granite. The drive up the mountain is as windy as it is beautiful. Sheer cliffs of gray granite are all around with ancient trees of immense size growing from them.
Normally, we would put Sequoia very high in the list of best places to RV, but the remoteness and winding climb to the top make RVing somewhat difficult. The best way to enter the park for RVs is the north entrance coming from King's Canyon. There are also no RV hookups in the park. You can use generators between certain hours. Always check weather reports and plan ahead when visiting the Sierra Nevadas. Expect snow in the winter along with road closures. Exploring Sequoia is a must, so it had to be included in this list despite the relative challenges.