Adirondack RV, Trailer and Camper Covers at National RV Covers
Need an Adirondack RV Cover? National RV Covers has you covered. We are your best source for Adirondack covers for RVs, campers and trailers! Our covers are built for durability and fit and come in a wide variety of styles. Ensure your Adirondack lasts for years to come by protecting it with the perfect cover.
Please call us if you need help selecting your Adirondack RV cover, trailer cover or camper cover. Our US-based team of Adirondack cover experts is always happy to help! You can contact National Covers at: 800-616-0599.

Adirondack RV Covers
We carry a wide variety of high quality, durable Adirondack covers for RVs, campers and trailers. Select a cover category to shop our selection.
Adirondack Facts
A trailer brand first sold in the 2003 model year, Adirondack has produced a range of fifth wheel and travel trailers. Spanning from 26 to 35 feet in length, the Adirondack line of trailers offered spacious cabins providing several sources of natural light. Adirondack trailers are found on strong aluminum frames and feature an aerodynamic profile helpful for fuel-efficient towing.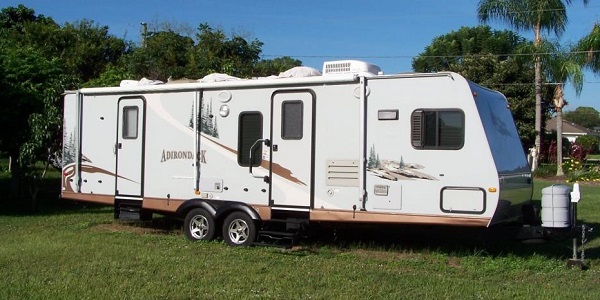 Adirondack Info
When it's time for that well deserved vacation, the luxury and comfort of Adirondack will help you relax in style. Adirondack's charming interior decor features raised panel cabinets, premium fabrics and residential-style furnishings. Adirondack is sure to impress the most discriminating buyer. You will find plenty of pleasing touches in every Adirondack. Large living areas, spacious kitchens with generous storage, and sizeable bathrooms and bedrooms make Adirondack your best value when it comes to lite-weight travel trailers.