The largest and best source for RV covers is here at National RV Covers! Whether you are looking for a new RV cover for your class A, B or C RV, we have a wide selection featuring the best brands. Our RV covers are built for durability and fit - sure to weather whatever mother nature can throw at them.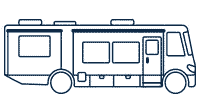 Class A RVs are the biggest in their class of self-contained, motorized RVs. Class A RVs are often the most luxurious and expensive motor homes offers, perfect for extended stays at one location. National RV Covers is the #1 online retailer of Class A RV covers to fit all sizes and styles.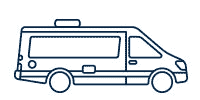 Class B RVs are the smallest RV class fully enclosed motor home and typically built on a van chassis. National RV Covers is the best online retailer of Class B RV covers to fit all sizes and styles of RV. From RVs ranging in size from 18 to 34 feet, we offer a variety of high-quality Class B RV covers at a variety of price points.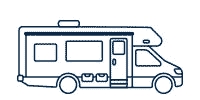 Class C RVs are in between a Class A and Class B in size. They are usually built on a truck chassis and have a distinctive cab-over profile that make them easy to recognize on the road. National RV Covers is the best online retailer of Class C RV covers to fit all sizes and styles.
RV COVER MEASUREMENTS
One of the most important parts of choosing a new RV cover is getting the right fit. Durability isn't enough. If your RV cover doesn't fit properly, it isn't protecting your RV properly. This is why National RV Covers carries the largest inventory of RV covers. We have covers for every shape and size. You need an RV cover that fits like a glove.
Measuring your RV for a new cover is easier than you might think. Your satisfaction is our obsession, so please properly measure your RV to guarantee a good fit. For a detailed walkthrough on measuring your RV for a cover, please read our easy guide!
RV COVER INSTALLATION
Once you've found the perfect fit for your new RV cover, you need to install it. Installing your RV cover is a quick and easy process. Whether you're working with a class A, B or C RV, the cover can be installed in just a few simple steps. We've put together an excellent guide and video to guide you through the process.
Please call us if you need help selecting your RV cover. Our US-based team of RV cover experts is always happy to help! You can contact us at: 800-616-0599. Happy RVing!