American Allegiance RV, Trailer and Camper Covers at National RV Covers
Need an American Allegiance RV Cover? National RV Covers has you covered. We are your best source for American Allegiance covers for RVs, campers and trailers! Our covers are built for durability and fit and come in a wide variety of styles. Ensure your American Allegiance lasts for years to come by protecting it with the perfect cover.
Please call us if you need help selecting your American Allegiance RV cover, trailer cover or camper cover. Our US-based team of American Allegiance cover experts is always happy to help! You can contact National Covers at: 800-616-0599.

American Allegiance RV Covers
We carry a wide variety of high quality, durable American Allegiance covers for RVs, campers and trailers. Select a cover category to shop our selection.
American Allegiance Facts
American Allegiance was a Class A motorhome brand launched by Fleetwood RV in 2009. Powered by Cummins diesel engines, 41-foot and 43-foot were created by the American Allegiance line. Featuring fully equipped kitchens, flat-panel television and available on-board washer/dryer units, American Allegiance motorhomes are suited for long-term vacations with many of the comforts of home. The American Allegiance brand ceased production after the 2010 model year.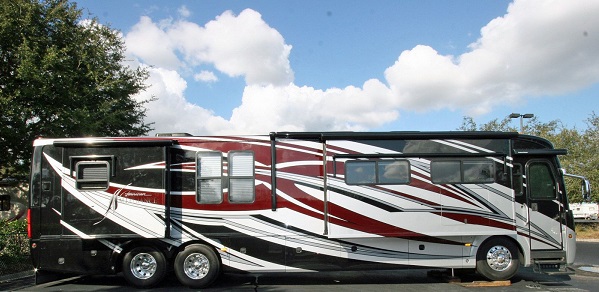 American Allegiance Info
There's no Class A travel experience quite like that of the American Coach Allegiance. This luxurious motorhome's striking exterior appearance gives you just a hint of the amenities you'll experience when you open the door! Designer decors, top-end luxuries and a true residential feel ensure that this RV turns out to be your dream home.