Apex RV, Trailer and Camper Covers at National RV Covers
Need an Apex RV Cover? National RV Covers has you covered. We are your best source for Apex covers for RVs, campers and trailers! Our covers are built for durability and fit and come in a wide variety of styles. Ensure your Apex lasts for years to come by protecting it with the perfect cover.
Please call us if you need help selecting your Apex RV cover, trailer cover or camper cover. Our US-based team of Apex cover experts is always happy to help! You can contact National Covers at: 800-616-0599.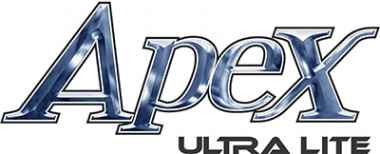 Apex RV Covers
We carry a wide variety of high quality, durable Apex covers for RVs, campers and trailers. Select a cover category to shop our selection.
Apex Facts
An Apex Travel Trailer does not just start off as a frame, walls and roofs. It begins with an idea! Our belief is that getting the little things right is a BIG THING! The Apex is not like other lightweight trailers. It is much smarter because we set new, higher standards for this innovative, truly lightweight trailer. What makes an Apex smarter? Quality, Lightweight, Innovation, Eco-friendly Design. Each and every Apex model must achieve high scores in each of these standards in order to earn the Apex seal of approval. Our rating system is gathered and driven by the end user (you the customer) in order to produce a quality and most customer friendly lightweight trailer on the market!

Apex Info
Apex is owned and produced by Coachmen. Coachmen RV is built upon a simple principle: dedicated to the enrichment of your life. By providing you with long term value through all that Coachmen does, their focus is on providing a product with superior value and backing it through superior service and support. This is no different with their line of Apex RVs. Once you become an Apex owner, you will be creating friends for life and memories that will last a lifetime.