Atlas RV, Trailer and Camper Covers at National RV Covers
Need an Atlas RV Cover? National RV Covers has you covered. We are your best source for Atlas covers for RVs, campers and trailers! Our covers are built for durability and fit and come in a wide variety of styles. Ensure your Atlas lasts for years to come by protecting it with the perfect cover.
Please call us if you need help selecting your Atlas RV cover, trailer cover or camper cover. Our US-based team of Atlas cover experts is always happy to help! You can contact National Covers at: 800-616-0599.

Atlas RV Covers
We carry a wide variety of high quality, durable Atlas covers for RVs, campers and trailers. Select a cover category to shop our selection.
Atlas Facts
Packed with all of the features that matter most, the Atlas travel trailers and fifth wheels from Dutchmen RV are always ready for your next adventure! These modern and fully featured units give you and your family plenty of space to live and play the way you want. Residential features give the interior a home-like feel, and a pop-up power station in the kitchen allows you to keep those favorite electronics charged and ready to go for another day of fun. The reading lights in the bedroom and the under-bed storage create a useful space that is helpful for storing extra gear that you may want hidden away.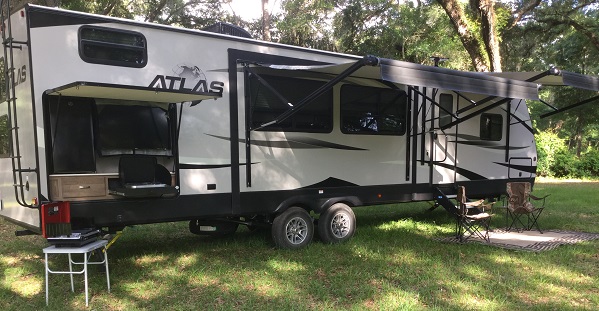 Atlas Info
With the amount of features you will find in the Atlas Travel Trailer, you'll have everything you need to explore the open road that awaits. While other RVers are putting their rigs away for the winter, Atlas owners will still be traveling strong all winter long thanks to the Arctic Insulation Package. This package adds extra insulation from the elements, which means you'll have peace of mind up North and up the mountains. The enclosed and force-heated underbelly that delivers cold-weather campers with two layers of insulation and enclosed gate valves. With this kind of protection for your RVs vital components, your vacation plans don't have to be confined to summer and spring. The power tongue jack makes setting up at your next campground easier than ever before. Which means, you'll have more time for fun and relaxation.