Avenger RV, Trailer and Camper Covers at National RV Covers
Need an Avenger RV Cover? National RV Covers has you covered. We are your best source for Avenger covers for RVs, campers and trailers! Our covers are built for durability and fit and come in a wide variety of styles. Ensure your Avenger lasts for years to come by protecting it with the perfect cover.
Please call us if you need help selecting your Avenger RV cover, trailer cover or camper cover. Our US-based team of Avenger cover experts is always happy to help! You can contact National Covers at: 800-616-0599.

Avenger RV Covers
We carry a wide variety of high quality, durable Avenger covers for RVs, campers and trailers. Select a cover category to shop our selection.
Avenger Facts
The Prime Time Manufacturing Avenger travel trailers are durable as well as stylish! The Avenger offers an exclusive EVERLAST construction, a fully enclosed underbelly, and an aluminum exterior skin. Inside each Avenger travel trailer, you will enjoy designer window treatments paired with premium fabrics for a luxurious experience each time you travel. You'll enjoy a power awning with LED lighting included with each unit, a doggy D-ring for the convenience of hooking up your furry friends, and an outside shower, plus many more exterior features you are sure to love. Inside, you'll appreciate LED lighting throughout, USB ports in the bedroom and bunk areas, and a bathroom skylight that lets in natural light and allows for more standing room!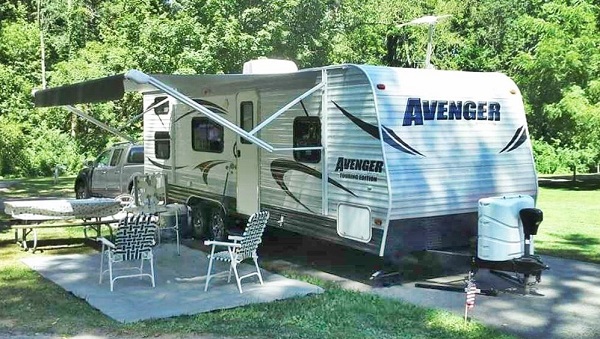 Avenger Info
To guarantee that Avenger provides true customer satisfaction, engineers carefully examined every component, every small detail, and every process that went into Avengers creation. It is important to offer industry-leading beauty, so beautiful hand-crafted doors were paired with premium fabrics, flooring, and countertops for a luxurious appearance. Features and design elements that are considered to be "Best In Class" and rarely found on the competitions are used to fully maximize customer enjoyment. Demanding testing standards and innovative construction technique like EVERLAST were developed and used to ensure long-term quality and durability in your Avenger.