Black Rock RV, Trailer and Camper Covers at National RV Covers
Need a Black Rock RV Cover? National RV Covers has you covered. We are your best source for Black Rock covers for RVs, campers and trailers! Our covers are built for durability and fit and come in a wide variety of styles. Ensure your Black Rock lasts for years to come by protecting it with the perfect cover.
Please call us if you need help selecting your Black Rock RV cover, trailer cover or camper cover. Our US-based team of Black Rock cover experts is always happy to help! You can contact National Covers at: 800-616-0599.

Black Rock RV Covers
We carry a wide variety of high quality, durable Black Rock covers for RVs, campers and trailers. Select a cover category to shop our selection.
Black Rock Facts
Black Rock RVs are designed for the primitive, off-grid, blm, and national forest camper - these customers love the pristine views and quiet right out their door. Available in 4 travel trailer - floorplans all under 24ft floor length for those secluded camp spots.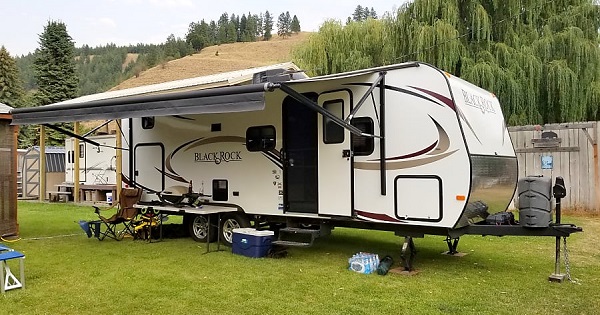 Black Rock Info
Black Rock Class Travel Trailer Floorplans From 18 to 24 FT Floor Length. Black Rocks are the perfect family RV. Built extremely well and made for all climates. This trailer will last for many years to come. Built on a strong chassis with 2 inch insulated walls. Strong walkable roof, solid walls on slideout.