Denali RV, Trailer and Camper Covers at National RV Covers
Need an Denali RV Cover? National RV Covers has you... covered. We are your best source for Denali covers for RVs, campers and trailers! Our covers are built for durability and fit and come in a wide variety of styles. Ensure your Denali lasts for years to come by protecting it with the perfect cover.
Please call us if you need help selecting your Denali RV cover, trailer cover or camper cover. Our US-based team of Denali cover experts is always happy to help! You can contact National Covers at: 800-616-0599.

Denali RV Covers
We carry a wide variety of high quality, durable Denali covers for RVs, campers and trailers. Select a cover category to shop our selection.
Denali Facts
Built by Dutchmen Manufacturing under the Thor Industries banner, the Denali line of recreational products are designed to combine craftsmanship and comfort alongside value. Entering the marketplace in the 2005 model year, Denali fifth wheel and travel trailers are suited for family trips to the campground or lake. Travel trailers produced by Denali range from 29 to 35 feet in length while the fifth wheel trailers span up to 36 feet. Fitted with all-weather insulation, Denali trailers are equipped with other standard features such as deluxe bed mattress and an entertainment center.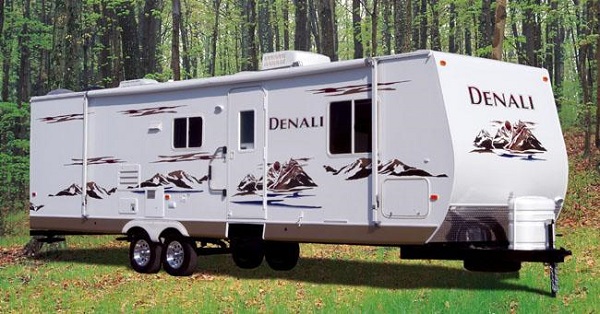 Denali Info
As Dutman continues to grow their Denali lineup, refine their manufacturing process, and deliver the type of support only experience can provide, they never lose sight of one question, 'Why Dutchmen?' Why go above and beyond what's expected of an RV manufacturer? Why worry about the long-term, the details, or the experiences their owners have when they take to the road?For the, the answer is simple. Because they're Dutchmen. When you choose a Denali RV, you're choosing to put your trust, and your safety, in them. That's why every Denali is built to perform as intended, and why each one of their RVs are backed by layers of support. Because, while they may clock out at the end of the day, their units do not. They're designed and built to deliver one-of-a-kind experiences.So, how do they do it? With better warranties, better quality assurance, and better aftermarket support for their Denali line.
5th Wheel
M-262RLX
M-297RLX
M-280LBS
M-307RLS
M-319RLS
M-335RLK
M-293RKS
M-316RES
M-365BHS
Lite Series
M-2445RL
M-2901RL
Travel Trailers

M-266RL
M-289RK
M-325RL
M-287RE
M-371BH
M-350FK
Lite Series
M-2461RK
M-2462RK
M-2611BH
M-3155BH
M-2371RB