Fleetwood RV, Trailer and Camper Covers at National RV Covers
Need an Fleetwood RV Cover? National RV Covers has you... covered. We are your best source for Fleetwood covers for RVs, campers and trailers! Our covers are built for durability and fit and come in a wide variety of styles. Ensure your Fleetwood lasts for years to come by protecting it with the perfect cover.
Please call us if you need help selecting your Fleetwood RV cover, trailer cover or camper cover. Our US-based team of Fleetwood cover experts is always happy to help! You can contact National Covers at: 800-616-0599.

Fleetwood RV Covers
We carry a wide variety of high quality, durable Fleetwood covers for RVs, campers and trailers. Select a cover category to shop our selection.
Fleetwood Facts
Building Class A motorhomes since 1989, recreational vehicles produced by Flair-Fleetwood are comfortable for road-going journeys. Flair-Fleetwood products would be known for its Power Platform construction designed for high strength. Ford and General Motors-sourced engines powered Flair-Fleetwood products from 24 to 35 feet in total length. Flair-Fleetwood production of motorhomes ended after the 2007 model year.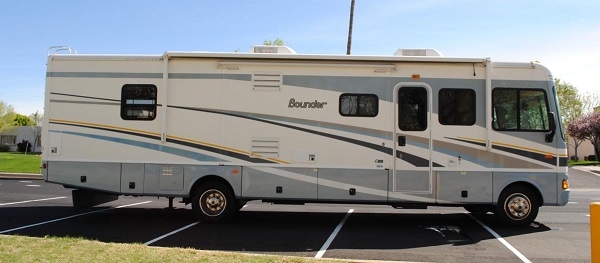 Fleetwood Info
Fleetwood is one of the oldest names in the RV industry. They've been around for over 65 years—more than double most of their competition. And that resilience speaks to their product. After all, a company can't stay in business if they build something people don't believe in. But Fleetwoods are the most popular RVs on the road and it's easy to see why.
Camping Trailers
Americana Series
Cheyenne Limited Edition-4396
Santa Fe Limited Edition-4389
Bayside-4378
Mesa-4351
Sun Valley Limited Edition-4391
Utah-4381
Destiny Series
Sedona-4376
Sea Pine-4388
Yuma-4356
Westlake-4327
Evolution Series
Cobolt-4328
E1-4347
E2-4344
E3-4337
E4-4345
Highlander Series
Saratoga-4335
Niagara-4333
Avalon-4349
Motorhomes

M-28A Ford
M-29M Ford
M-32S Ford
M-34J Ford
M-35R Ford