Georgetown RV, Trailer and Camper Covers at National RV Covers
Need an Georgetown RV Cover? National RV Covers has you... covered. We are your best source for Georgetown covers for RVs, campers and trailers! Our covers are built for durability and fit and come in a wide variety of styles. Ensure your Georgetown lasts for years to come by protecting it with the perfect cover.
Please call us if you need help selecting your Georgetown RV cover, trailer cover or camper cover. Our US-based team of Georgetown cover experts is always happy to help! You can contact National Covers at: 800-616-0599.

Georgetown RV Covers
We carry a wide variety of high quality, durable Georgetown covers for RVs, campers and trailers. Select a cover category to shop our selection.
Georgetown Facts
A motorhome brand introduced in 1998 under Forest River Incorporated, Georgetown recreational vehicles are designed for comfortable camping stays aswell as for handling roads. The Class A motorhomes within the Georgetown line-up range from 27 to 38 feet in length with some models featuring space for a king size bed. Georgetown motorhomes feature up to 4 slide out panels allowing for considerable room at the campground.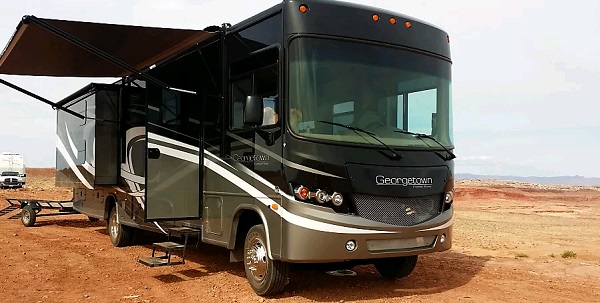 Georgetown Info
Remember your first camping trip? You were excited, a bit nervous, but ready for the adventure. When it was over, remember how much you wanted to do it again? It's time you passed that feeling on in a Four Winds® Class C motorhome from Thor Motor Coach. This is the motor home built with your family as the blueprint. The Four Winds has all the features and amenities you need for great trips and stories to pass down for generations. You're going to love all the great floor plans the Four Winds offers, and each one is equipped exactly how you want it.