Grand Sport RV, Trailer and Camper Covers at National RV Covers
Need a Grand Sport RV Cover? National RV Covers has you covered. We are your best source for Grand Sport covers for RVs, campers and trailers! Our covers are built for durability and fit and come in a wide variety of styles. Ensure your Grand Sport lasts for years to come by protecting it with the perfect cover.
Please call us if you need help selecting your Grand Sport RV cover, trailer cover or camper cover. Our US-based team of Grand Sport cover experts is always happy to help! You can contact National Covers at: 800-616-0599.

Grand Sport RV Covers
We carry a wide variety of high quality, durable Grand Sport covers for RVs, campers and trailers. Select a cover category to shop our selection.
Grand Sport Facts
Founded in 1997, Dynamax began producing the Grand Sport line of motorhomes in 2002. Building large Class A and Class C motorhomes on transport truck frames, Grand Sport caters to luxury as well as toy hauler customers in the recreational vehicle market. Multiple floor plans for Grand Sport recreational products have been made available between 32 and 45 feet in length. Air conditioning, LCD television and a finely equipped kitchen were features of Grand Sport motorhomes.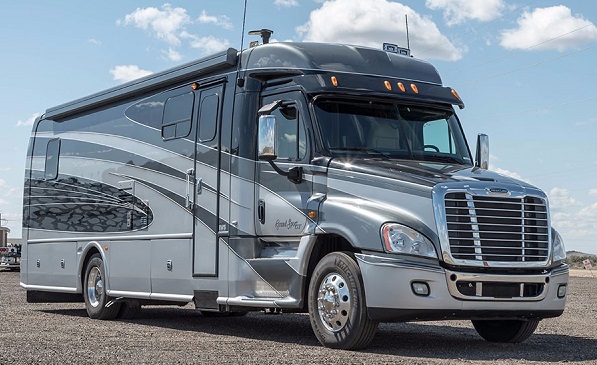 Grand Sport Info
Grand Sport was manufactured by Dynamax. At Dynamax, legendary product integrity and customer loyalty have combined to build a powerful brand. Now, a new generation of RVs are "coming of age" delivering the best of both worlds - casual, easy living interiors with fresh decor options designed to maximize comfort and value.