Jayco RV, Trailer and Camper Covers at National RV Covers
Need an Jayco RV Cover? National RV Covers has you... covered. We are your best source for Jayco covers for RVs, campers and trailers! Our covers are built for durability and fit and come in a wide variety of styles. Ensure your Jayco lasts for years to come by protecting it with the perfect cover.
Please call us if you need help selecting your Jayco RV cover, trailer cover or camper cover. Our US-based team of Jayco cover experts is always happy to help! You can contact National Covers at: 800-616-0599.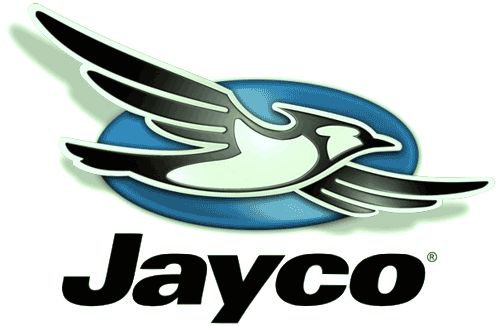 Jayco RV Covers
We carry a wide variety of high quality, durable Jayco covers for RVs, campers and trailers. Select a cover category to shop our selection.
Jayco Facts
Founded in 1968, Jayco is advertised as 'America's Most Livable RVs' and furnishes the marketplace with an extensive range of portable, family recreational products. Starting their long-continuing production of camping trailers since the company's inception, travel trailers, fifth wheel and motorhomes have been added to the Jayco line-up. Jayco was also involved in the production of park homes for a brief period of time. Jayco products offer a low maintenance design and a sizeable list of standard features.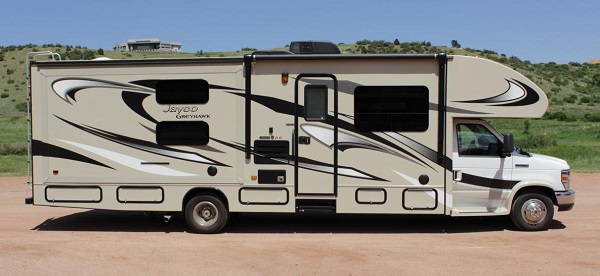 Jayco Info
At Jayco, they know the journey is as important as the destination. That's why they engineer their motorhomes with a powerrful blend of precise handling and renowned stability. they call it JRide, and it makes for a smoother, more enjoyable drive. Jayco builds their RVs to handle every adventure and then back their products with an industry-leading 2-year limited + 3-year structural warranty. You won't find a better one in the business. Many competitors modify or weld stock frames, which can weaken the integrity of your foundation. Jayco's custom-manufactured frames offer higher strength and durability.
Motorhomes

Alante Series
M-26 X Ford V10
M-27 A Ford V10
M-29S Ford V10
M-29 F Ford V10
M-31 V Ford V10
Embark Series
M-37 K 360hp Cummins
M-39 BH 360hp Cummins
M-39 T2 360hp Cummins
Greyhawk Prestige Series
M-29 MVP Ford E450
M-30 XP Ford E450
M-31 FP Ford E450
Greyhawk Series
M-27 U Ford E450
M-29 MV Ford E450
M-30 X Ford E450
M-30 Z Ford E450
M-31 F Ford E450
Melbourne Prestige Series
M-24 AP Mercedes-Benz V6
M-24 KP Mercedes-Benz V6
M-24 LP Mercedes-Benz V6
M-24 RP Mercedes-Benz V6
M-24 TP Mercedes-Benz V6
Melbourne Series
M-24 K Mercedes-Benz V6
M-24 L Mercedes-Benz V6
M-24 T Mercedes-Benz V6
Precept Prestige Series
M-36 U Ford V10
M-36 B Ford V10
M-36 H Ford V10
Precept Series
M-29 V Ford V10
M-31 UL Ford V10
M-34 G Ford V10
M-34 B Ford V10
M-36 A Ford V10
Redhawk SE Series
M-22 A Chevy 4500
M-22 C Chevy 4500
M-27 N Chevy 4500
Redhawk Series
M-22 J Ford V10
M-24 B Ford V10
M-25 R Ford V10
M-26 XD Ford V10
M-29 XK Ford V10
M-31 F Ford V10
Seneca Series
M-37 HJ Cummins
M-37 K Cummins
M-37 L Cummins
M-37 RB Cummins
M-37 TS Cummins
5th Wheel

Eagle HT Series
M-25.5 REOK
M-27.5 RLTS
M-26.5 RLDS
M-28.5 RSTS
M-30.5 CKTS
M-30.5 MLOK
M-29.5 BHDS
M-29.5 BHOK
M-30.5 MBOK
Eagle HTX Series
M-27 SGX
M-26 BHX
M-26 RLX
M-28 RSX
Eagle Series
M-317 RLOK
M-319 MLOK
M-321 RSTS
M-336 FBOK
M-347 BHOK
M-355 MBQS
M-357 MDOK
North Point Series
M-310 RLTS
M-315 RLTS
M-381 DLQS
M-377 RLBH
M-375 BHFS
M-387 FBTS
M-387 RDFS
M-381 FLWS
M-383 FKWS
M-385 THWS
Seismic Toy Hauler Series
M-3512
M-3815
M-4114
M-4212
M-4113
M-4125
M-4013
Talon Platinum Toy Hauler Series
M-335 T
M-385 T
M-403 T
M-392 T
Talon Toy Hauler Series
M-335 T
M-385 T
M-403 T
M-405 T
Travel Trailers

Eagle HT Series
M-262 RBOK
M-272 RBOK
M-264 BHOK
M-274 CKDS
M-312 BHOK
M-270 RLDS
M-284 BHOK
M-280 RSOK
M-324 BHTS
Eagle Series
M-322 RLOK
M-330 RSTS
M-338 RETS
M-334 RLOK
M-332 CBOK
Hummingbird Series
M-10 RK
M-17 RB
M-16 MRB
M-17 MBS
M-17 RK
Jay Feather Series
M-17 Z
M-19 H
M-16 RK
M-18 RBM
M-20 BH
X213
M-23 B
M-23 E
M-22 RB
M-24 RL
M-23 BHM
M-23 RBM
M-25 RB
M-27 RL
M-27 BHB
M-29 QB
Jay Flight Bungalow Destination Series
M-40 FBTS
M-40 RLTS
M-40 FKDS
M-40 LOFT
M-40 BHTS
Jay Flight Series
M-24 RBS
M-26 BH
M-28 RLS
M-28 BHS
M-28 BHBE
M-29 RKS
M-31 MLS
M-32 BHDS
M-32 RLOK
M-32 TSBH
M-34 RSBS
M-33 RBTS
M-34 MBDS
M-38 BHDS
M-38 FDDS
Jay Flight SLX Series
M-145 RB
M-154 BH
M-175 RD
M-183 RB
M-184 BS
M-174 BH
M-195 RB
M-244 BHS
M-244 BHSW
M-212 QB
M-212 QBW
M-224 BH
M-224 BHW
M-237 RBS
M-232 RB
M-232 RBW
M-235 RKS
M-245 RLS
M-245 RLSW
M-248 RBSW
M-242 BHS
M-242 BHSW
M-264 BH
M-264 BHW
M-267 BHS
M-267 BHSW
M-275 RLSW
M-265 RLS
M-298 BH
M-285 FLSW
M-286 BHSW
M-284 BHS
M-287 BHS
M-287 BHSW
M-294 QBS
M-324 BDS
M-324 BDSW
Jay Flight SLX Toy Hauler Series
M-236 TH
Octane Super Lite Toy Hauler Series
M-161
M-209
M-222
M-273
M-272
M-293
Pinnacle Series
M-32 RLTS
M-36 SSWS
M-36 FBTS
M-36 KPTS
M-37 MDQS
M-38 FLWS
White Hawk Series
M-23 MRB
M-24 MBH
M-30 FLS
M-26 RK
M-27 RB
M-28 RL
M-29 FLS
M-29 BH
M-32 RL
M-31 BH
M-32 BHS
M-32 KBS