Layton RV, Trailer and Camper Covers at National RV Covers
Need an Layton RV Cover? National RV Covers has you... covered. We are your best source for Layton covers for RVs, campers and trailers! Our covers are built for durability and fit and come in a wide variety of styles. Ensure your Layton lasts for years to come by protecting it with the perfect cover.
Please call us if you need help selecting your Layton RV cover, trailer cover or camper cover. Our US-based team of Layton cover experts is always happy to help! You can contact National Covers at: 800-616-0599.

Layton RV Covers
We carry a wide variety of high quality, durable Layton covers for RVs, campers and trailers. Select a cover category to shop our selection.
Layton Facts
A product of Skyline Corporation, Layton offers a line-up of travel trailers, fifth wheel trailers and park models. Building trailers between 15 and 42 feet in length, Layton products are ideal for family camping trips. The one-piece roof and welded aluminum frame covered with fiberglass on Layton trailers insures good fuel economy while towing. Layton park model units range in sizes between 32 and 46 feet featuring characteristics ideal for longer vacation stays.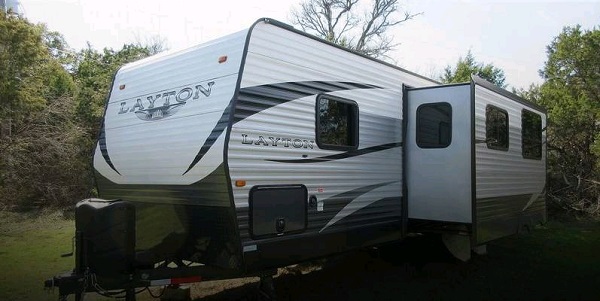 Layton Info
Layton RVs are built by Skyline and is the only UL certified travel trailer. They have been building them since 1950! Skyline Corporation – Makers of Nomad, Layton and Aljo travel trailers and fifth wheels, Elkhart, IN. Founded in 1951 in Elkhart, Indiana, Skyline initially produced the affordable housing units popularly known as house trailers or mobile homes. These units evolved into today's manufactured housing.