Nomad RV, Trailer and Camper Covers at National RV Covers
Need an Nomad RV Cover? National RV Covers has you... covered. We are your best source for Nomad covers for RVs, campers and trailers! Our covers are built for durability and fit and come in a wide variety of styles. Ensure your Nomad lasts for years to come by protecting it with the perfect cover.
Please call us if you need help selecting your Nomad RV cover, trailer cover or camper cover. Our US-based team of Nomad cover experts is always happy to help! You can contact National Covers at: 800-616-0599.

Nomad RV Covers
We carry a wide variety of high quality, durable Nomad covers for RVs, campers and trailers. Select a cover category to shop our selection.
Nomad Facts
A division of Skyline Corporation, Nomad exists as a builder of vacation trailers and park model units. Constructed on welded aluminum frames, the travel trailer and fifth wheel trailers produced under the Nomad name have ranged from 15 to 40 feet in length. between 32 and 45 feet in size, the Nomad park models feature many home-like amenities aswell as space-saving items including fold-up or foldout beds.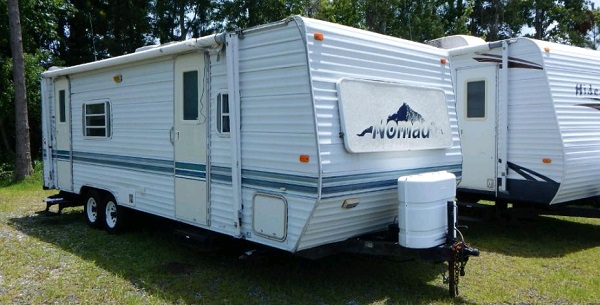 Nomad Info
Nomad features a great combination of vehicle garage, living quarters, and ample storage. From cars and Jeeps to motorcycles and side-by-sides; if you camp and ride, Nomad has the features you need. Rubberized flooring, a rear ramp door, and tie-downs make loading and unloading your toys simple. Indoor and outdoor showers, two convertible bed/couches, indoor/outdoor radio speakers, and a kitchen bring you full comfort between riding sessions.