Prowler RV, Trailer and Camper Covers at National RV Covers
Need an Prowler RV Cover? National RV Covers has you... covered. We are your best source for Prowler covers for RVs, campers and trailers! Our covers are built for durability and fit and come in a wide variety of styles. Ensure your Prowler lasts for years to come by protecting it with the perfect cover.
Please call us if you need help selecting your Prowler RV cover, trailer cover or camper cover. Our US-based team of Prowler cover experts is always happy to help! You can contact National Covers at: 800-616-0599.

Prowler RV Covers
We carry a wide variety of high quality, durable Prowler covers for RVs, campers and trailers. Select a cover category to shop our selection.
Prowler Facts
A Fleetwood RV brand existing since the 1970s, Prowler created a wide range of trailers for the camping enthusiast. Featuring fifth wheel and travel trailer variety products, the recreational vehicle line-up of Prowler span from 17 to 40 feet. The Prowler name was also briefly attached to the construction of park model units in addition to trailers. Prowler production was discontinued after the 2009 model year.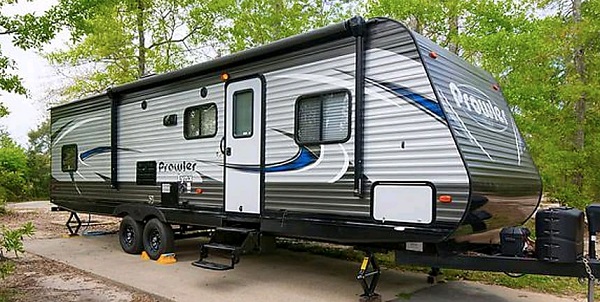 Prowler Info
The Prowler brand has been synonymous with RVing for nearly 50 years and holds the distinguished title as the #1 selling RV of all time. Heartland is proud to carry on this tradition. The latest generation of Prowler travel trailers offer deep slides, tall ceilings, and more luxurious features at reasonable prices. Prowler campers are among the most reliable and user-friendly on the market today.