R-Vision RV, Trailer and Camper Covers at National RV Covers
Need an R-Vision RV Cover? National RV Covers has you... covered. We are your best source for R-Vision covers for RVs, campers and trailers! Our covers are built for durability and fit and come in a wide variety of styles. Ensure your R-Vision lasts for years to come by protecting it with the perfect cover.
Please call us if you need help selecting your R-Vision RV cover, trailer cover or camper cover. Our US-based team of R-Vision cover experts is always happy to help! You can contact National Covers at: 800-616-0599.

R-Vision RV Covers
We carry a wide variety of high quality, durable R-Vision covers for RVs, campers and trailers. Select a cover category to shop our selection.
R-Vision Facts
Established in 1997 as a division of Monaco Coach Corporation, the R-Vision name was immediately attached to motorhomes and lightweight travel trailers. R-Vision built Class A and Class C motorhomes until the end of the 2007 model year ranging up to 35.5 feet in length. R-Vision trailers are well-equipped recreational vehicles for camping and vacationing families.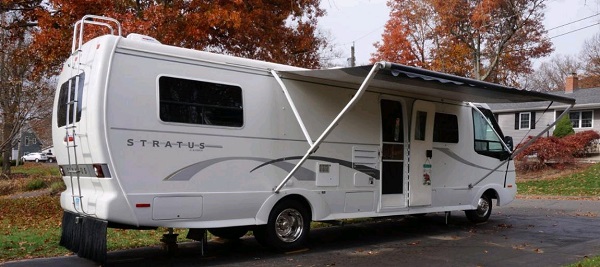 R-Vision Info
R-Vision's light weight trailer lines include: Crossover which has six floorplans to choose from and the Trail Sport with fifteen floorplans. Two of the R-Vision Trail Sport models are expandable or hybrid travel trailers.