NEXT GENERATION COVER FOR FIT AND DESIGN
The S2 Expedition is the next generation of RV covers that combines technical enhancements with sleek, cutting edge design. This superior cover is loaded with many desirable features, including a woven marine grade fabric roof, large EZ fit flags on front and rear, quick release web strap system for easy installation, and heavy duty full height access zippers all the way around the cover.
Marinex Marine Grade Waterproof Fabric Roof with Endurance Roof Straps™
Heavier Duty Side Wall Panel Construction
Durapel UV Agents for Extended Long Life
Extended Fabric Roof Protects Top Corners
Sewn in Dual Flow Vortex Vents
XT Zippered Panels for All Entry Points
Non-Scratch Zipper Protection Sleeves
Adjustable Full Length Tension Panels Front and Rear
Heavier Duty Side Wall Panel Construction
Integrated Landscape Pull Technology Security Flags
Anti-Hit Safety Reflective Panel
S2 EXPEDITION COVER MATERIAL
The rooftop of the S2 Expedition is crafted from true loom-woven polyester. It is coated with a Durapel rain finish as well as a UV inhibitor and anti-microbial finish to make it UV and mildew resistant. The sides of the cover are made from heavy gauge polypropylene that help to minimize weight while maintaining a highly durable covering.The rooftop is incredibly strong yet flexible and breathable, providing protection for your RV for many years to come.
UNIQUE DESIGN FEATURES
Unique Endurance Roof Strap System reduces stress on roof seams and fabric
Sewn in dual flow vortex vents reduce lofting in high winds and promote air circulation
Anti-hit reflective panels provide added safety and promote nighttime visibility
Everest Glove extended zipper pulls for easy use on cold days
Available in two foot increments for custom-like fit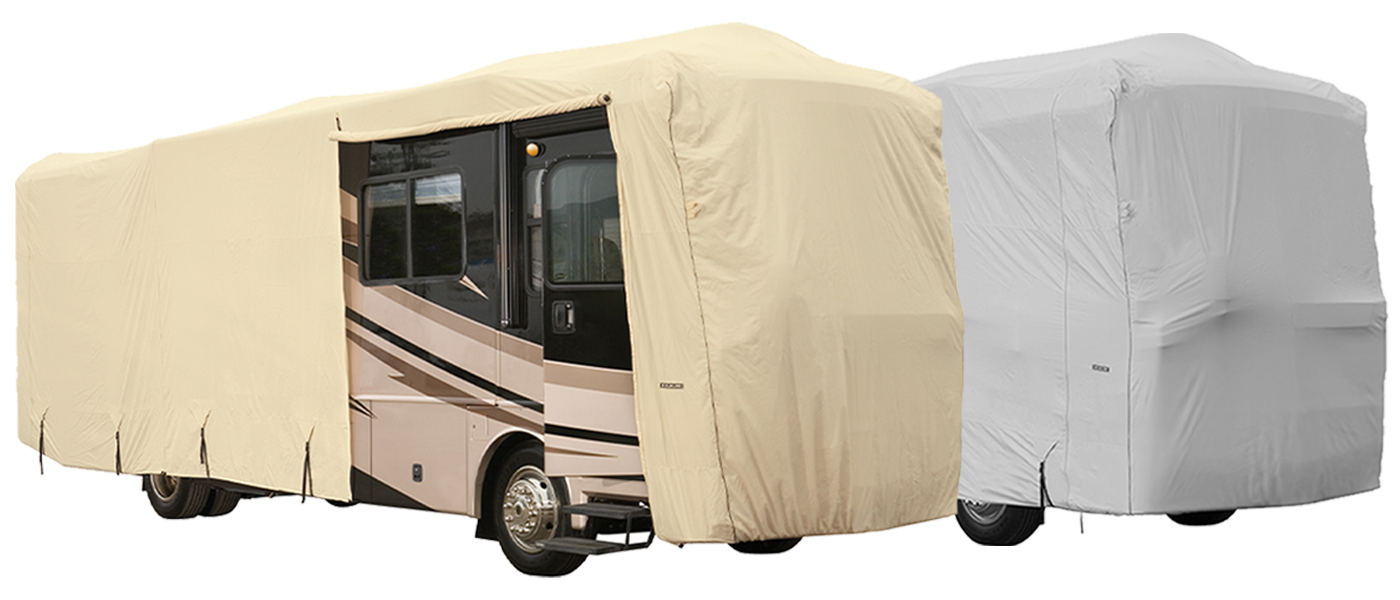 SUPERIOR FIT
Integrated straps and elasticized hems add security against high winds
Marine grade adjustable rear and side tension flags help remove unwanted slack, creating a semi-custom fit
Durable Fabric
Tru-Weave Technology

Heavy-duty Tru-Weave technology allows for superior breathability to prevent moisture build up

Waterproof

Full coverage marine grade fabric provides waterproof protection

Durapel UV Inhibitors

Treated with Durapel UV Sun Inhibitor for maximum sunlight protection to reduce material aging
S2 EXPEDITION RV COVER STYLES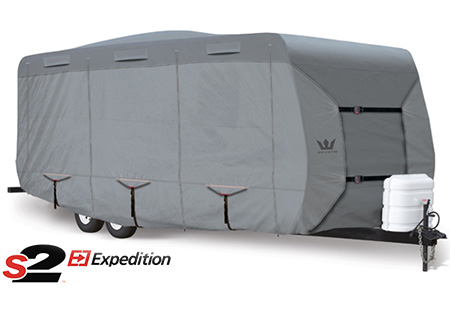 TRAVEL TRAILER
A Travel Trailer has rigid sides and is designed to be towed by larger vehicles with a frame hitch or bumper. Travel Trailers are also known in Britain as "caravans." Travel Trailers come in a wide variety of sizes that offer affordable home-style amenities.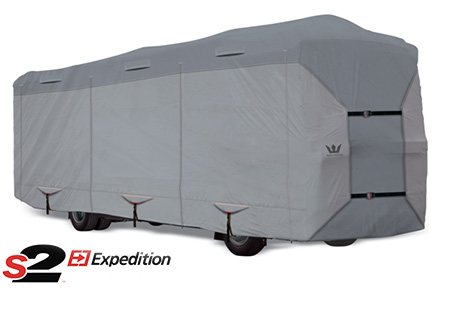 CLASS A RV COVER
Class A RVs are constructed on a commercial bus chassis, commercial truck chassis, or a specially designed motor vehicle chassis. Class A motorhomes are similar to a bus in design with a flat, vertical front end and large windows.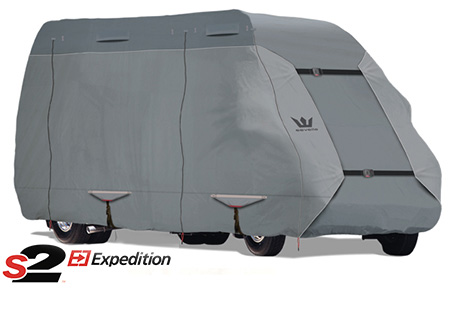 CLASS B RV COVER
Class B RVs are built using a standard van with the addition of a raised roof. The rear of the vehicle has been replaced by a low-profile body known as a "coach-built." Class B motorhomes are built on many different styles of chassis depending on the design.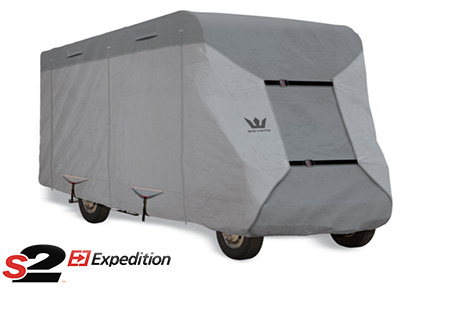 CLASS C RV COVER
Class C RVs are built on a truck chassis with an attached cab, which is usually van-based. These motorhomes are often based on the popular Ford E450 cab's chassis and engine, but Chevy and Dodge are also popular styles. Class C RVs can be identified by a distinctive cab-over profile that contains a bed or spacious area called an "entertainment" section.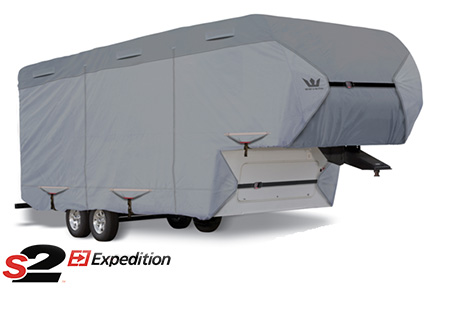 5TH WHEEL RV COVER
Fifth Wheel Trailers are designed to be towed by a truck equipped with a specialty hitch called a "fifth wheel coupling." The trailer body extends partially over the truck bed making for a compact, snug fitting RV. Many larger 5th Wheel Trailers 40 feet or longer are typically pulled by small semi-trucks.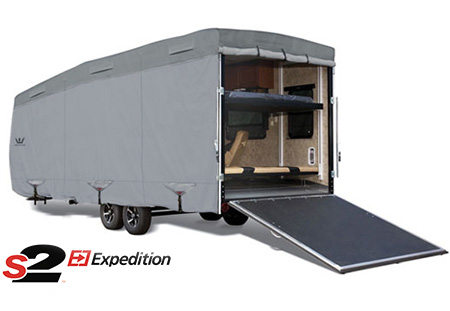 TOY HAULER RV COVER
Toy Haulers are Travel Trailers, Class A motorhomes or 5th Wheel Trailers that are designed to be partial living areas and partial garages for storing recreational vehicles like ATVs and motorcycles.