Thor RV, Trailer and Camper Covers at National RV Covers
Need an Thor RV Cover? National RV Covers has you... covered. We are your best source for Thor covers for RVs, campers and trailers! Our covers are built for durability and fit and come in a wide variety of styles. Ensure your Thor lasts for years to come by protecting it with the perfect cover.
Please call us if you need help selecting your Thor RV cover, trailer cover or camper cover. Our US-based team of Thor cover experts is always happy to help! You can contact National Covers at: 800-616-0599.

Thor RV Covers
We carry a wide variety of high quality, durable Thor covers for RVs, campers and trailers. Select a cover category to shop our selection.
Thor Facts
Thor Motor Coach is advertised as one of the lead motorhome sellers in North America. Created in 2010 when motorhome producers Damon Motor Coach and Four Winds International were combined, Thor Motor Coach was connected to a wide scheme of recreational vehicle types. Featuring Class A and Class C motorhome designs, Thor Motor Coach model line-up spans from to affordable to the luxurious in camping. Thor Motor Coach motorhomes are propelled by gasoline aswell as diesel enginepower.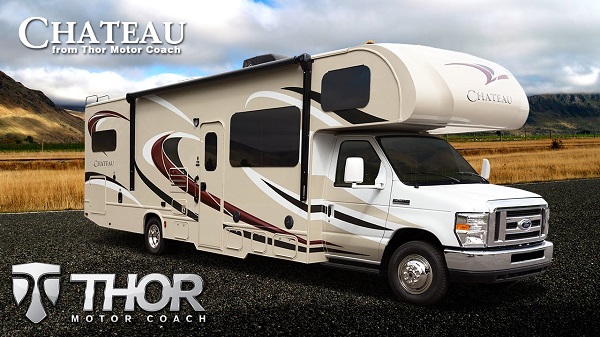 Thor Info
Welcome to Thor Motor Coach, the #1 Motorhome Brand in North America, producing nearly 1 out of every 4 motorhomes sold each year. Formed in 2010 as a strategic merger of Damon Motor Coach and Four Winds International, they build many of the world's most recognized motorhomes. As an industry leader in introducing cutting-­edge innovations, they offer a wide range of styles, sizes, floor plans and features – delivering coaches that fit every customer's lifestyle and budget.
Motorhomes

A.C.E. Series
Evo 27.2 Ford
Evo 30.3 Ford
Evo 30.4 Ford
Evo 32.3 Ford
Evo 33.1 Ford
Aria Series
M-3401 Freightliner
M-3701 Freightliner
M-3901 Freightliner
M-3902 Freightliner
M-4000 Freightliner
Axis Series
M-24.1 Ford
M-25.6 Ford
M-27.7 Ford
Challenger Series
M-35MQ Ford
M-37YT Ford
M-37DS Ford
M-37FH Ford
Chateau Series
M-22B E350-V10
M-22B GM 3500
M-22E E350-V10
M-22E GM 3500
M-28A E450-V10
M-28A GM 4500
M-23U E350-V10
M-23U GM 3500
M-24F E350-V10
M-24F GM 4500
M-25V E350-V10
M-25V GM 3500
M-26B E350-V10
M-26B GM 4500
M-27R E450-V10
M-28Z E450-V10
M-30D E450-V10
M-31B E450-V10
M-31W E450-V10
M-31E E450-V10
Chateau Sprinter Series
M-24BL V6 Sprinter
M-24DS V6 Sprinter
Chateau Victory Series
M-31EV E450-V10
M-31WV E450-V10
Citaion Sprinter Series
M-24SS V6 Sprinter
M-24MB V6 Sprinter
M-24SK V6 Sprinter
M-24ST V6 Sprinter
Compass Series
M-23TW Transit
M-24TF V6 Sprinter
M-24SX V6 Sprinter
Daybreak Series
M-22DB E350-V10
M-22GO E350-V10
M-22GO GM 3500
M-26DB E350-V10
M-30DB E450-V10
Delano Sprinter Series
M-24TT V6 Sprinter
M-24FB V6 Sprinter
M-24RW V6 Sprinter
Four Winds Series
M-22B E350-V10
M-22B GM 3500
M-22E E350-V10
M-22E GM 3500
M-28A E450-V10
M-28A GM 4500
M-24BL V6 Sprinter
M-23U E350-V10
M-23U GM 3500
M-24F E350-V10
M-24F GM 4500
M-24DS V6 Sprinter
M-25V E350-V10
M-25V GM 3500
M-26B E350-V10
M-26B GM 4500
M-27R E450-V10
M-28Z E450-V10
M-30D E450-V10
M-31B E450-V10
M-31W E450-V10
M-31E E450-V10
Four Winds Victory Series
M-31EV E450-V10
M-31WV E450-V10
Freedom Elite Series
M-22FE E350-V10
M-22HE E350-V10
M-22HE GM 3500
M-24FE V6 Sprinter
M-23H E350-V10
M-24HE E350-V10
M-26HE E350-V10
M-28FE E450-V10
M-30FE E450-V10
Freedom Traveler Series
M-27A Ford
M-30A Ford
M-32A Ford
Gemini Series
M-23TB Transit
M-23TW Transit
M-24TF V6 Sprinter
M-24SX V6 Sprinter
Hurricane Series
M-29M Ford
M-33T Ford
M-33X Ford
M-34J Ford
M-34R Ford
M-35M Ford
Magnitude Series
SV34 Super C F550
BB35 Super C F550
BH35 Super C F550
Majestic Series
M-19G
M-23A
M-28A
Miramar Series
M-32.2 Ford
M-35.2 Ford
M-35.4 Ford
M-37.1 Ford
Omni Series
XG32 Super C F550
SV34 Super C F550
BB35 Super C F550
BH35 Super C F550
Outlaw Series
M-29J E450-V10
M-29S E450-V10
M-37RB Ford
M-38KB Ford
M-38MB Ford
Outlaw Series
M-29J E450-V10
M-29S E450-V10
M-37RB Ford
M-38KB Ford
M-38MB Ford
Palazzo Series
M-33.2 Freightliner
M-33.5 Freightliner
M-36.3 Freightliner
M-37.4 Freightliner
Quantum Series
M-22GR E350-V10
M-22GR GM 3500
M-24KM V6 Sprinter
M-24CR V6 Sprinter
M-25RC E450-V10
M-26RS E450-V10
M-26RS GM 4500
M-28RW E450-V10
M-29KW E450-V10
M-31PD E450-V10
M-31WS E450-V10
M-31LF E450-V10
Sequence Series
M-20K Ram Promaster
M-20L Ram Promaster
Siesta Sprinter Series
M-24SS V6 Sprinter
M-24MB V6 Sprinter
M-24SJ V6 Sprinter
M-24SK V6 Sprinter
M-24ST V6 Sprinter
Synergy Sprinter Series
M-24SS V6 Sprinter
M-24MB V6 Sprinter
M-24SJ V6 Sprinter
M-24SK V6 Sprinter
M-24ST V6 Sprinter
Tellaro Series
M-20AT Ram Promaster
M-20LT Ram Promaster
Triburon Sprinter Series
M-24TT V6 Sprinter
M-24 RW V6 Sprinter
M-24FB V6 Sprinter
Tuscany Series
M-40RT Freightliner
M-45JA Freightliner
M-45MX Freightliner
Vegas Series
M-24.1 Ford
M-25.6 Ford
M-27.7 Ford
Venetian Series
M-40L Freightliner
M-40R Freightliner
M-42B Freightliner
Windsport Series
M-29M Ford
M-32T Ford
M-33X Ford
M-34J Ford
M-34R Ford
M-35M Ford