EXPEDITION RV COVERS + PERFORMANCE
Expedition RV covers now feature MARINEX Marine Grade Waterproof Roof made of woven boat cover fabric for improved performance and longer life. Expedition RV covers outperform plastic Tyvek tops in terms of breathability and longevity. Every RV owner knows that moisture can do major damage to an RV. With Expedition RV cover's Marinex top you, get great protection from rain, dirt, UV rays and heat all with superior breathability. This means that if your RV starts to build up moisture under the cover it can evaporate and escape. This is not always the case with heavily coated, polypropylene or plastic based covers.
EXPEDITION RV COVER FEATURES
Strong semi-custom fit – 2 foot increment sizing
Marinex marine grade waterproof fabric roof
Treated with Durapel UV sun and rain inhibitor to prevent material aging
Micro-porous film allows superior breathability to prevent rot and mildew
Easy access zippered panels with anti-scratch sleeves for all entry points
Heavy-duty reinforced corners
Front and rear elastic hems ensure a snug custom fit
Sewn-in dual flow Vortex Vents promote circulation
Marine-grade XT straps with quick-release buckles
Adjustable rear and side tension flags removes unwanted slack
Anti-hit reflective strips provide added safety at night
Includes ladder cap and reinforcement patches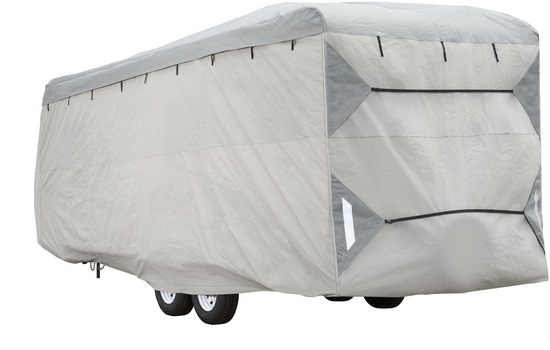 EXPEDITION RV COVERS + MARINEX
Trapped moisture typically leads to mildew, mold and rot, causing major damage. Expedition RV covers feature Marinex fabric that was developed specifically for the marine outdoor cover environment, has withstood rigorous stress testing and meets strict quality guidelines. This makes it an ideal choice for the rooftop material the Expedition RV cover. A perfect blend of waterproof, breathable and durable, Marinex will give you the protection and performance you need for the most critical part of your cover - the roof.
Marinex is engineered to outperform any polypropylene or plastic roof material. Expedition RV cover's Marinex fabric has been tested in an independent lab according to ASTM standards and is rated as "Excellent" in UV-Protection. The Expedition RV cover blocks 98.5% of UV-A and 99.8% of UV-B rays which can cause significant damage to your RV. Warp and Weft tensile strength are also tested according to ASTM standards to ensure that the fabric doesn't fail at high stress wear points, and can withstand the weight of the sides of the cover pulling downward in extreme weather conditions such as wet and wind.
UNIQUE DESIGN FEATURES
UV Resistant
Marinex Marine Grade Waterproof Roof
Heavy-Duty Reinforced Side Walls
Adjustable Front & Rear Tension Pulls
Elasticized Hems
Underbelly Strap System
Anti-Hit Reflective Strips
Dual Flow Vortex Vents
Multiple Full Length Zipper Panels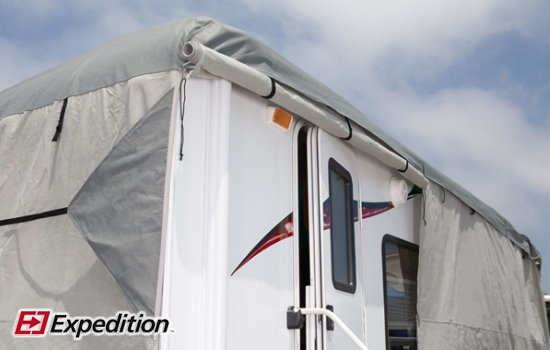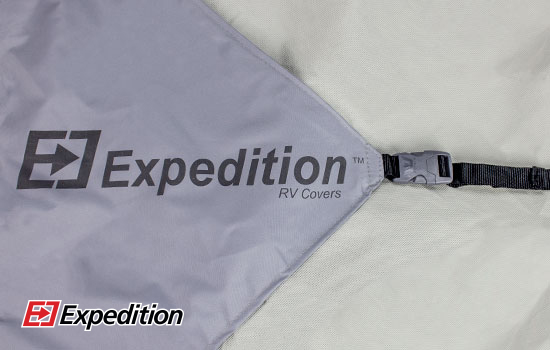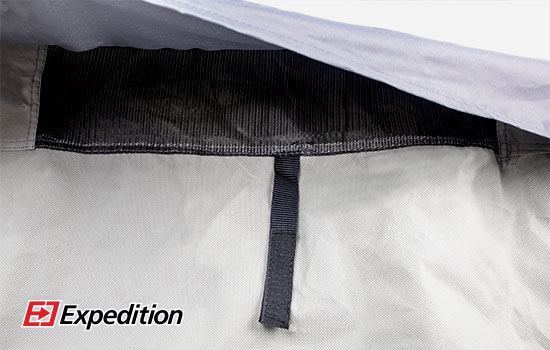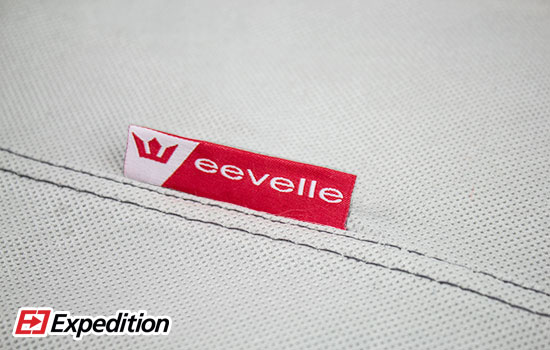 EXPEDITION RV COVER STYLES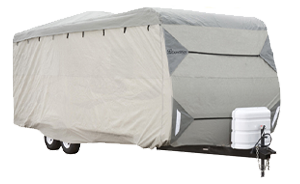 TRAVEL TRAILER
A Travel Trailer has rigid sides and is designed to be towed by larger vehicles with a frame hitch or bumper. Travel Trailers are also known in Britain as "caravans." Travel Trailers come in a wide variety of sizes that offer affordable home-style amenities.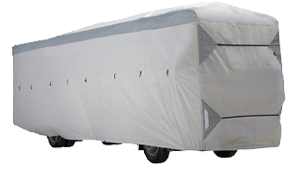 CLASS A RV COVER
Class A RVs are constructed on a commercial bus chassis, commercial truck chassis, or a specially designed motor vehicle chassis. Class A motorhomes are similar to a bus in design with a flat, vertical front end and large windows.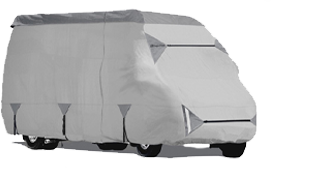 CLASS B RV COVER
Class B RVs are built using a standard van with the addition of a raised roof. The rear of the vehicle has been replaced by a low-profile body known as a "coach-built." Class B motorhomes are built on many different styles of chassis depending on the design.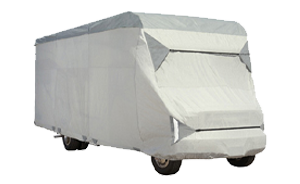 CLASS C RV COVER
Class C RVs are built on a truck chassis with an attached cab, (usually van-based). These motorhomes are often based on the Ford E450 cab's chassis and engine, but Chevy and Dodge are also popular. Class C RVs can be identified by a distinctive cab-over profile that has a bed or area called an "entertainment" section.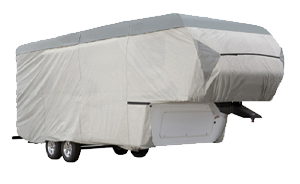 5TH WHEEL RV COVER
Fifth Wheel Trailers are designed to be towed by a truck equipped with a specialty hitch called a "fifth wheel coupling." These types of travel trailer bodies extend partially over the truck bed making for a compact, snug-fitting RV. Many larger 5th Wheel Trailers 40 feet or longer are typically pulled by small semi-trucks.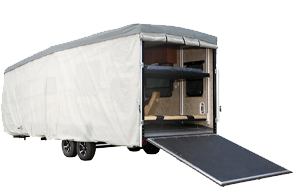 TOY HAULER RV COVER
Toy Haulers are also often referred to as Travel Trailers, Class A motorhomes or 5th Wheel Trailers that are designed to be partial living areas and partial garages for storing recreational vehicles like ATVs and motorcycles. Access stored items easily using this unique, easy-access zippered door design. Rest assured with the S2 patented securing straps.
EXPEDITION IN HOUSE EMPLOYEE REVIEW
We tried the Expedition cover on several different RVs and confirmed that the material feels just as nice and strong as the manufacturer claims. (Much nicer than covers with the plastic top) The fit is very snug and it's easy to get the cover tight using the strap system at the front. It's also convenient to have zippers around the cover that allow easy access in and out of the RV without ever having to take the cover off. We used to carry other covers that are not as strong but the Expedition really is a great cover for the price!
-Happy Shopping from The NDC Team