The summer months were a blast in your RV, cruising the open road and enjoying the adventures that the sunshine affords. After summer is over, it's time to store your RV for the winter. Winterizing your RV is a long process, but when you take the time to do it right, you will reap the rewards in spring when you unveil your rig and hit the road again.
Winterizing your RV is almost as fun as unpacking after vacation, but it must be done. Here are a few important items to check off your list before storing the RV.
DRAIN THE WATER
Open the "petcock" and flush both tanks at the same time. Open any hot and cold water faucets and flush your toilets until the water is gone. Attach a compressed air adapter to the RV water lines to blow any remaining water out.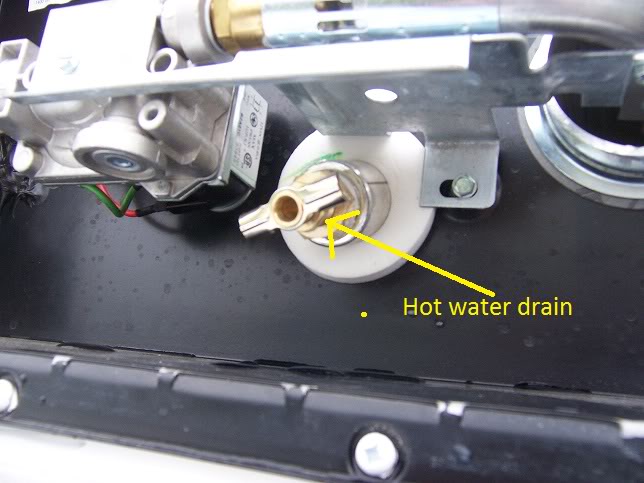 ADD ANTIFREEZE
Disconnect the water lines that connect to the fresh water tank and attach the pump upstream. If possible, bypass your water heater in order to save on antifreeze. Place the disconnected end of the water line in a jug of RV antifreeze (pink) to the plumbing system.

RV VENT COVERS
A vent cover, or RV vent hood, allows your vent to work properly circulating air while keeping dirt and debris from getting into your vent or RV. Plus, it allows you to use the vent in wet or inclement weather. Installing an RV vent hood is pretty simple, as it just attaches to the RV vent with some brackets and screws.Purchase a mesh guard for the exhaust pipe and any other openings will prevent mice from making your RV home.

It costs a lot of money to fill an RV tank with fuel, and you don't want it wasted by having to drain the tank before storing it. There is a great product specifically designed to keep your fuel fresh for up to 24 months. Sta-bil Fuel Stabilizer will save your fuel while you store your RV for the winter, and ensure an easy engine start after storage. After you pour the fuel stabilizer in, let the engine idle for several minutes to allow the additive to make its way through the system.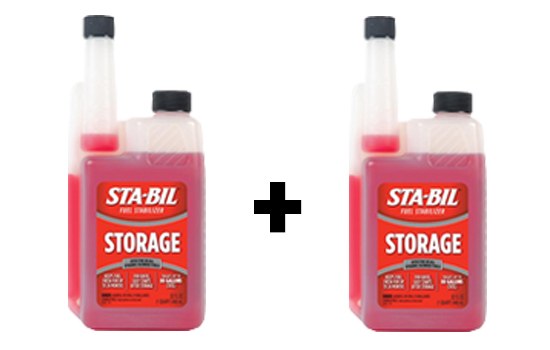 REMOVE FOOD AND VALUABLES
Unless you want the RV to smell like rotting food, empty out the entire refrigerator. Take your dirty laundry with you. Make sure the RV is completely clean and there aren't any remnant crumbs remaining that may attract bugs and rodents. You do not want those kinds of houseguests.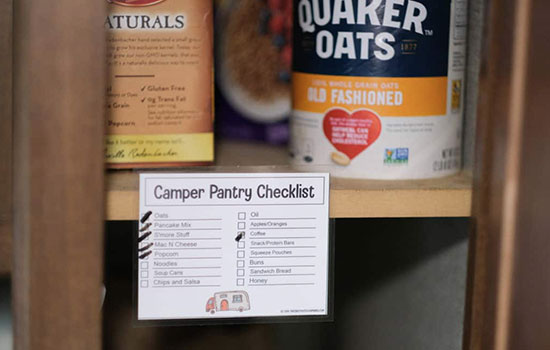 Use a deodorizer to remove all odors and leave your RV smelling fresh for the next time you use it. The Exodor Odor Absorber is an example of a deodorizer that works in spaces up to 300 square feet and works for 60 days.
Walex Assure Odor Eliminator is a natural, organic solution to bad odors in your RV. 

Safety is paramount when large motor vehicles are parked. To prevent accidents from happening while parking the RV, trailer, or truck, or car, it is important to use heavy-duty wheel chocks.

LEVELING BLOCKS
Prevent your tires from developing flat spots from sitting in the same spot for months at a time under thousands of pounds of weight. Use leveling jacks that can adjust to different levels and are easy to drive up on.

Not sure if you need to spend the extra money on RV wheel covers? Well, you do. Here is why. The average cost of a Class A RV tire is $300, and with four wheels moving your RV down the road, new wheels can costs upwards of $1200 total. There are three environmental tire killers: UV rays, ozone, and high temperatures. Exposing tires to heat and sun without protecting them can cut your RV tire lifespan in half. With a low cost investment of RV tire covers, you can minimize the amount of heat that penetrates the tires, extending the life of your RV tires by years.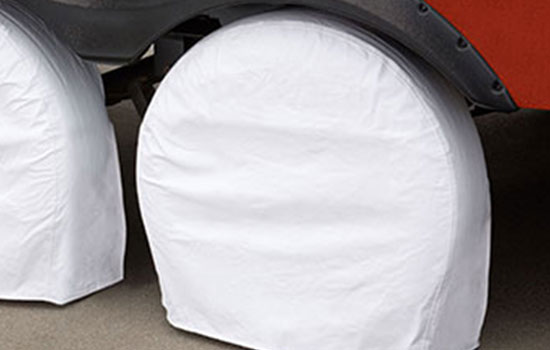 A common question is, should you cover your RV for winter? In fact, winterizing your RV is one of the most important: installing the RV cover. Goldline RV Covers are made from Marinex marine grade waterproof fabric with endurance roof straps to protect your RV from harsh weather or falling debris. Adding the RV cover when you winterize your RV can add years of life to your home on the road.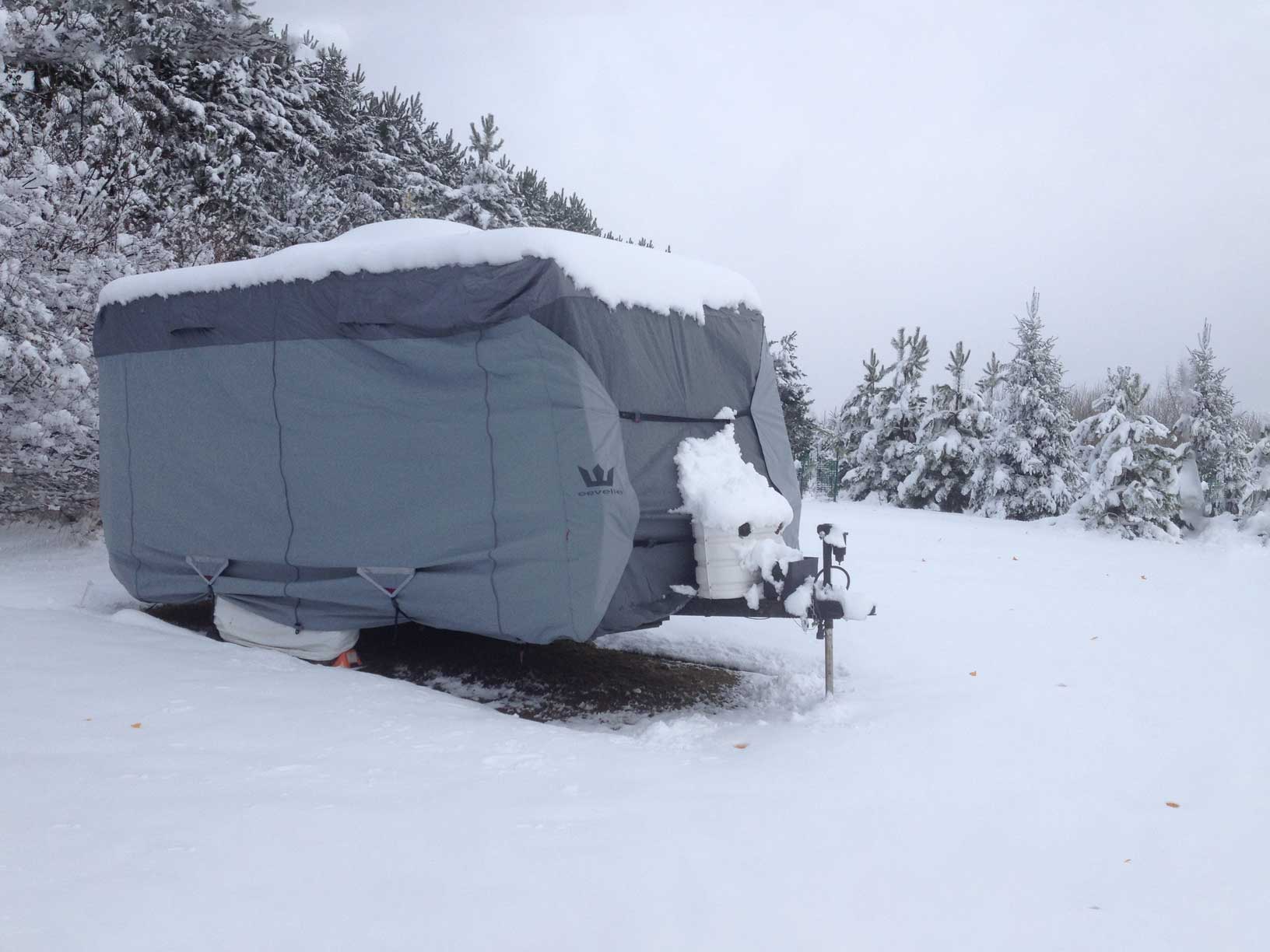 After following all of these winterizing tips, you will be one happy camper when it comes time to unveil your RV. For the entire line of RV accessories, visit the Extras page on the National RV Covers website.