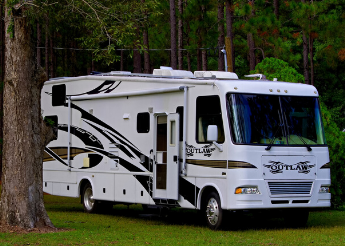 Buying and maintaining an RV is an investment in time and money, like owning a house or car. While most RVs are within reach financially, they are also still a significant investment. Just like all investments, the RV needs to be properly cared for so it will be around for a long time taking its passengers on adventures.
Avid RVers know there is protocal to properly caring for your RV. You must Winterize Your RV before that first storm hits. And whether you are storing your rig indoors or out, it is important to have a good RV cover to protect it.
You can always call us toll-free at: 800-616-0599 to speak with a fit expert! Or, Shop RV Covers Online >
One of the best ways to take care of your rig is to buy a well-made RV cover for it. When left outside in the elements, an RV can encounter a whole host of problems.
RV Cover Reviews & Potential Problems to Consider:
1. Ozone causes paint to fade and rubber and vinyl to dry out
2. UV rays can fade and dry out the paint and accelerate the aging process
3. Snow and rain can create mold, mildew, and can even crack the roof
4. Dirt, leaves, and tree sap can accumulate
5. Bird and animal droppings get stuck and are hard to clean off
National RV Covers Guides You To How to Choose Which Kind of RV Cover You Need:
1. Look for a cover made specifically for your type of RV. Do you have a travel trailer or a toy hauler? It is important to know those sometimes subtle differences between RVs.
2. What type of climate do you live in? Does it snow or get to temps over 100 degrees? To protect your RV, make sure your cover is made from good quality material, such as marine grade fabrics, that will protect your RV in the climate where you live.
3. You want your cover to fit well, so make sure you choose the correct sized cover. To do this, you must know how to measure your RV, factoring in whether it has a hitch, bike racks, spare tires, etc. 
To find the best cover to fit your RV, we have outlined the different features of our brands as compared to the competition. 
COMPETITOR #1: EEVELLE GOLDLINE RV BEST FULL FABRIC COVER
The characteristic that sets the Goldline RV Cover apart from other RV covers available today is that it is a full fabric, waterproof cover. There are very few competitors in the RV cover industry who are offering a full fabric RV cover. Goldline RV covers have been around the longest, offering customers the highest quality full fabric RV covers for over 10 years.
If you want an all around great RV cover that you can rely on for many years, Eevelle's Goldline RV Covers are the way to go. The Goldline uses real Marinex marine grade fabric for the entire cover. This is an important feature because when storing an RV outdoors, it is important to keep rain and snow from infiltrating the cover and sitting on the paint.
In addition, the Goldline RV Cover comes in 2-inch increment sizing (unlike other RVs), which provides a custom-like fit. The Goldline also has Endurance Roof Straps, which takes the tension off the roof for a longer lasting covers.
Fun feature: the Goldline is offered in a gray and tan color, where most RV covers are only offered in gray. What is nice about a tan RV cover is that it blends more naturally into communities and its surroundings.
100% Marinex boat fabric
Durapel UV sun inhibitor
Waterproof
Endurance roof straps
5 year warranty
Sewn-in vents to promote air circulation
Reflective panels for night visibility
Available in tan and gray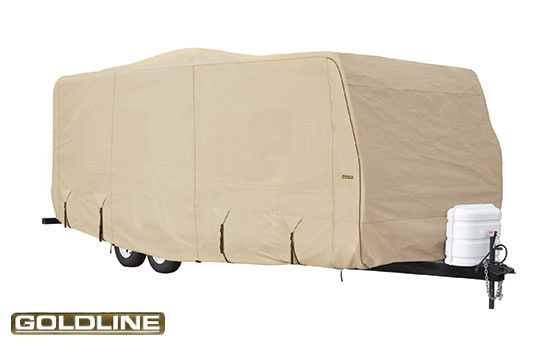 COMPETITOR #2: EEVELLE S2 AND EXPEDITION BEST CUSTOM FIT COVERS
The S2 Expedition and Expedition RV Cover are known for offering customers great style and custom-like fit. The S2 and Expedition covers both offer this special fit because of the full length tension panels in the front and rear of the cover that adjust to make the cover snug to the RV. Reinforced tension flags all around the cover give it added security. Rest assured that the S2 will never fly off in a snow storm!
The S2 and Expedition covers have a full fabric waterproof roof and durable polypropelene side walls. Competitors offer a Tyvek roof which is not known to be as durable and protective.
Like the Goldline, the S2 also has special features like 2-inch incremental sizing for a custom-like fit in colors gray and tan. The S2 also has Endurance Roof Straps, which takes the tension off the roof for a longer lasting covers.
Why Customers Love S2 and Expedition RV Covers:
Marinex Marine grade roof
Durapel UV sun inhibitor
Waterproof roof/extra strong side walls
Tension panels all around for custom-like fit
Micro-porous film for breathability
Endurance roof straps (S2)
3 year warranty
Sewn-in vents to promote air circulation
Reflective panels for night visibility
S2 available in tan 
COMPETITOR #3: EEVELLE TRAVELER BEST VALUE RV COVER 
The Traveler RV covers are the perfect choice for those who need short-term outdoor storage or long-term indoor storage. They are made with strong polypropylene and have reinforced corners so you don't have to worry about the Traveler not lasting over years. The traveler is simply the best price point for the quality you get in an RV cover.
Why Customers Love Traveler RV Covers:
Single layer high strength easy-on style
Micro-porous film for superior breathability
Durapel uv agents for extended long life
Easy flow air vents
Strong reinforced corners
Easy slip-on design
Elastic hems to ensure snug fit
Marine grade rope for easy tie down
All National RV Cover brands offer the best RV covers that are easy to install and built to last. Each of the four brands we carry – Goldline, S2, Expedition, and Traveler – have unique features that set them apart from each other. Where Goldline features focus on style and material, S2 and Expedition are all about fit and function. There is a cover for every RV out there when you shop at National RV Covers. 
If you have questions about which cover you should choose for your RV, contact one of our fit specialists available 7 days a week. 800-616-0599.